Project: Big XJ
03-23-2015, 10:45 AM
Re: Project: Big XJ
---
03-25-2015, 03:55 AM
03-25-2015, 05:25 AM
03-25-2015, 05:31 AM
Re: Project: Big XJ
---
I think I have a Jeep problem.
Meet my other two Jeeps
The yellow one has been with me 8 or 9 years now(forgot when I bought it, think 2007) It's your typical bolt on Jeep with Currie Suspension, 10in travel shocks with dampening adjustment, locked front/back with 4.88 gears, Currie Steering. Everything is adjustable on the suspension. Winch, bumpers, hardtop, fulldoors, half doors, bikini top, 35in boggers, Dana 30 HP front axle, dana 44 rear axle.
The red one we just picked up not to long ago. It's getting redone with 1ton axles, custom longarm suspension, going to stretch the wheel base a little. Currently have 37in tires for it but will build around 40in tires. Have hi-line fenders for it. Will be doing rocker and rear quarter armor. Already have a winch for it. The warn front and rear tire carrier bumpers will be up for sale as they will not look right with the mods going with this Jeep. 94 Dana 60 HP front axle and a 86 Dana 70-B rear axle
---
Last edited by -JB-; 03-25-2015 at

05:41 AM

.
04-20-2015, 05:55 AM
Re: Project: Big XJ
---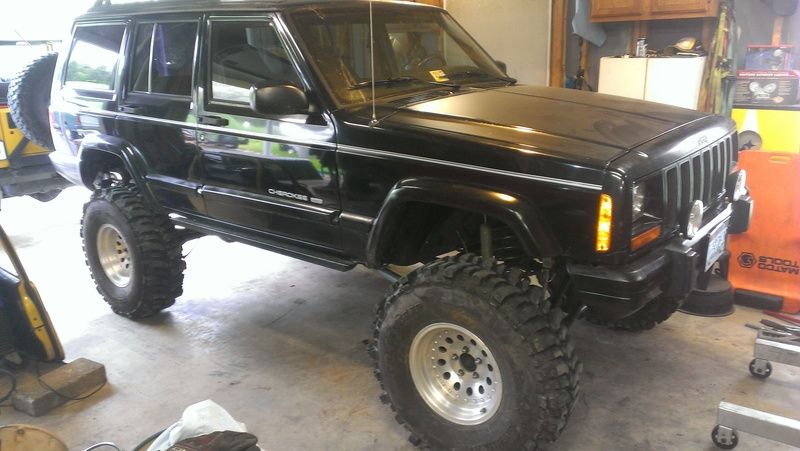 Well I'm about done with this project for now. It's maiden 4wd voyage is this weekend, so we will get to test everything out to see how it behaves. I've been driving it the past few weekends and have fixes the little quirks it had. I adjusted the front control arms to give me more caster angle. Didn't have enough and I wasn't fond of how it was driving down the road.
The front is stretched about two inches so I had to relocate the swaybar because the arms were contacting the springs. Also added front two hooks since Jeep never made any tow points on the cherokee.
Upgraded all speakers over the weekend. Had to replace window motor in one of the rear doors. Wife bed lined the roof since it was faded and I wanted something durable to withstand throwing the kayaks up there and scratching the roof.
Changed the wheels/tires out to break up the all black look I had before.
Had a front brake caliper lock up over the weekend, so I changed that out.
Added bumpstops for the front to try and keep the tires out of the fenders when flexed
Thread
Thread Starter
Forum
Replies
Last Post