Project: Big XJ
01-27-2015, 01:31 PM
Project: Big XJ
---
If you don't like 4wd builds, go back now
So to start and keep it simple. I've been building Jeeps for over 10yrs now. Hobby of mine to tinker with these things. I've built Wranglers, but as I was working on a 03 Wrangler a trade from a wheelin buddy of mind landing in my lap and I was no where close to being done on the 03. I was building the 03 with a 5.9 Magnum (already welded in), putting one ton axles under it (have the axles) and building a crawler. Buddy of mine wanted it, so I set it back up on stock axles, with the V8 drivetrain and traded.
Reason I traded is I already had two TJ Wranglers. A third one (the 03) was taking up garage space. So I received this Cherokee with some really nice parts on it. However it had been rolled and beat like a whore for a long time
Streched wheel base, 8in Rusty Offroad Springs, 6.5 Rusty Offroad Leaf Springs with extended shackles RE longarm, Iron OTK Steering, Double Sheer HD Trackbar, locked front/back, in this pic the rig is on 37in tires, SYE kit, rocker sliders, bilstein shocks.
Not a bad rig if someone would put a cage around it.
I found a Cherokee Shell for a good candidate swap. I didn't take many pictures but here is what the above Cherokee parts will do to a stock Cherokee.
Drivetrain swapped in and installing front suspension
Rear Suspension in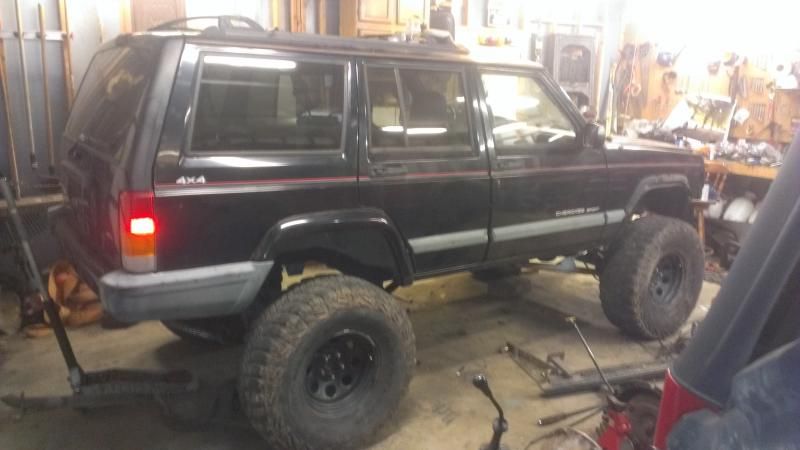 New fender flair on and painted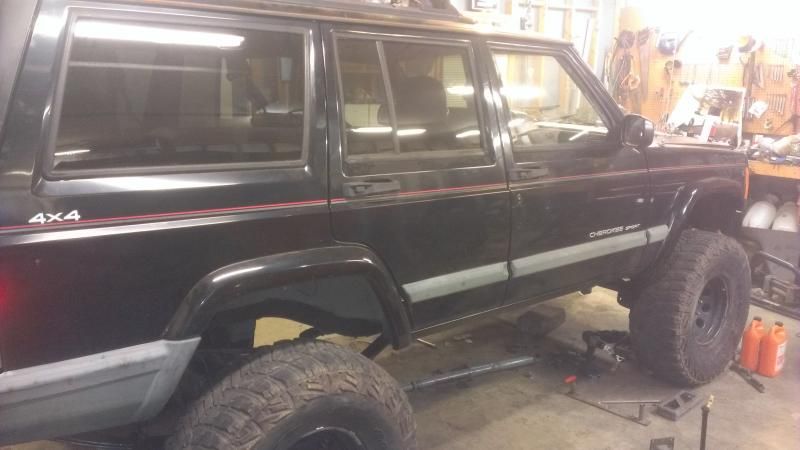 Replacement driver door and fender to replace badly dented old ones. Still need to remove pin striping from the entire vehicle. All door components swapped over from old door.
Bumper painted and installed (budget build so I did not throw any aftermarket parts to this vehicle other then what came from the green one. If I keep this Cherokee for any amounts of time, winch bumper is on the list)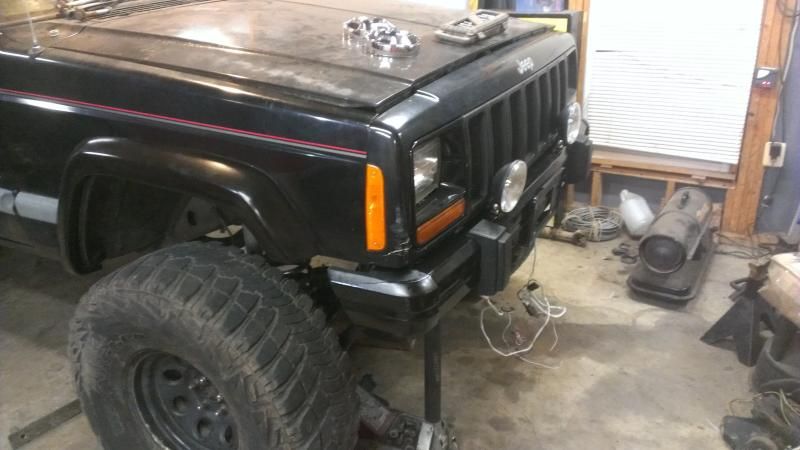 This is where she sits at the moment. Drivetrain is complete, interior is swapped in and complete. Need to remove pin striping, color match faded moldings, finish swapping out old bushing in the control arms and put suspension back together, install exhaust, bleed brakes, add fluids, inspect, wash/detail, and then test her on the trails.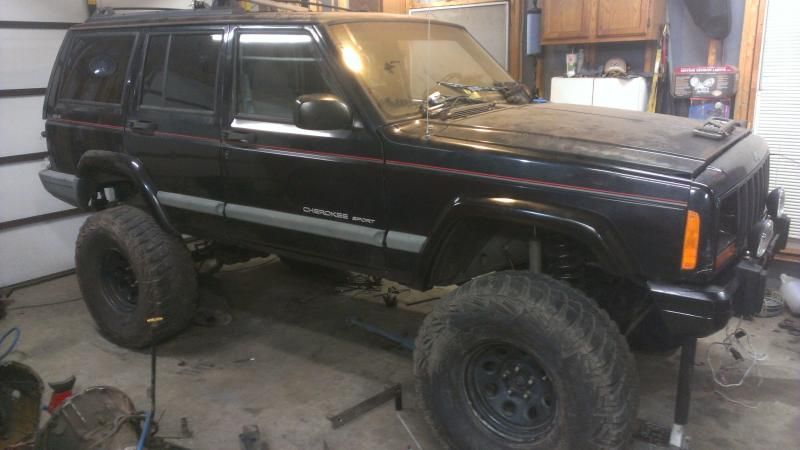 Not a bad project but has interfered with my one ton Wrangler build I was working on but this was a good break
and the green Cherokee arriving at the junk yard
---
Last edited by -JB-; 01-27-2015 at

01:34 PM

.
01-27-2015, 06:31 PM
01-28-2015, 05:18 AM
01-28-2015, 06:40 AM