River City Synthetics - RVA & VB AMSOIL Dealer
09-10-2013, 04:32 PM
River City Synthetics - RVA & VB AMSOIL Dealer
---
Certified Independent AMSOIL Dealer in Richmond, VA
email -
[email protected]
phone - 804-452-RCS1 (7271)
(keep it to civil hours on calls & texts)
web @:
I'm Brandon and I am River City Synthetics. I'm an IT guy by day and a car guy in the off hours. This company started from my love of cars and being a customer of AMSOIL. Then I decided to become a dealer and began offering AMSOIL products to others with the hobby at a local gathering and it's grown from there. AMSOIL has the best quality products backed by warranties- which is why I chose to use and offer their products in the first place.
Products include:
3 tiers of passenger car oils, 3 european vehicle oils, 2 legacy high zinc oils, 2 high-zinc oils for infrequently driven vehicles, 4 racing oils, Briggs & Stratton Racing Oil, break-in oil and assembly lube, application specific small engine oils for snowmobiles=outboards-atvs-scooters (EACH!), FOUR motorcycle oils (all meet MA2 specs for wet-clutch), 2 shock oils, 2 natural gas oils, 7! Diesel oils, 9 gear oils, 10 transmission fluids/oils, pre-mix, injector, and racing 2-stroke oils, 9 greases in different thicknesses, hydraulic oil, compressor oil, AIR filters, OIL filters, HD extended oil filters, bypass filter units, octane boost, cetane boost, fuel system cleaners, diesel anti-gel and injector lube, fogging oil, power foam induction cleaner, anti-rust metal sprays/undercoating, degreaser, engine and transmission flush, coolant, coolant boost, brake fluid, power steering fluid, and oil analysis services from Dyson Labs.
Yeah it's a lot, but now you can stop wasting time at so many other places. I'm available to answer questions, go seek out an answer, and to get AMSOIL's tech department to offer product recommendations or advice if you have a special case or aren't sure. E-mail is the preferred method of contact so I have a record and can give you the whole story and you can read it at your leisure.
I don't stock product because I am a one-man operation and there's a warehouse in Richmond already. Shipping by ground is typically 2 business days to the state of VA or you can pickup product from me at a local event. I'll be attending Cars and Coffee Richmond events regularly (skip shipping if it fits in a hatchback!) and will be offering pickup at local shops as agreements are made (possible shared/reduced shipping charges). I can even have product shipped to your shop/marina/job site of choice for your convenience. Want me to get lost, to pay less, and the option to pickup product at the warehouse yourself? Become a Preferred customer here:
http://www.amsoil.com/shop/by-produc...le/?zo=1368758
and you get all of that.
If you are Fire/EMS/Police/Armed Forces/Public School Employee let me say Thank You for your service with 5% off AMSOIL products.
---
Last edited by brandini; 09-12-2013 at

07:46 AM

.
09-10-2013, 05:16 PM
Re: River City Synthetics - AMSOIL Products & Information
---
Also if you're a local shop you can setup a Retail account and get AMSOIL at wholesale price and sell it and/or install it. PM me for info.
09-17-2013, 10:19 AM
Re: River City Synthetics - AMSOIL Products & Information
---
Amsoil is one of the few companies that does comparison testing of competitor's products. Their most recent is a comparison of 5W-30 top tier oils in ASTM testing to show what you're paying for.
Go here:
http://www.amsoil.com/performancetests.aspx?zo=1368758
and "A Study of SAE 5W-30 Synthetic Motor Oils (G3115)" will take you to an online version of the report.
Amsoil's 5W-30 scores no lower than 5th in all tests, more consistent than any other tested.
09-25-2013, 07:07 AM
Re: River City Synthetics - AMSOIL Products & Information
---
Making a warehouse run today & will be in VB this weekend- let me know if you need anything in RVA before the weekend or in VB this weekend.

9/25/2013
10-03-2013, 07:37 AM
Re: River City Synthetics - AMSOIL Products & Information
---
I'll be at Cars & Coffee Richmond and the Fortune Auto Open House this weekend if anyone would like to pickup product from me in person & w/no shipping.
10-07-2013, 12:19 PM
Re: River City Synthetics - RVA & VB AMSOIL Dealer
---
For you seasonal types, before you put your toy away for winter seize the opportunity and do oil analysis to detect any issues you may not be able to otherwise see.
Here's an example of a report: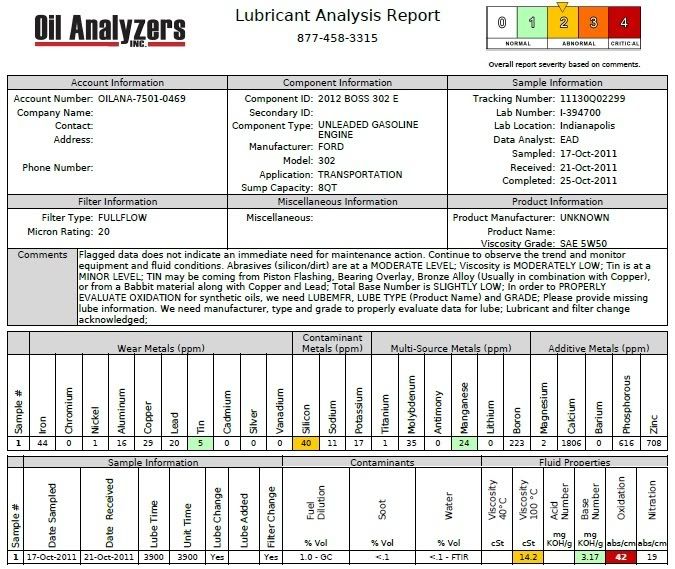 10-30-2013, 11:05 AM
Re: River City Synthetics - RVA & VB AMSOIL Dealer
---
Looking at a used car? Bring an oil analysis kit and take an oil sample to look for fuel, coolant, and wear metals BEFORE you buy!
Link to UPS Pre-Paid kit with sample jar
Link to Sample Pump
Thread
Thread Starter
Forum
Replies
Last Post