k24 eg hatch project.
07-31-2012, 08:11 PM
k24 eg hatch project.
---
As it says its a project. 80% of needed things are there. The car is in really really nice shape. I got the car from a guy in Maryland that lost interest. I have a boosted hatch and am consumed in it lol. Ill start at the front. New hood bumper and fenders. Shaved and tucked bay. Chase bays brake relocation under console. New rack and pinion and ball joints. Lowered on GC. Inside is BRAND NEW carpet and great dash and door panels stock seats. Has cage plates welded in. All fenders and quarter panels are rolled. Beaks bar lca's ect. I have a k24a4 and wiring harness and new in the box axles extra intakes and tb. Power steering pump and other stuff. To be finished it needs tranny ecu and motor mounts. Has frame mount. Needs shifter cables also. Ill enclose a pic of the car when it was running and a pic of the bay. Asking $3000. Or trade for DD HATCH OR TEG NOTHING ELSE!!!!! Thanks.
08-01-2012, 05:56 PM
Re: k24 eg hatch project.
---
Why do u keep posting that pic?? That's not your motor, that's not the engine bay to your car.. that's not even a k24.. that is a k20 in that pic.. look at the water port to the right of manifold.. obviously not a k24.. and there clearly isn't a manifold adapter so to use that water port on a k24 is not even possible..
Here is the pic u posted of your motor.. this motor is not the same motor in the pic posted above or in your other thread linked below..
This is a k24.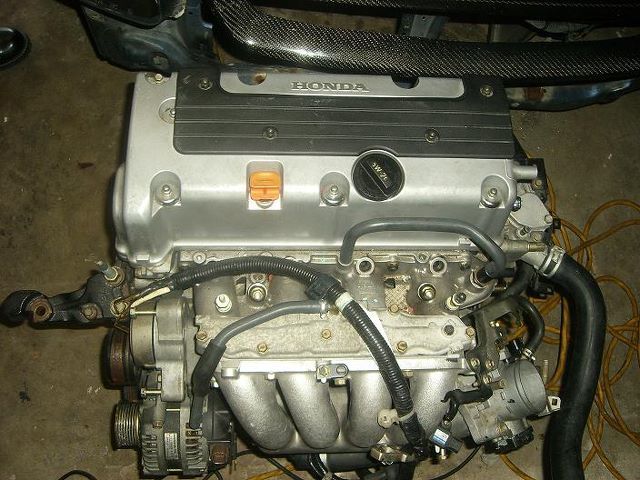 This is not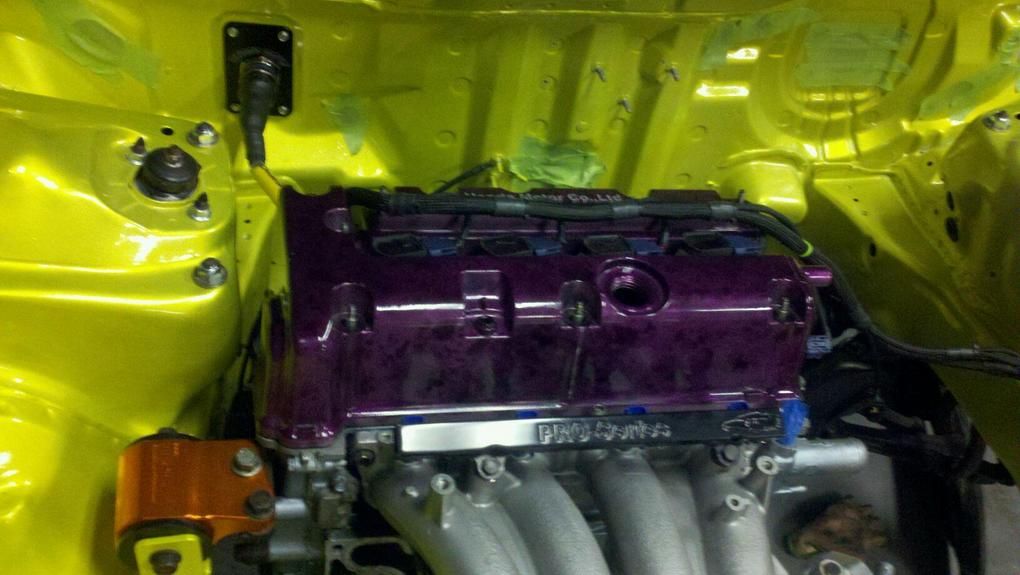 Here link to sale thread for k24
https://www.vadriven.com/forums/engi...4-swap-448737/
---
Last edited by EviL-S; 08-01-2012 at

06:05 PM

.
08-01-2012, 08:02 PM
---
Typesk20- the car is still forsale. And evil dont bash my Shit! That is my bay and is my motor the purple top is a k20.the motor that was previously in the car. I didn't have a pic of the k24 and I didn't want everyone bashing it because it didn't have a pic. You have No idea what I have ive seen you bash several threads. Get a life dude! And enclosed is a pic of my bay. Ill take another one tomorrow with your name written in sharpie under the hood if you like!
08-01-2012, 08:33 PM
Re: k24 eg hatch project.
---
It's funny because earlier when I texted about the chasebays milspec harness, u said this was in the guys car u got the motor from, u didn't get the harness.. but u wished u did.. all I'm saying.. so now u have given me 2 completely different stories.. now this is ur car and the previous k20 is yours.. in which case, u should have this milspec harness too right?? I mean u already had a k swap in here apparently, why get rid of all that to put a a worse engine in it, yet u still need mounts and shift cables and tranny and all that shit according to what u stated in original post???? Why not use all that stuff from your previous setup??

I just can't make sense of all the different bits of information I'm gathering from u.. I wish like Fuck I didn't delete your texts cause I would screen shot and post our whole conversation..
08-01-2012, 08:44 PM
---
I never claimed to own the k20.....I never had the car on the road I got it without the k20 I have a k24 for it. The previous guy had the purple k20 in it. And he kept his swap. I just read the text from you and thats what i stated.