2002 Honda S2000 S2k/ap1/Skunk2/K&N/XXR/
11-29-2012, 05:33 PM
Registered Member
Join Date: Jul 2012
Posts: 133
Likes: 0
Received 0 Likes on 0 Posts
2002 Honda S2000 S2k/ap1/Skunk2/K&N/XXR/
---
Name: Rob
Location: Durham
Means of contact: 919-813-8779
Price: $11.500
The Bad:
Has some small damage in the bumper/fender.
Has a rebuild tittle' doesnt bother me'
The Good:
Skunk2 Full Dual exhaust
Skunk2 Headers w/heat wrapp
Yonaka Coilovers 11/2/12
Xxr 521 with brand new tires'
Racing Throttle body
K&N air filter
Coolin Plate
6k HID's Statge 2 clutch
Avid Engine Mount
Carbon Fiber hood /has small damage'
Front OEM rep Lip
6 speed Transmission
AC/PW/PS all work
ASkING $11,500 Car runs great no mechanical issues at all. Engine is super clean, no leaks,knocks,smoking etc. Tranmission shift smooth like butter.
PLEASE ONLY CONTACT ME IF YOUR SERIOUS ABOUT IT, NO TEST DRIVE W/O CASH IN HAND...BTW NO I DONT WANT YOUR TURBO SINGLE CAM,NOR MUSTANG,TRUCK etc.....:bump: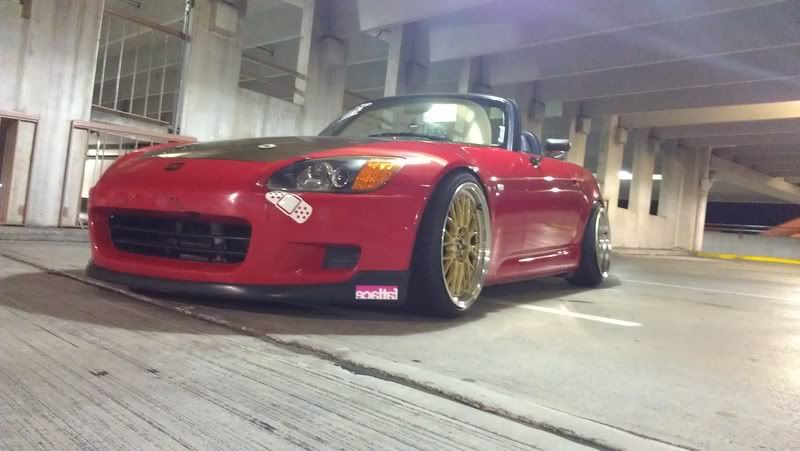 11-29-2012, 08:54 PM
Registered Member
Join Date: Jul 2012
Posts: 133
Likes: 0
Received 0 Likes on 0 Posts
11-29-2012, 09:53 PM
Registered member
Join Date: Jan 2011
Posts: 49
Likes: 0
Received 0 Likes on 0 Posts
11-30-2012, 12:17 PM
Registered Member
Join Date: Jul 2012
Posts: 133
Likes: 0
Received 0 Likes on 0 Posts