1990 Honda CRX si, built d16z6 and more
10-02-2012, 06:40 AM
1990 Honda CRX si, built d16z6 and more
---
Name: Brian
Means of Contact: Email
[email protected]
or call/text 804-380-7064
Location: Richmond, Virginia
For Sale: 1990 Honda CRX si
Price: $6000 OBO
Looking for a new owner to care for my 1990 Honda CRX si. It has 235,000 on the clock. I bought this car back in 2007 when I was in high school. I have put a lot of love, time and money into it, so I want to make sure it finds someone who will do the same. Because of this, I feel my asking price is pretty reasonable, but I may remove something if you do not like the price and ask for me to do so in order to drop the numbers. Before I get to the specifics, you should know that the car was hit in 2008 when I was run off the road, and there was frame damage. I had all body work done by Cardinal Body Works in Richmond, Virginia. Mike and his guys did a phenomenal job getting her street worthy again. This last spring I was in a small rear end collision. No body damage occurred but the bumper reinforcement was bent a little bit. However, I was able to get the bumper lined up pretty much perfectly, so minus the paint it's hard to tell that anything happened. Please don't lowball me and don't ask for a ride unless the cash is in hand. If you come over to my house to look at it, I will offer you a drink, let you come in my house, and I will treat you the same way I treat my friends. So please offer me some professional courtesy during this process. Anyways, here is a list of what I have done to it:
Drivetrain:
D16a6 block bored to 75.5 mm
Pg6 pistons with hastings rings
ACL race bearings
D16z6 crankshaft balanced and micropolished
Brand new d16a6 oil pump
New water pump and timing belt
Cometic .060" headgasket
D16z6 cylinder head, ported and polished with minor valve job
Crower Stage 2 camshaft NA
Crower Springs and Retainers
Crower Adjustable Cam Gear
Bisimoto V2 Header
Skunk2 Intake manifold with d16z6 throttle body
Generic short ram in take with K&N filter
D16z6 valve cover painted blue by Custom Chrome.
Stock catalytic converter, but I have a test pipe you can have with it
HKS Sport exhaust fitted for a CRX
Competition Clutch Stage 2 Clutch
Competition Clutch Lightweight Fluwheel
Transmission out of a 91 CRX si, around 180k on it, slight grinds into 4th gear
Innovative D-series EF billet mounts, 60 hardness (street)
Tuned by Matt Shue with a chipped (latching socket) p28 on Neptune, made 142 hp and 108 ft/lbs
I have some spare engine parts, all stock, that I will include with the purchase.
Leaks a little bit of oil, I think from the vtec solenoid. Negligible amounts though. I changed the oil at 3000 miles without even having to worry about adding some.
This engine is super fresh. The bottom end has maybe 10k miles on it, and the cylinder head less than 5k. All assembly and machine work was done at Mundy's Machine Shop on Hull Street in Richmond by Jose or Carlos, with a little bit done by myself.
Suspension
KYB GR2 struts
H&R Sport Springs
Steering and Brakes
Innovative Crossmember to fit the Bisimoto header
Stock CRX si front and rear disk brakes, brakes changed 8/12
15" Kosei K1s with Yokohama S-drives (maybe 10k miles)
Interior: I'd give it an 8/10 Everything is there, but between fade from time and wearing out, some of the pieces are fragile
Stock CRX si seats, reupholstered but a small tear on the back side of the passenger seat from something
Skunk2 style shift knob, metal finish
Pioneer Headunit, 5 years old, ipod direct connect in the glove box
Kicker KS model speakers all the way around
Rockford Fosgate 12 inch sub with 150 watt amp on the back of it
Interior is all there. Everything. I have some custome CRX floormats that I ordered a couple of summers back. They look soooo nice. I also have two sets of the original CRX floors mats, but the logos on them are not in the best shape. I will include all of this with the sale. I also have some spare interior parts that I will include with the purchase.
I did a wire tuck when I was in college. Thus, the glove box has the fuse box that was under the hood in it. The wire tuck was a work in progress, but it has never caused any problems.
There is a light switch on the dash for the ECU. If it ever throws a CEL, you can flip the light switch with the ignition on, but not with the motor running, and it will flash the code.
The door inserts are in pretty good condition, but there are a few spots where the seatbelts have been shut in the doors over the years.
Exterior:
Body overall condition I would also say 8/10. It was hit in the passenger fender in April 2008, and the frame/body work was completed at Cardinal Body Works in Richmond, Virginia. I was also rear ended this last April, and the body work was also completed by Cardinal. The rear bumper lines up 9/10. The front end has some small misalignments, but it still looks pretty darn good.
I also had Cardinal Body Works strip the rear end of all seam sealer, as it was dried and cracked and leaking water into the car from the rear hatch struts (this is a common CRX problem, ask any owner). They stripped all original seam sealer off and resealed the rear seam. This work was completed during the summer of 2011.
Sunroof works! I replaced the sunroof assembly in 2010. No problems whatsoever, but I also have the manual motor adapter in case something does come up with it.
6000L HIDs on the high and low beams. I also have the stock light bulb adapters in case you want to take it back to stock.
Rear mud flaps, I have front mud flaps somewhere but I took them off because they scraped on speed bumps. They did not come with the car when I bought it, but I will include them.
Original 90 CRX si white paint job. Front bumper looks like it was touched up at some point.
DEPO amber corner and bumper lenses. Looks pretty good.
SOHC VTEC sticker that I got off of ebay. It looks pretty darn good though, it is in the same location and format as the DOHC VTEC stickers that came on the JDM CRXs.
I have a set of Bosch foglights. There were not original Honda CRX Bosch lights, but they look like they would be a pretty good fit. They are not on the car, but I will include them with the sale. They have the wiring needed, relay, and I believe a switch (not a stock CRX switch though).
I think that is it, but I may have forgotten something. If you have any questions, or would like to take a look at the car, please feel free to call or text me at 804-380-7064. You may also email me at
[email protected]
. I am going to be very sad to see this car go, but it is time for me to get out of the Honda game. I just do not have the time now, and I am going to need a car that needs less time and attention and LOVE than my CRX. Please come take care of this car for me.
Pictures: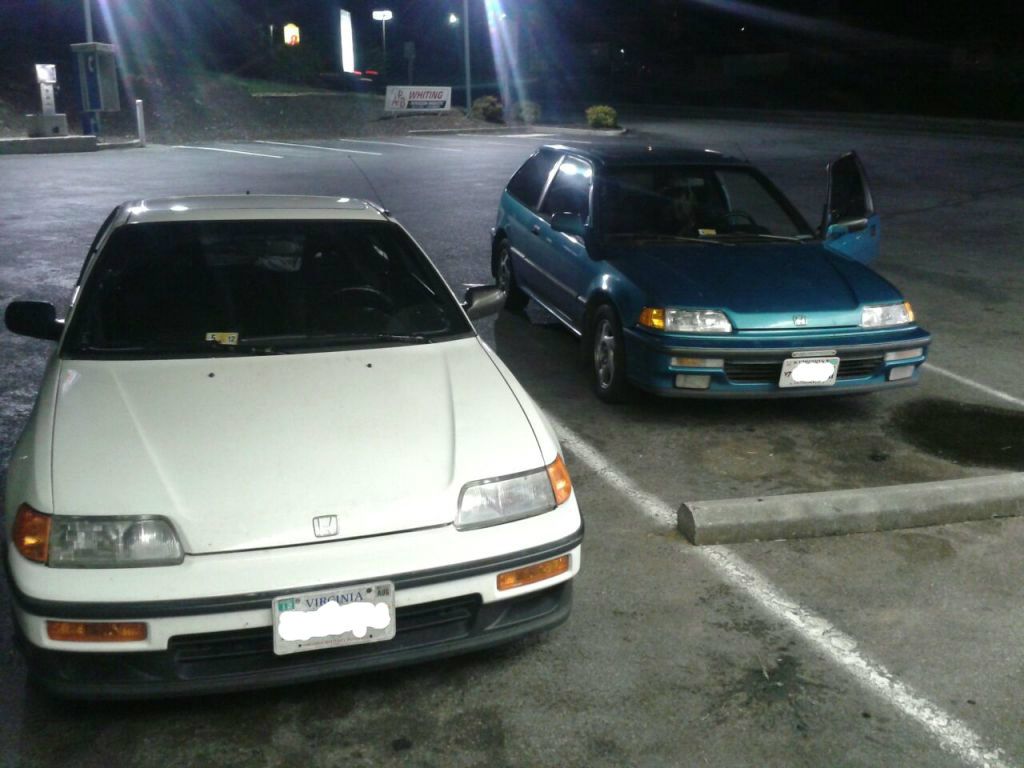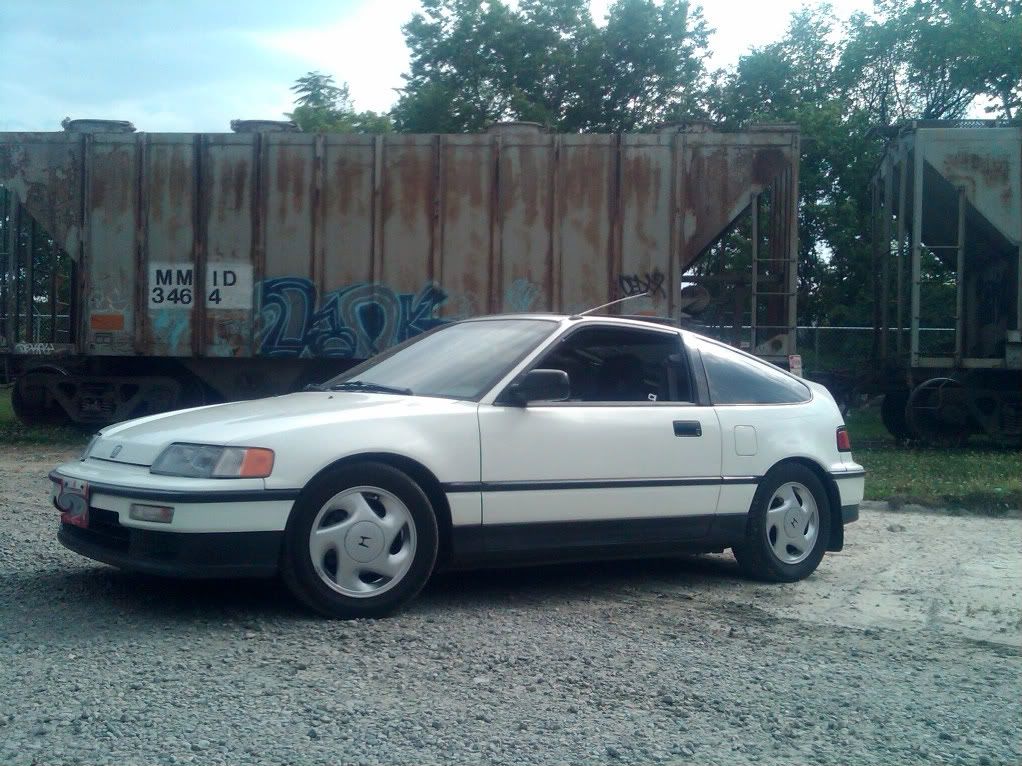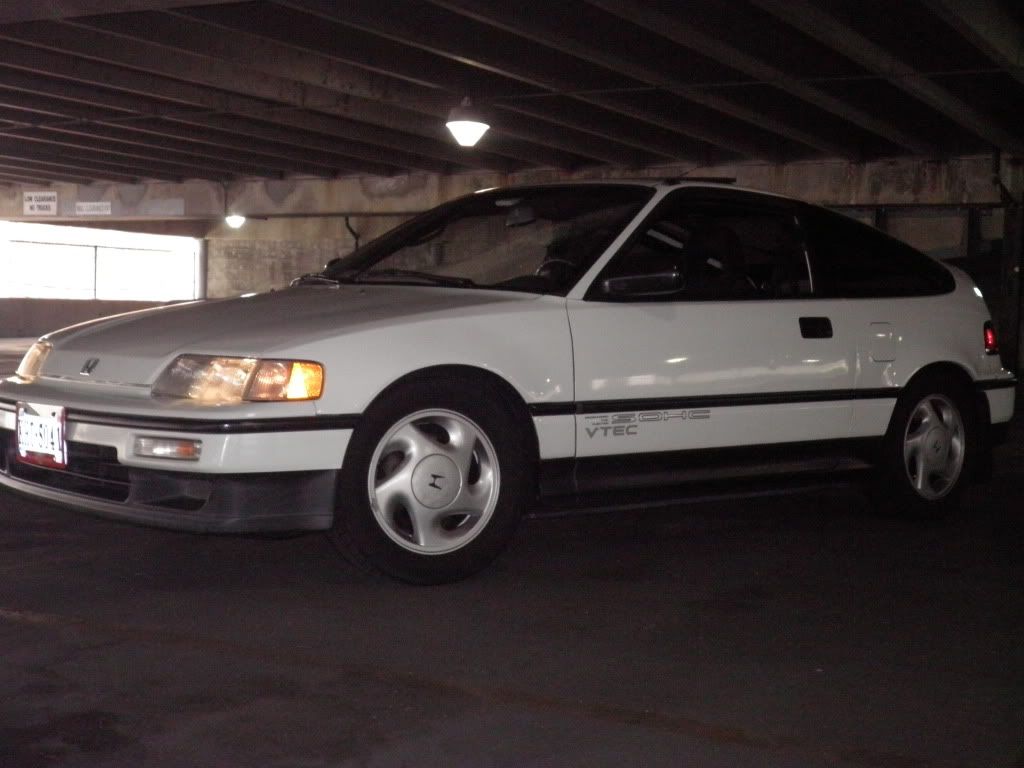 ---
Last edited by REXsi90; 10-02-2012 at

06:42 AM

. Reason: formatting
10-04-2012, 07:30 PM
Re: 1990 Honda CRX si, built d16z6 and more
---
No I cannot go that low. Sorry. Thanks though man. It has taken a lot of work for me to keep it looking that way. Between wear and tear and morons that "didn't see" me, I've put a lot in it.