what have i gotten myself in to...
09-12-2012, 04:38 PM
what have i gotten myself in to...
---
soooooo i picked up an '89 cbr600f hurricane whateveryawannacallit about a week ago on a trade...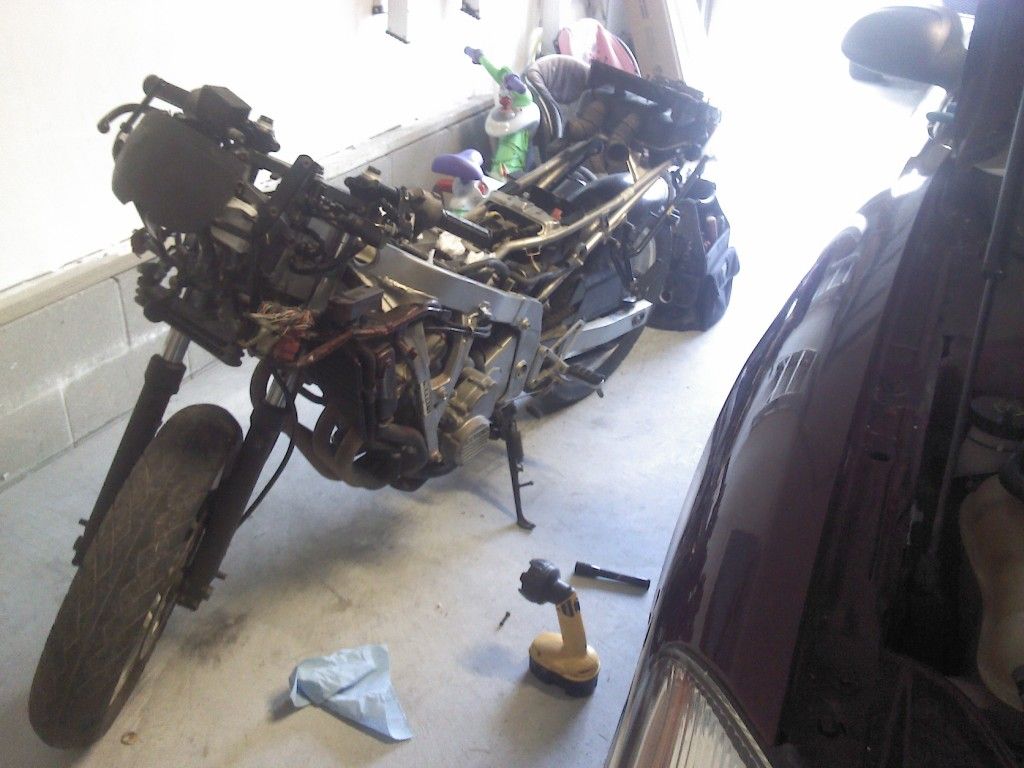 hard to get a good pic with my wife's taurus in the way (a/c compressor on that thing is a bitch to get out) but aaaaaanyway since it's my first bike, and it dosen't run, i started doing some research. apparently the bike sat in a garage for about 15 years and i discovered that a major problem with older bikes after that much time off is that the jets in the carbs get clogged up. so i started taking them apart and cleaning them out.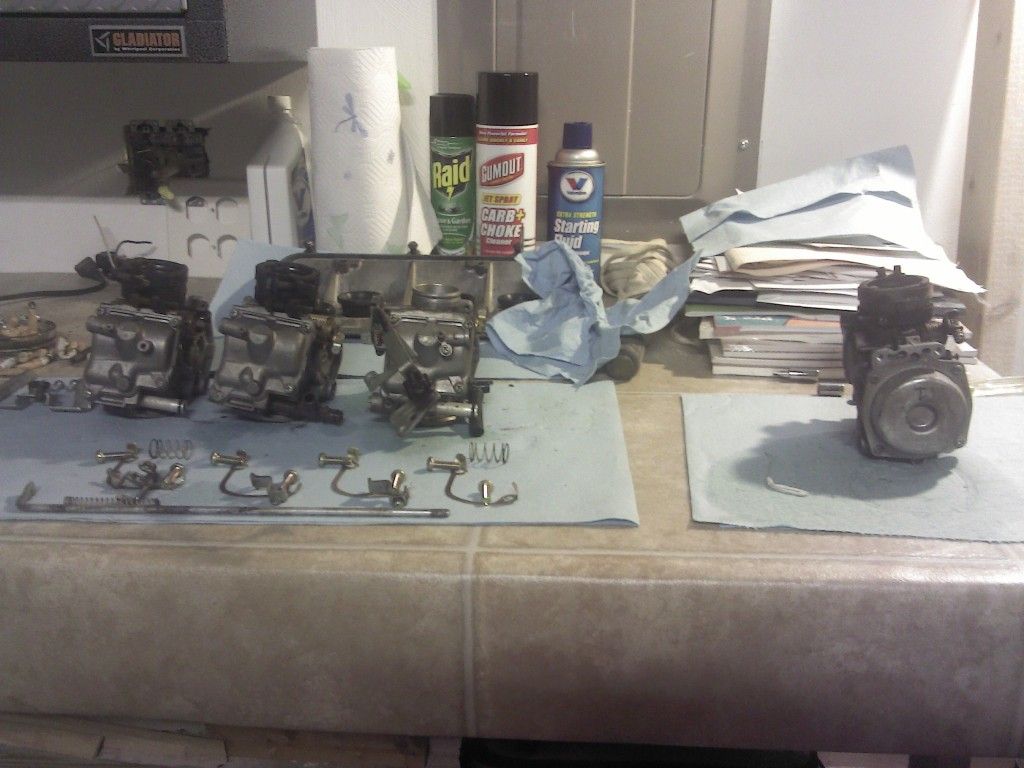 and there did seem to be some gunk in the jets. because of that, the age, and the amount of time it sat, i've decided it would prolly be a good idea to replace pretty much all of the fuel components on the bike. however, after trying a couple of the usual suspects, i seem to be having a little trouble finding the parts i need [fuel pump, inline filter]. can anyone suggest a good place to find parts for this besides ebay? i'd prefer something in central va. also since it IS my first bike, and i'm new to these forums, if anyone has advice or suggestions about this particular model (or in general) i would more than welcome it. thanks in advance!
09-12-2012, 04:40 PM
Re: what have i gotten myself in to...
---
after i seperated all the carbs i realized i prolly didn't have to do that to get to the float chamber and the jets... oh well, live and learn!
09-12-2012, 06:30 PM
WEEEEEEEEEEE
Re: what have i gotten myself in to...
---
Welcome to VAD

Paperassgasket is a pretty knowledgeable dude in regards to older bikes, I am sure he will see this thread, and chime in.

Being it your first bike, you are doing the right thing, you should know it in, and out by the time you are ready to ride it. Just remember to be safe, ride within your limits, and keep it between the lines.
09-12-2012, 09:33 PM
Is in ur head, why?
Join Date: Oct 2005
Location: Portsmouth
Posts: 1,795
Likes: 0
Received 0 Likes on 0 Posts
Re: what have i gotten myself in to...
---
Sometimes the contacts on the fuel pump switch need to be replaced. Did you check those first before calling the fuel pump dead?
I know you said no ebay, but I run this fuel filter on my old hondas. It is a lifetime filter, unscrew it, clean the SS filter, and put it back together. You can't beat the price either at $15.99 shipped. Bought my first one 4 years ago from this seller.
http://www.ebay.com/itm/K-N-Billet-A...c89ed8&vxp=mtr
09-13-2012, 01:58 AM
Re: what have i gotten myself in to...
---
Thanks everyone. I haven't checked out the fuel pump to see if it actually works or not, would like to replace it for my own peace of mind tho. I did say no ebay, but if the price is right (and that is) its definately worth checking out. Was gonna try to price some stuff at honda house today, but i do hear they are kinda high. I'm assuming motorcycle batteries are standard? Ill give ya a call after work white n we can check that out
09-20-2012, 04:13 AM
Re: what have i gotten myself in to...
---
So I THINK I have this thing ready to fire up, just gotta grab a battery after work today
My next task will be to try n find a gas tank. Saw a new one online for the paltry sum of $750.. So needless to say I'm in the market for a used one