SortaFlush's DA build (Sortawho!?)
11-22-2012, 05:29 AM
Slammedxpert
Join Date: Oct 2007
Location: Virginia Beach
Posts: 6,825
Likes: 0
Received 0 Likes on 0 Posts
SortaFlush's DA build (Sortawho!?)
---
Alright,

So I believe I will have to start off with being a little formal, as I have not been "around" in quite a while and merely just a for sale troll lately. I used to be a very avid poster on here until this past year, with career change, racing and just trying to manage life. I am Mike, I've been into the car field for a while, a lot of people know of me from my previous S2000. Hopefully, I will start having more time to catch up on the you laugh you lose, Off topic threads and joining the local events that go on. I miss my VADriven guys.

So to the purpose of this thread;

I'm building another Honda. Why? I don't particularly know, but I am. It just happens I guess. I bought the car stock off of Craigslist for a pretty decent deal. It was going to be a beater, the LS engine in it had all of the maintenance kept up and I did a timing belt, water pump, all seals, EVERYTHING. Lasted a month... (not because it blew up, but because I removed it and decided to change things up)

I'll go ahead and start posting pictures of it's progression stages since pictures are easier on the eyes than text, lol.


Thanksgiving Day last year when I picked it up;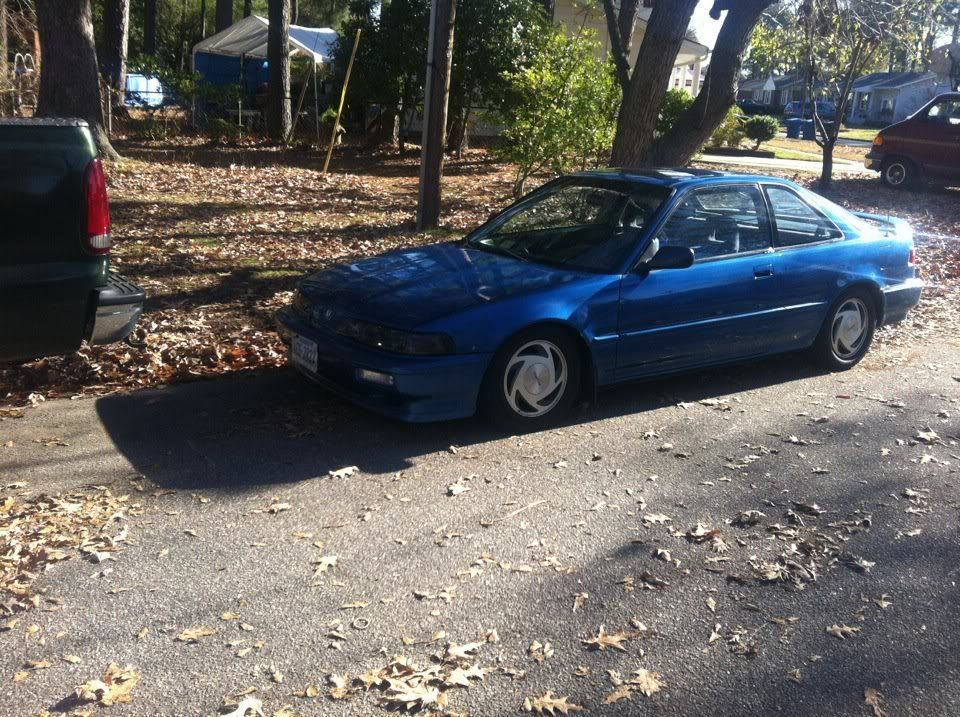 I then trashed the eBay "JDM Juan Pieces" and lowered the car on some suspension I had laying around;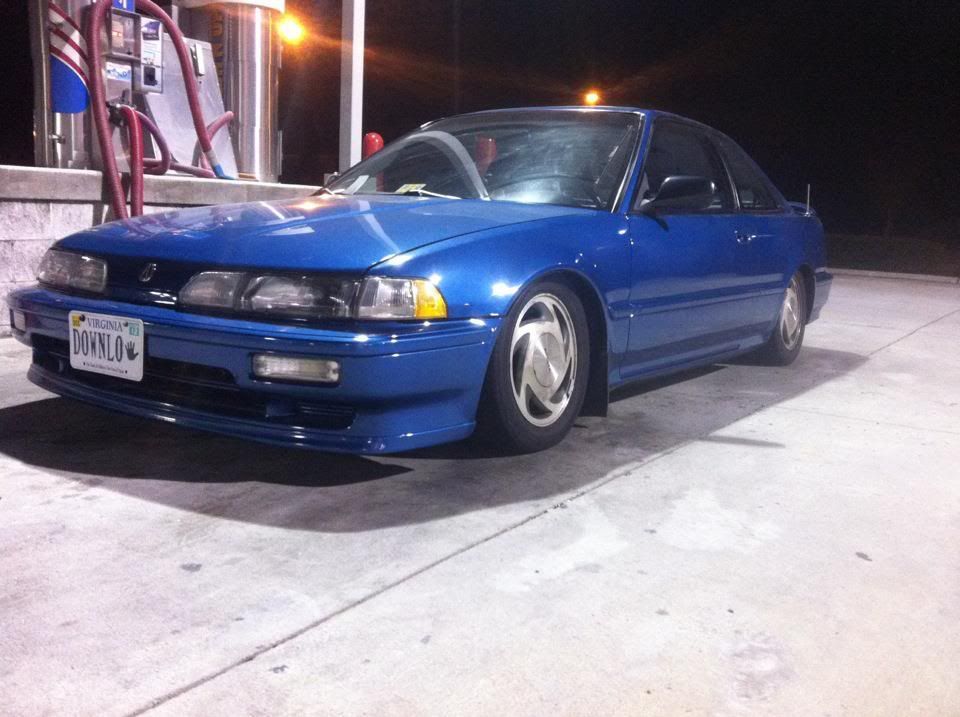 Shortly after I ordered wheels, new suspension, amber corners and HID's: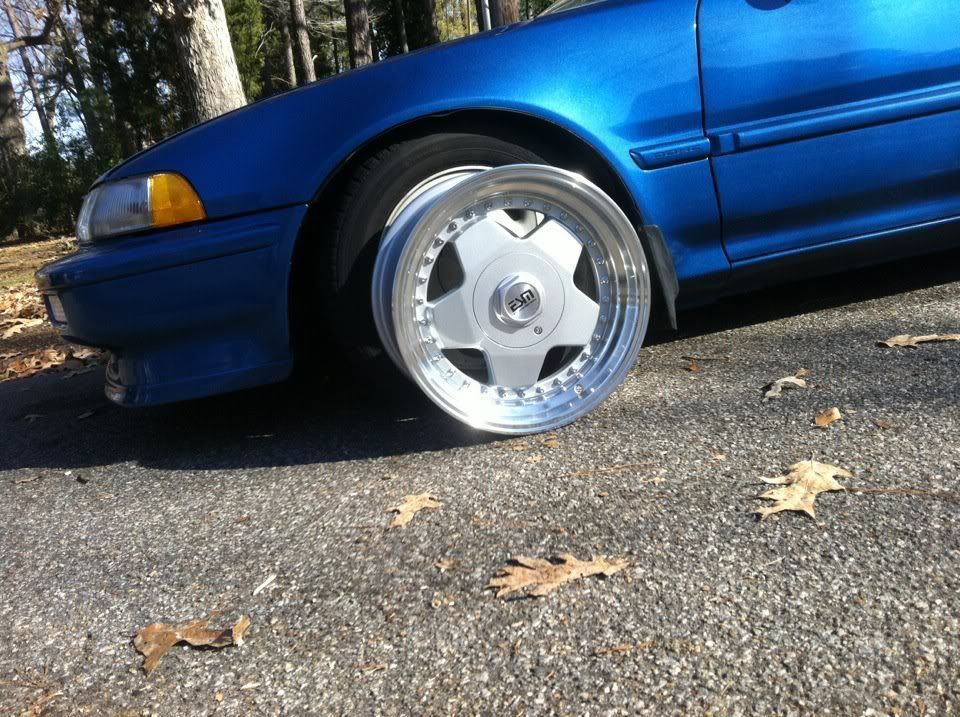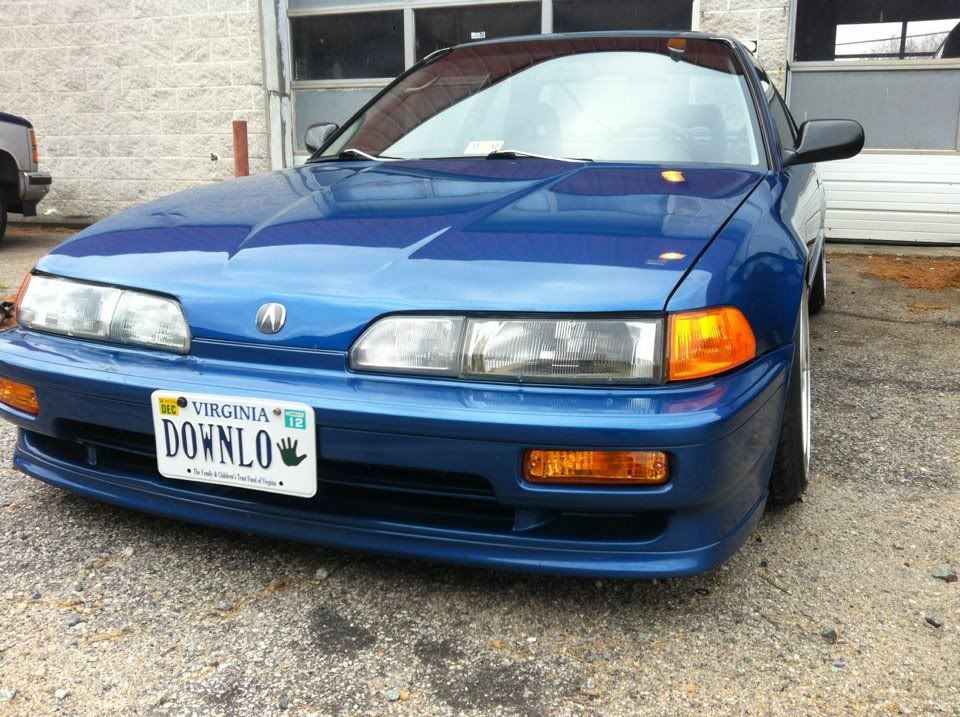 The wheels are ESM 009r's 16x8 +20 on all four corners. I didn't want a wheel most HONDA kids had, so I went to VWvortex LOL.

Well, at this point. I promised myself I was done and it was an acceptable 'beater' to me. I had Jared Houston take some photos of it and I called it done for about 2 weeks.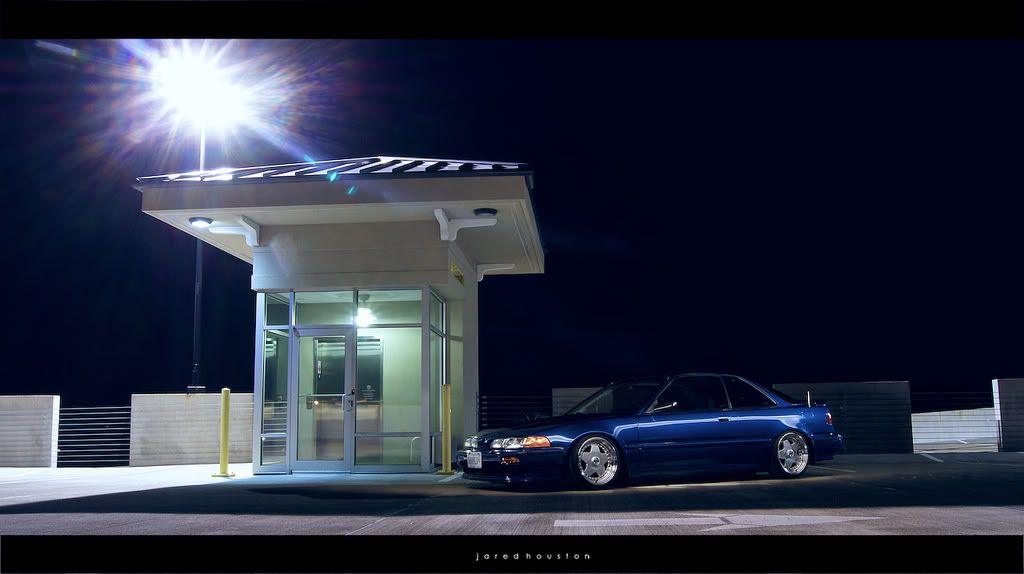 Well, it wasn't enough.

-Rear Wiper Delete
-Rear Antenna Delete
-Carbon Fiber Rear visor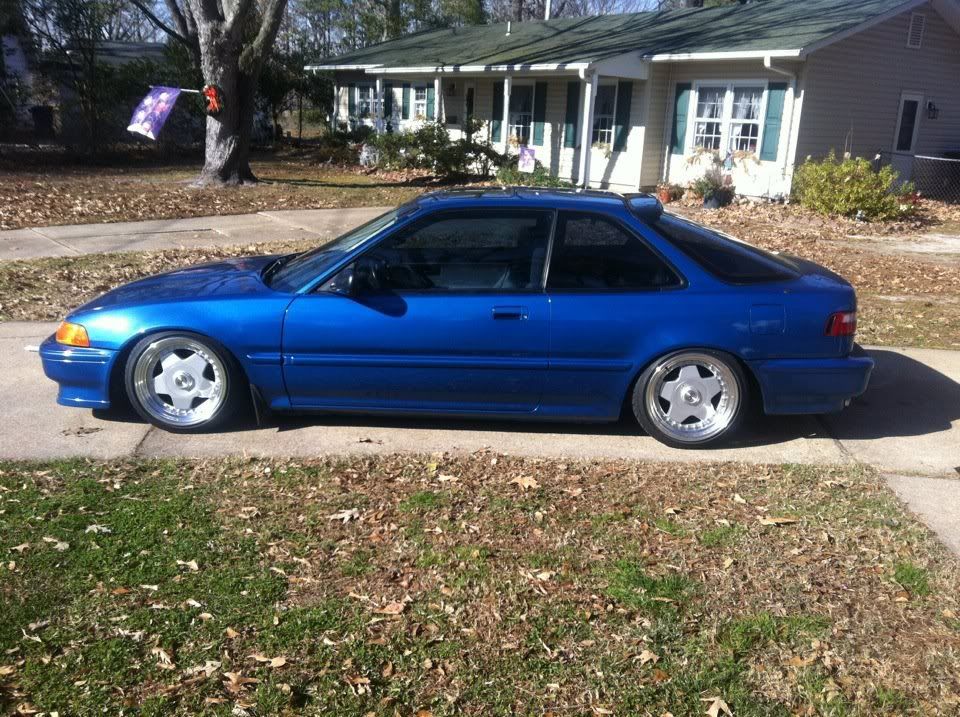 I was like hey, I have a newer LS valve cover, so let me put that up there: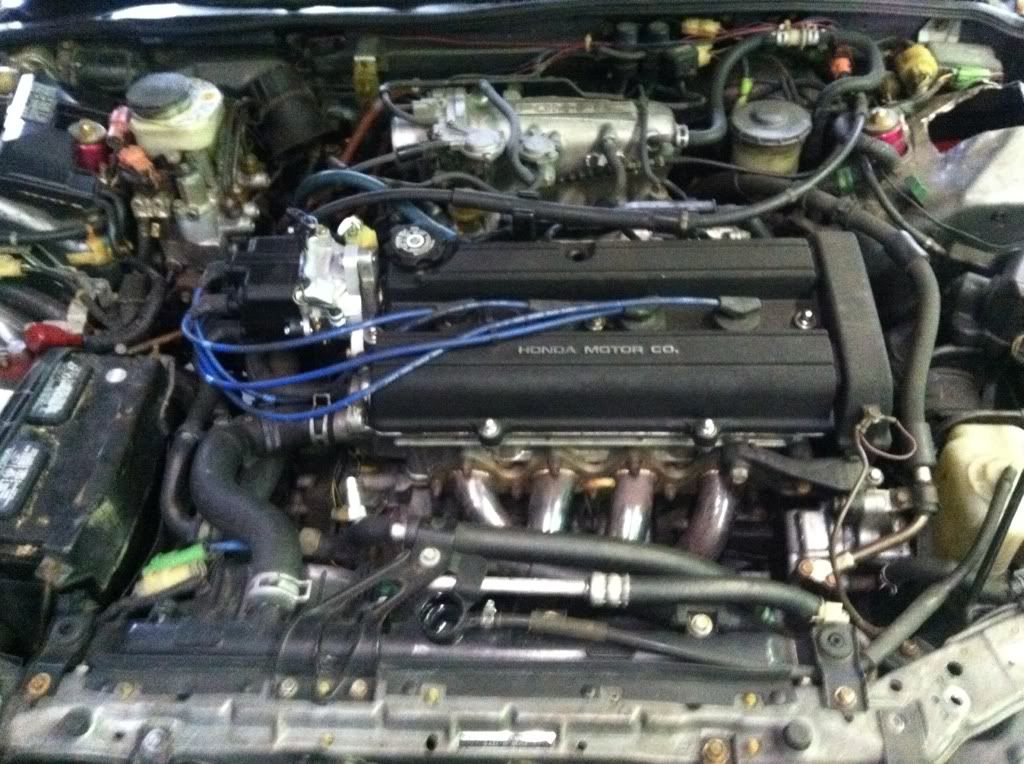 One week later: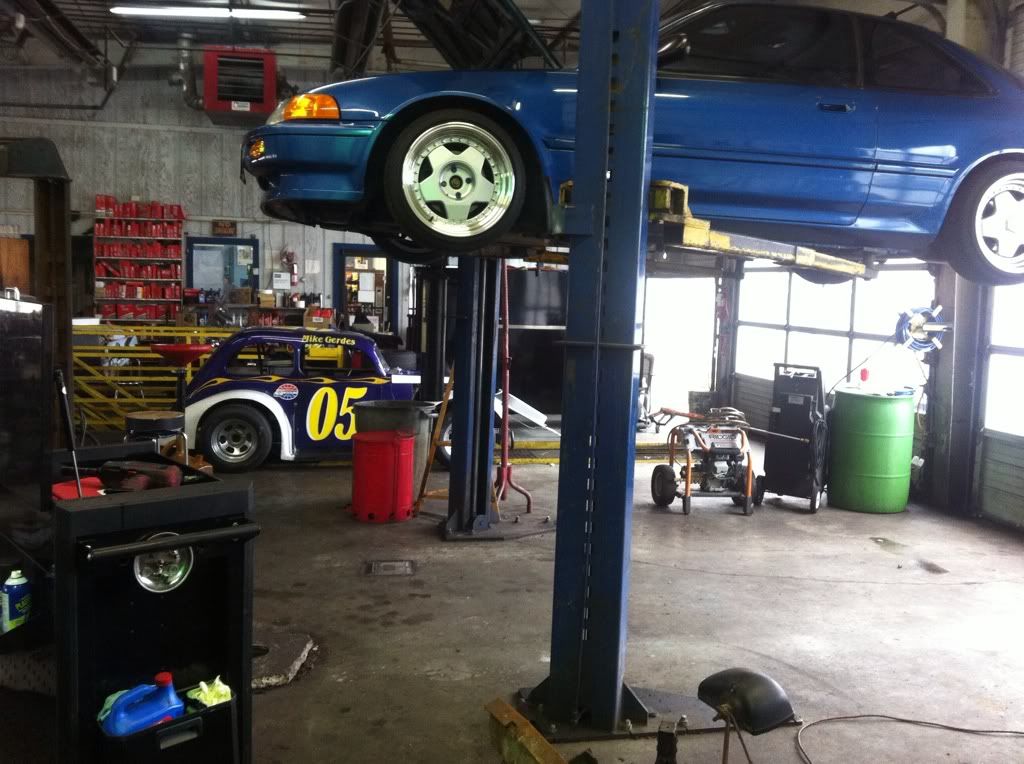 I decided to myself, I want to clean this engine bay up.

For everyone who knows me, I have like zero self control when it comes to leaving a car "stock" Even my tow rigs I haven't left stock. While I had the engine out, everyone made the comment the stock motor wasn't going back in. As an addict, the first step is admitting it. I was denying it the whole time, I tried to fight it. I just continued on with making the engine bay looking cleaner and quickly realized why I hated EF's/DA's again. (all the non sense you have to go through to remove harnesses and etc)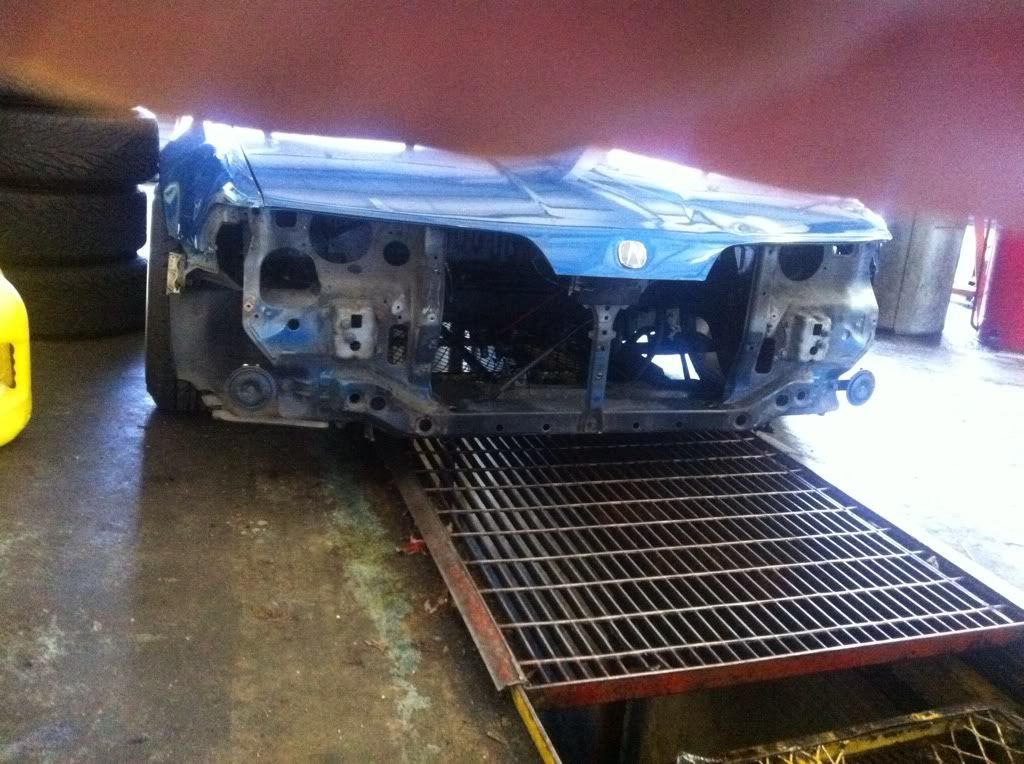 (yes I cut the control arm towers out because it's "that" low and the body rested on them)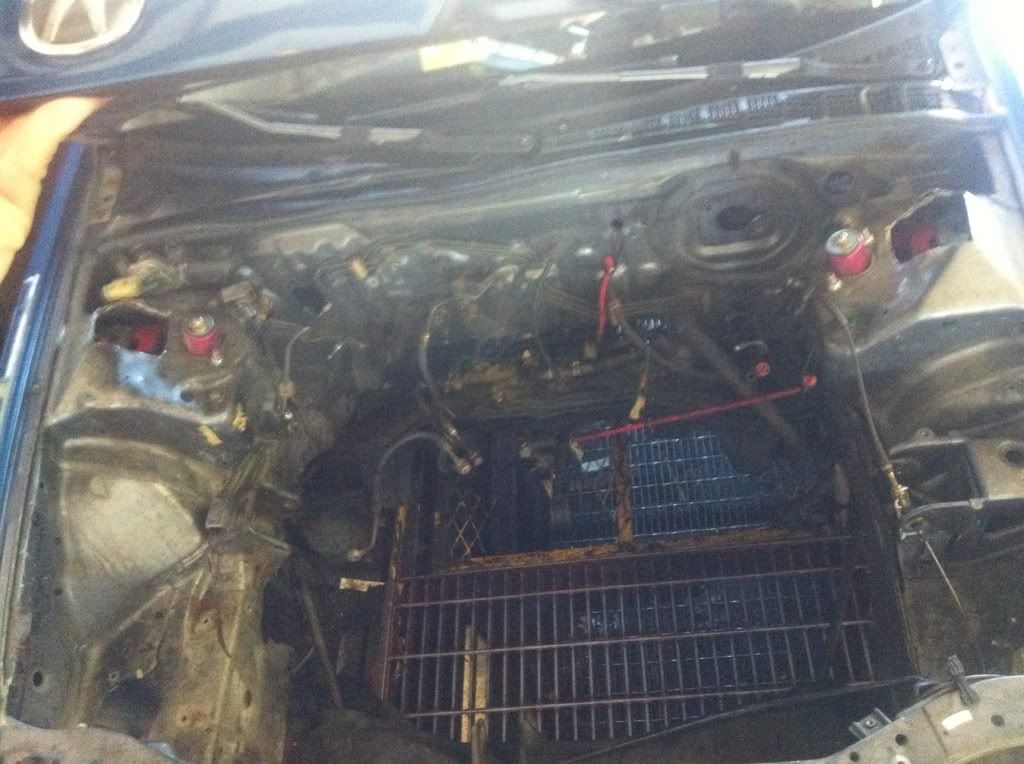 Engine bay cleaned up, scuffed and primed:




Painting process:

(It was a rush job so some areas of prep were skipped due to either getting replaced or avoided)





At this point, you could say the stock engine was about ready to go back in. and then Ultra Rover (Joe) was like hey, I have this Integra with a built motor that's been sitting for YEARS! and I got a good deal on it. However, I have gone through everything, I've replaced all of the bearings, rings, head went to the machine shop for new valve seals, resurfacing, all new gaskets, new oil pump, Pretty much everything was replaced except for the rods, pistons and valves. I upgraded the Camshafts as well and opened the turbo up and wastegate to make sure everything was still in good working order.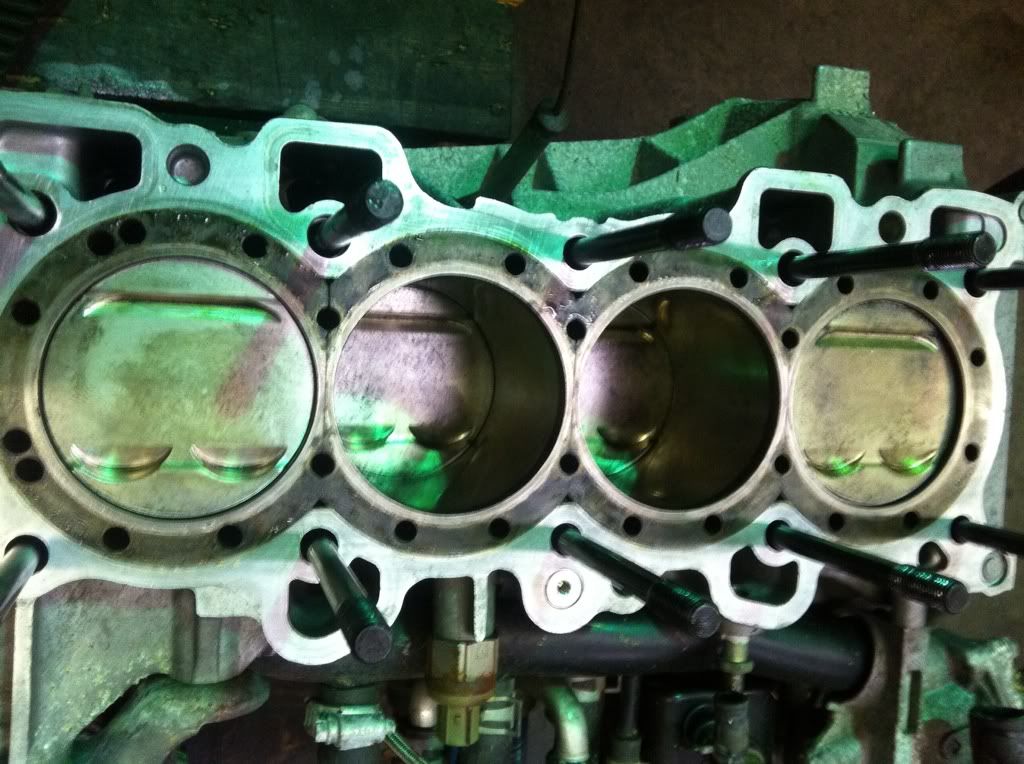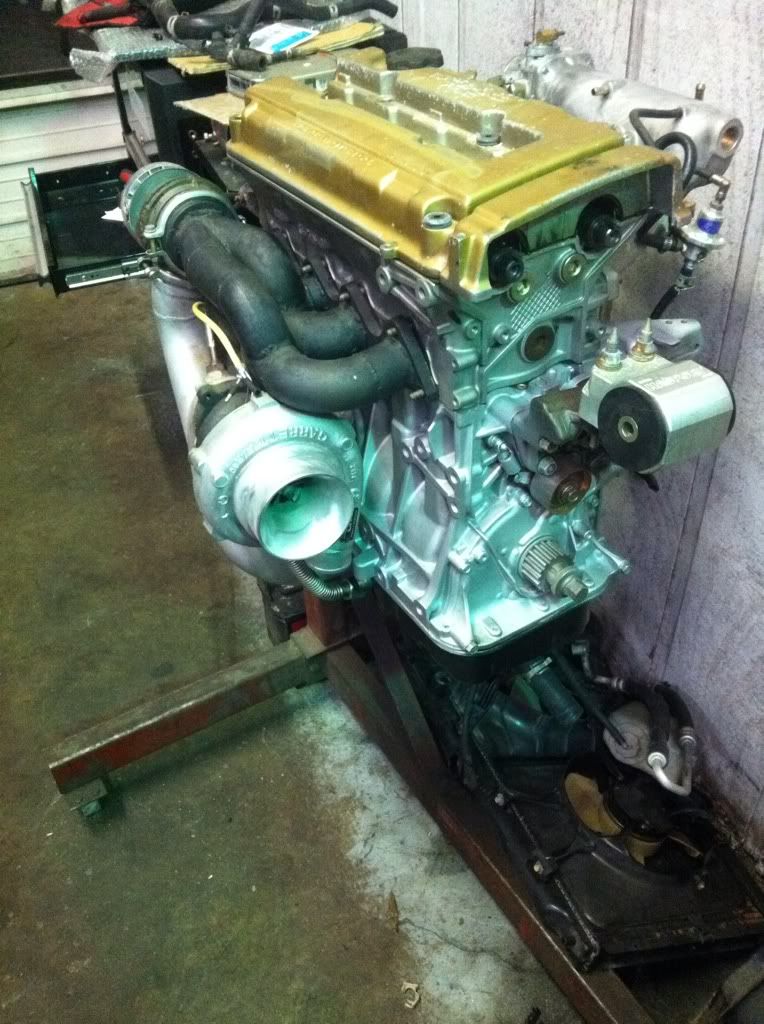 I am using a Hydro trans so I bought a conversion kit and mount kit from a local kid. Time for test fit;




Awesome, the engine has a 45* angle of being crooked. Wrong transmission mount -__-

Time to start putting it back together: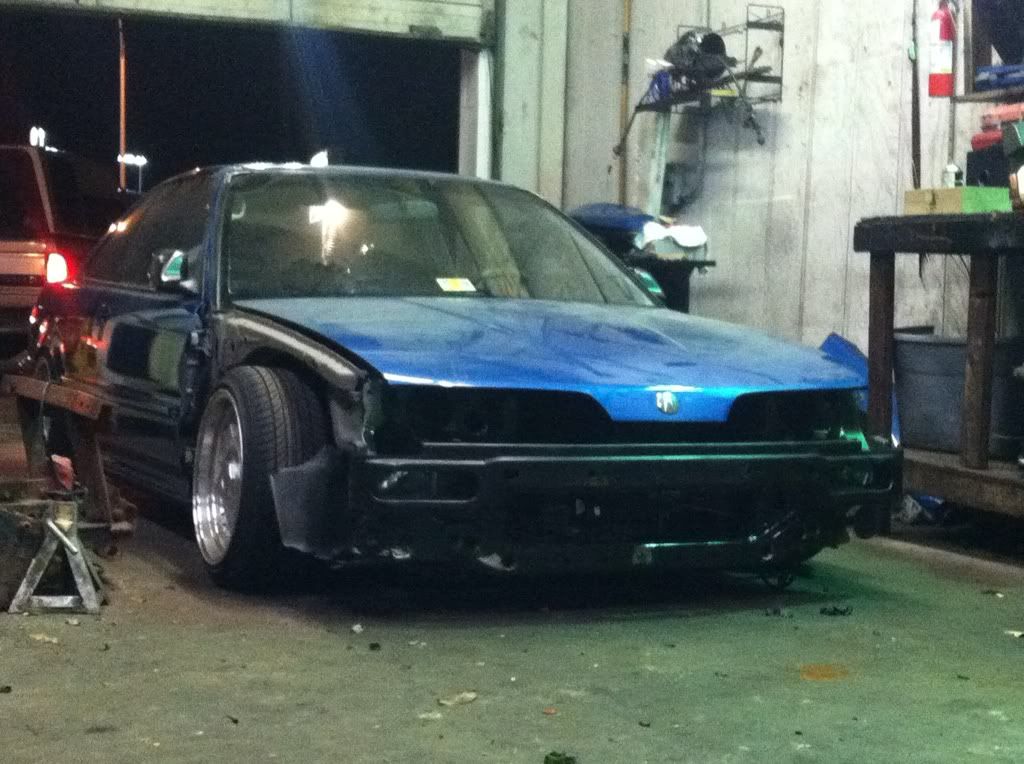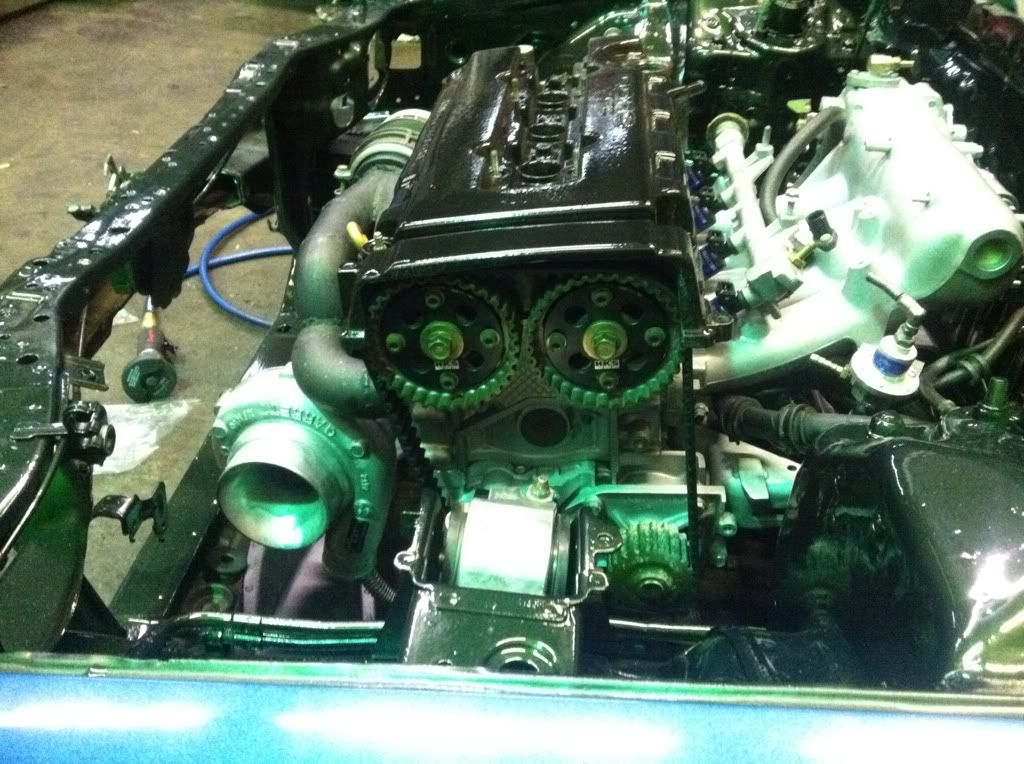 11-22-2012, 05:30 AM
Slammedxpert
Join Date: Oct 2007
Location: Virginia Beach
Posts: 6,825
Likes: 0
Received 0 Likes on 0 Posts
Re: SortaFlush's DA build (Sortawho!?)
---
I ran into radiator problems: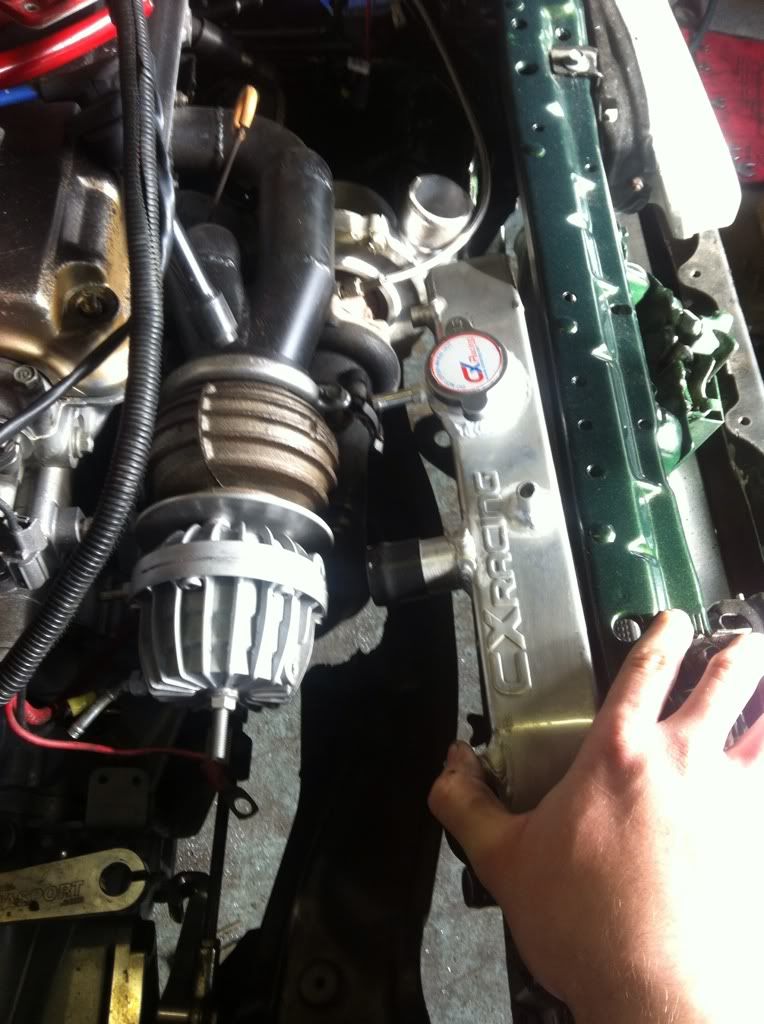 So I ended up ditching it.



Yay. Wiring time: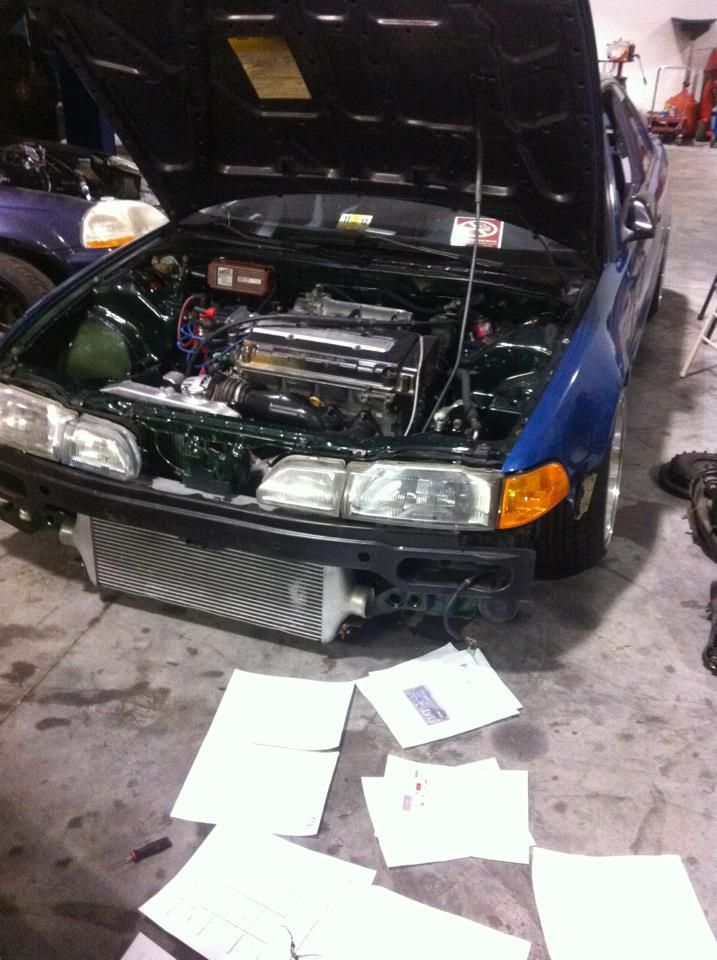 Charge Piping was finally made, Kris.is.awesome made the piping while employed at TDC. Kris gets all the credit on the piping.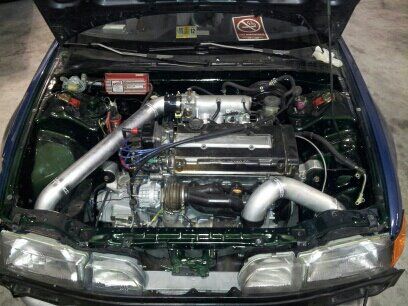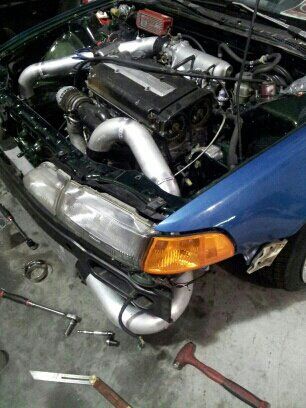 Gauges and ECU got a new home: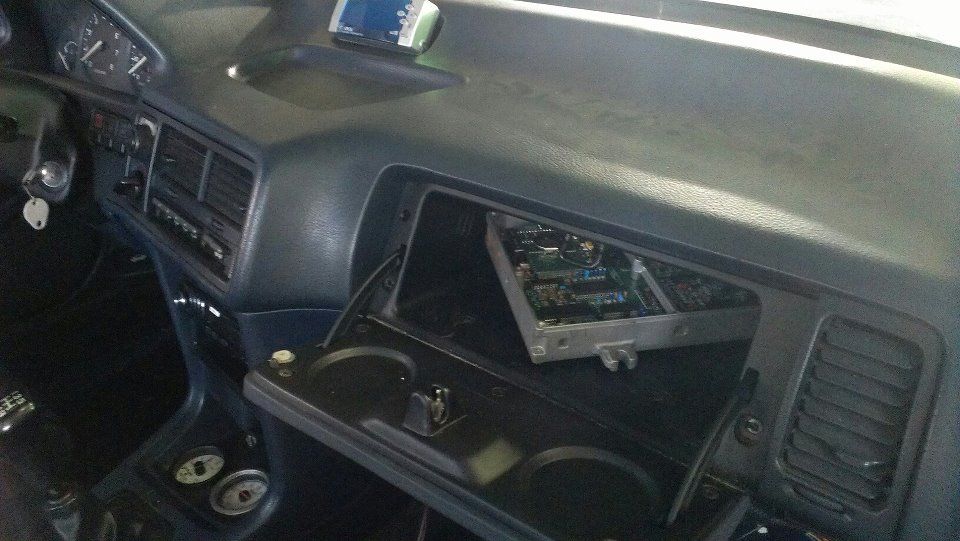 The day I quit my job, put the process of building the car on hold for a little bit due to lack of time (not really a play on words, but the new job keeps me busy and I love it)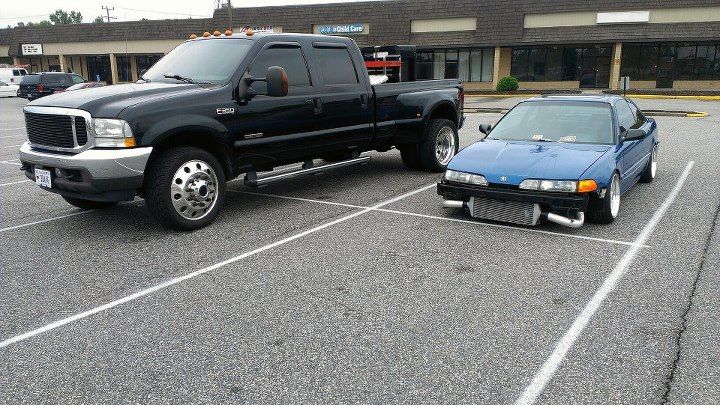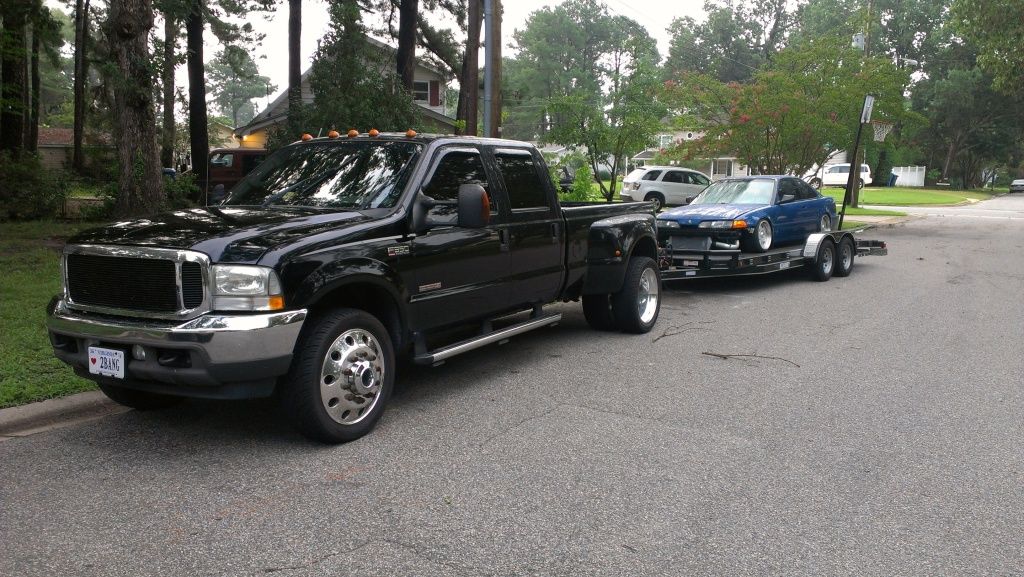 I had finally gotten some time. As I am trying to do an old school theme on this car, using "Import scene vintage parts" and the overall theme. I decided to a fade away on the piping and valve cover that resembled a wind breaker from the 90's.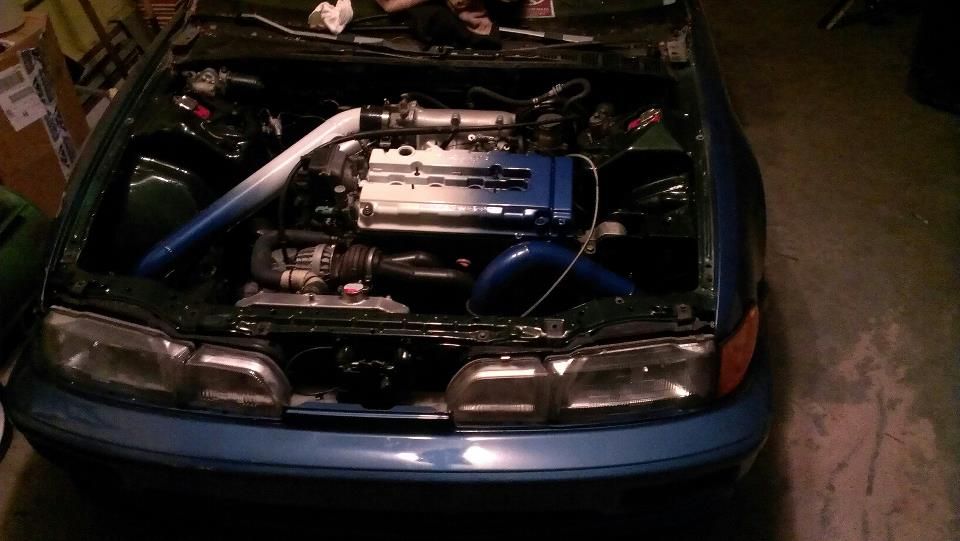 The car finally moved under its own power. I created a break in base map to get some mileage on the motor with boost cut at 6psi.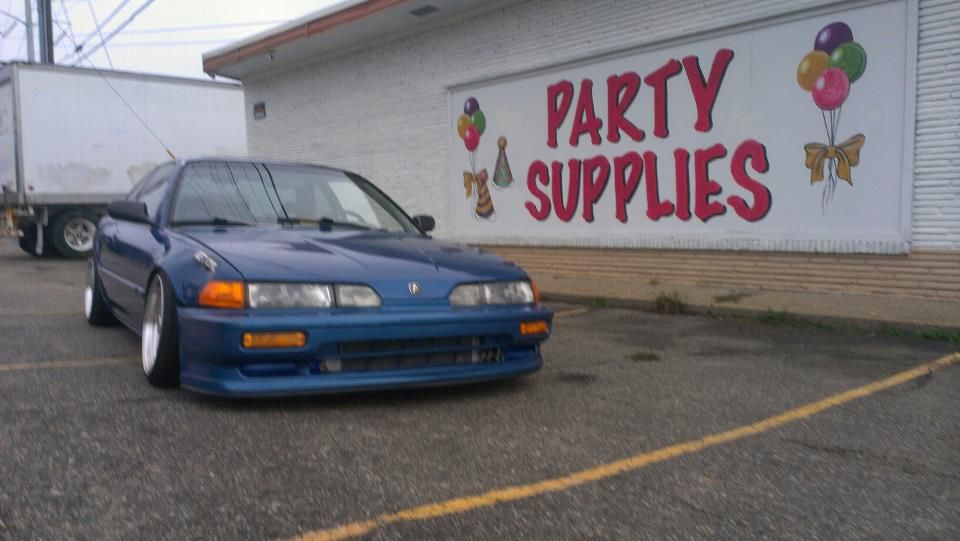 That's all I have for now, I'm currently getting a skid plate made for the oil pan, my intercooler repaired and making a skid plate for the undercarriage. My goal with this car isn't to be OMG street racer fancy or a ultra dope trailer queen. It's really just a car for my leisure and pleasure to keep me occupied. I'll keep updating this thread as things are getting done. Should see some improvements soon and a dynograph as well.

For those interested the engine is

B18C1
Crower Rods
Endyn Rollerwave 9:1 pistons (New rings)
AEBS Sleeves Bored to a 2.0L
Golden Eagle 84MM headgasket
ARP Headstuds, Main studs.
Skunk2 Stage 3 Cams
Crower Stainless valves +1mm
Crower Valve Springs and Retainers
Mild port and polish
Skunk 2 Intake manifold
Ported throttle body
Fuel Injector Clinic 1050cc Injectors
Walbro 255LPH Fuel pump new
TOMEI Wideband (analog gauge)
GReddy Boost Gauge
HKS GT2835R turbocharger
HKS 60MM Wastegate
Apexi Electronic Boost controller (AVCR)
HKS adjustable Cam gears
New oil pump
New Water pump
New Timing Belt
Hasport Mounts
Neptune Demon Board (better than Hondata IMO)

I am going to end up getting a much larger turbo/different turbo manifold and going higher boost/hp levels but for now I'm shooting for about 400-450.
11-22-2012, 05:41 AM
DESTROYS DONUTS !!
Join Date: Nov 2002
Location: the seed has sprouted.
Posts: 13,284
Likes: 0
Received 0 Likes on 0 Posts
Re: SortaFlush's DA build (Sortawho!?)
---
very nice improvement.

I am going to assume you will not be leaving the front bumper like that and making the proper modifications since you seem to be on your game.

I likes.
11-22-2012, 06:13 AM
Slammedxpert
Join Date: Oct 2007
Location: Virginia Beach
Posts: 6,825
Likes: 0
Received 0 Likes on 0 Posts
Re: SortaFlush's DA build (Sortawho!?)
---
Yes, the bumper isn't staying that way, it needs a right front fender from where someone backed into it. I plan on doing the quick releases for the front bumper that summit sells as well to get a more snug fit as well since the old Hondas have that crap factory attachment.
11-22-2012, 07:49 AM
I H8 MY CAR
Join Date: Nov 2010
Posts: 451
Likes: 0
Received 0 Likes on 0 Posts
Re: SortaFlush's DA build (Sortawho!?)
---
Just out of curiousity, why wouldnt you close back up the strut tower? If this is my car, those open holes would annoy the ever living crap out of me. Also, with the open cuts, wouldnt that weaken the shock towers?