Work VS-XX 18x9.5, 18x10.5 with new Hankook R-S3's
03-24-2014, 04:38 AM
Work VS-XX 18x9.5, 18x10.5 with new Hankook R-S3's
---
Name: Donny
Location: Suffolk
Means of contact: PM
Price: $2,000 OBO. ***FRONT TIRES NO LONGER INCLUDED***
Wheel Brand/Model: Work VS-XX
Diameter: 18"
Lug Pattern: 5x114.3
Width: 9.5" front, 10.5" rear
Offset:Fronts are +41 rear offset is +13mm (previous owner installed larger lips, wheels were originally 8.5" wide and +38mm offset)
Tire size: ****265/35ZR-18 (REMOVED)****. 285/35ZR-18
Tire brand: Hankook
Tire model: Ventus R-S3 XL
Tread life left: 100%
Wheels were disassembled, and the faces were painted Kia Carmel Yellow, and larger lips put on by previous owner. I recently bought these and had the faces taken back off and the lips polished professionally by professional rim repair in Chesapeake to shine them up. Pro rim also fixed a nick in the paint on one of the faces, verified that the seals are good and mounted and balanced the tires. Neither the wheels or tires have been driven on since I had them refinished/mounted. I'll also include a small jar of the Kia yellow touch up paint that I got when they fixed the nick.
The reason I'm selling is because these require fender flares to fit the rear of my 300Z. They fit the front well but require a 1" spacer to clear the SRT-8 brembo big brake kit that I'm putting on. I like the wheels but I changed my mind about flaring the rear and I'd like to get something that will clear the brake kit in the front with either a smaller spacer or none at all. So here's what they do fit:
Previous owner told me that he had these on a Lexus SC-400 with normal sized tires, and then on an S2000 with stretched tires and -8 degrees of camber.
They were on an Acura NSX when I bought them.
Also, they fit the front of my 90-96 300ZX with stock brakes and stick out 20 to 30 mm to far in the rear without flares. Please do your research before inquiring. Make sure you know that they will fit.
If somebody wants just the rear tires, make me an offer and I will have them pulled. I don't want to sell the wheels alone unless I've already sold the rear tires.
Pictures: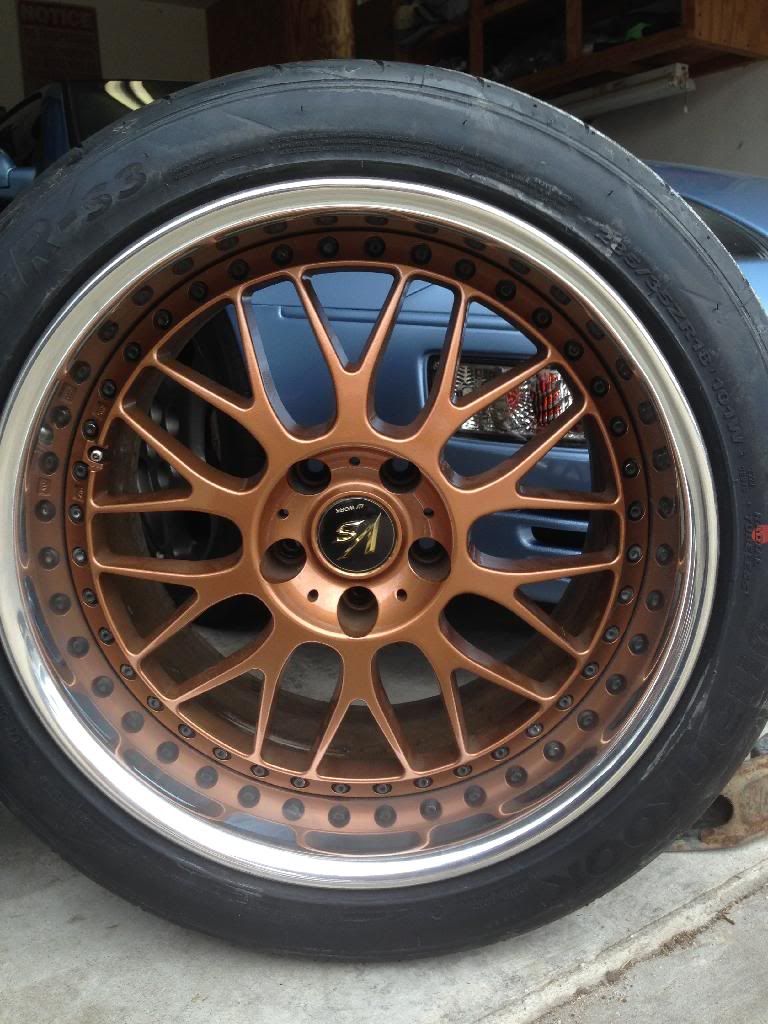 ---
Last edited by Yardjass; 03-31-2018 at

06:25 PM

.
03-25-2014, 02:35 PM
04-06-2014, 01:22 PM
Re: Work VS-XX 18x9.5, 18x10.5 with new Hankook R-S3's
---
You did a good job sir! Thinking about keeping them. If I switch teh faces front and back I may have what I need offset wise. Gonna do some measurements. Bump anyway though.
Also let it be known that my new set of wheels will be arriving later this week. When that happens, I will be removing some or all of these tires to put on the new wheels. Price will be adjusted accordingly at that time so if you want these as a full wheel/tire set, the window is quickly closing.
---
Last edited by Yardjass; 04-06-2014 at

01:31 PM

.
04-06-2014, 02:09 PM