K24/K20 CRX Partout
08-07-2013, 07:12 PM
Registered member
Join Date: Aug 2007
Location: NOVA
Posts: 5,166
Likes: 0
Received 0 Likes on 0 Posts
K24/K20 CRX Partout
---
John
Fairfax,Virginia
703-789-1655
Cash/credit card/paypal/bank transfer
Prices vary but if you don't like the prices I quote you then come back with a counter offer of what you think is fair. Yes I do package deals so the more you buy the better the deal will be.
******ALOT OF THE PARTS ARE BRAND NEW AND WERE INSTALLED AND THE CAR WAS DRIVEN 2 TIMES FOR MAYBE 30 MILES IF THAT AND THEN PARTED OUT*****
HERE IS MY BUILD THREAD AND ALSO IN MY BUILD THREAD IS THE LINK TO THE PREVIOUS OWNERS BUILD THREAD WHO RESTORED MOST OF THE CAR
http://www.k20a.org/forum/showthread.php?t=72678
**********IF ITS NOT LISTED ITS SOLD***********
ENGINE ACCESSORIES:
Alternator....$50
Greddy oil cooler with upgraded lines....
Hondata IM Gasket....$30
K-Tuned Upper -16AN Housing with coolant sensor..sold
K-Tuned Billet Oil Filter.....sold
Custom 4" Intake for center feed manifold (IPS/excessive/AFI)......sold
Custom 4" Carbon Fiber Velocity Stack....sold
BLOX Vacuum Manifold Kit....$30
Fujita oil cap.............$20
TRANSMISSION:
Oem open differential.....$50
DSS Stage 0 Axles...$175
Brand New DSS Stage 3.9 Axles with hubs/extended studs/new bearings/spindles/rotors/calipers....$700
Brand New Starter......$70
EXTERIOR:
JoJo Callos Front End...$500
INTERIOR:
Autometer auto gage 5" tach 10k rpm with tach adapter......$100
PWJDM Shift Boot.....$ 20
WHEELS/BRAKES:
(2) Falken Ziex Tires 95% Tread 195-50-15.....sold
Front Extended Wheel Studs (30 miles)....$40
(2) wheel spacers (unsure of size, came with a bear big brake kit I purchased)....$30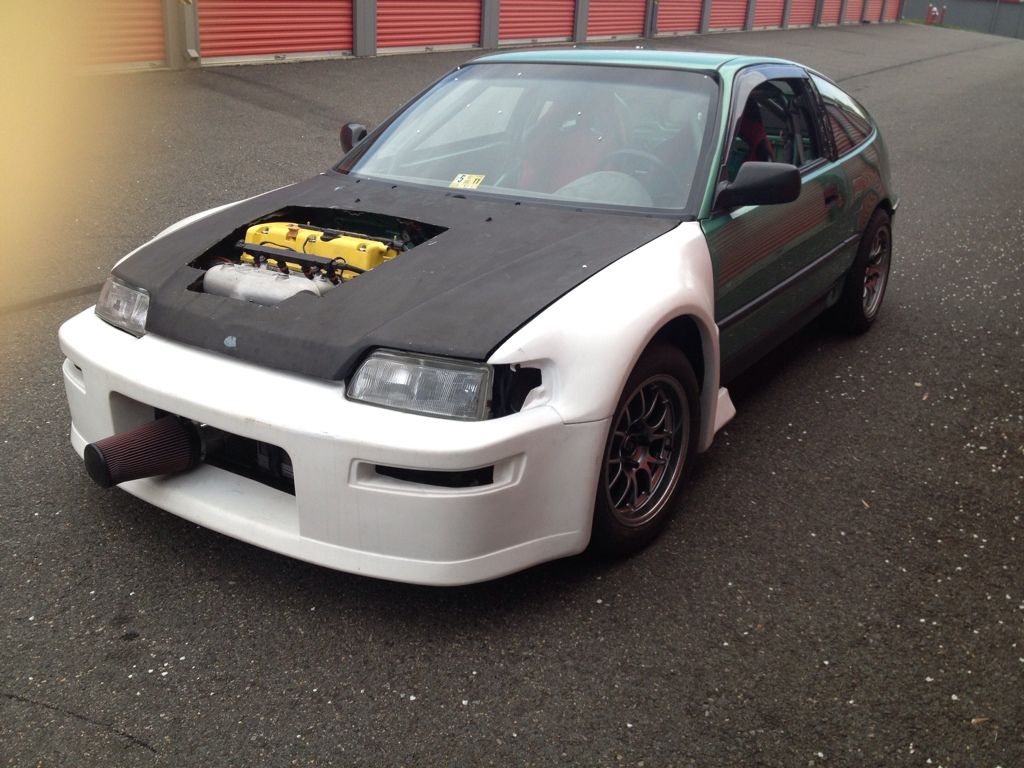 *** Everything is sold as is, No refunds or warranties***
---
Last edited by SLOW SOL; 10-10-2014 at

08:12 AM

.
08-08-2013, 09:39 AM
Registered member
Join Date: Aug 2007
Location: NOVA
Posts: 5,166
Likes: 0
Received 0 Likes on 0 Posts
Re: K24/K20 CRX Partout
---
---
Last edited by SLOW SOL; 10-25-2013 at

03:35 PM

.
08-09-2013, 04:52 AM
Registered member
Join Date: Aug 2007
Location: NOVA
Posts: 5,166
Likes: 0
Received 0 Likes on 0 Posts
Re: K24/K20 CRX Partout
---
08-10-2013, 04:14 AM
Registered member
Join Date: Aug 2007
Location: NOVA
Posts: 5,166
Likes: 0
Received 0 Likes on 0 Posts
Re: K24/K20 CRX Partout
---
08-10-2013, 04:22 AM
Registered member
Join Date: Aug 2007
Location: NOVA
Posts: 5,166
Likes: 0
Received 0 Likes on 0 Posts
Re: K24/K20 CRX Partout
---
08-11-2013, 05:42 AM
Registered member
Join Date: Aug 2007
Location: NOVA
Posts: 5,166
Likes: 0
Received 0 Likes on 0 Posts
Re: K24/K20 CRX Partout
---
08-12-2013, 08:16 AM
Registered member
Join Date: Aug 2007
Location: NOVA
Posts: 5,166
Likes: 0
Received 0 Likes on 0 Posts
Re: K24/K20 CRX Partout
---
08-13-2013, 04:03 AM
Registered member
Join Date: Aug 2007
Location: NOVA
Posts: 5,166
Likes: 0
Received 0 Likes on 0 Posts
Re: K24/K20 CRX Partout
---
08-14-2013, 05:20 AM
Registered member
Join Date: Aug 2007
Location: NOVA
Posts: 5,166
Likes: 0
Received 0 Likes on 0 Posts
Re: K24/K20 CRX Partout
---
08-16-2013, 04:00 AM
Registered member
Join Date: Aug 2007
Location: NOVA
Posts: 5,166
Likes: 0
Received 0 Likes on 0 Posts
Re: K24/K20 CRX Partout
---