PMC Bronze Ammunition 9mm Luger 115 Gr FMJ
12-27-2014, 08:07 AM
PMC Bronze Ammunition 9mm Luger 115 Gr FMJ
---
Name: Frank
Location: Va Beach
Means of contact: Private Message
Price:
$14.50/box (50 rds)
$70.00/5 boxes (1/4 case 250 rds)
$135.00/10 boxes (1/2 case 500 rds)
Description:
Enjoy uncompromising, quality and performance from our extensive PMC Bronze Line.
All PMC cartridges pass rigorous inspection at our electronic powder-check station, which instantly and accurately measures the propellant charge in each round. If the propellant in any cartridge varies by as little as two-tenths of one grain, the system stops, and the cartridge is discarded. No other ammunition manufacturer can assure greater uniformity and reliability than PMC. These valued characteristics run throughout our entire line.
Technical Information
Caliber: 9mm
Bullet Weight: 115 Grain
Bullet Style: Full Metal Jacket
Case Type: Brass
Ballistic Information:
Muzzle Velocity: 1150 fps
Muzzle Energy: 338 ft lb
Pictures: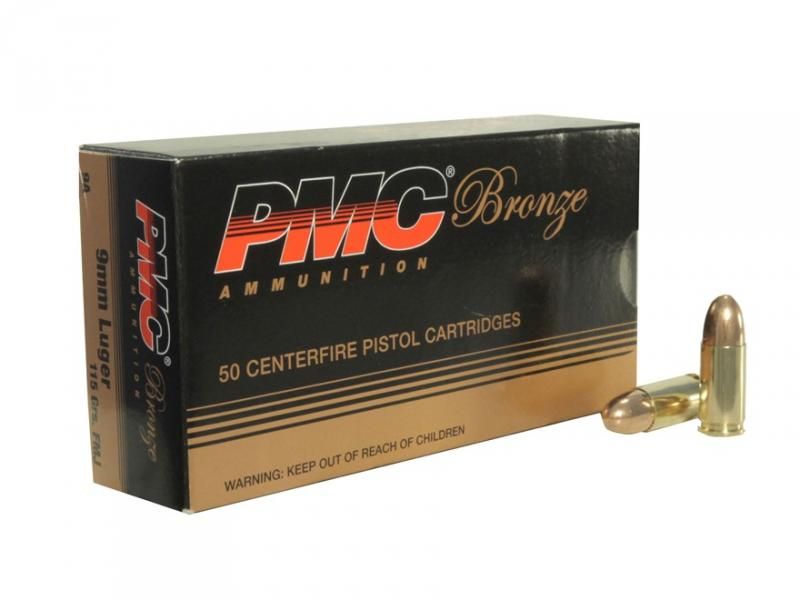 ---
Last edited by F4Fresh; 01-06-2015 at

02:44 AM

. Reason: Price Drop
12-28-2014, 04:41 AM
carebearreps
Join Date: Feb 2006
Posts: 8,964
Likes: 0
Received 0 Likes on 0 Posts
Re: PMC Bronze Ammunition 9mm Luger 115 Gr FMJ
---
any chance you can get your hands on some 45acp?
12-28-2014, 05:54 AM
Re: PMC Bronze Ammunition 9mm Luger 115 Gr FMJ
---
12-29-2014, 06:28 AM
Re: PMC Bronze Ammunition 9mm Luger 115 Gr FMJ
---
12-31-2014, 07:07 AM
Re: PMC Bronze Ammunition 9mm Luger 115 Gr FMJ
---
01-03-2015, 04:48 PM
Re: PMC Bronze Ammunition 9mm Luger 115 Gr FMJ
---
01-06-2015, 02:44 AM
Re: PMC Bronze Ammunition 9mm Luger 115 Gr FMJ
---
01-07-2015, 09:15 AM
Re: PMC Bronze Ammunition 9mm Luger 115 Gr FMJ
---
01-15-2015, 03:38 AM
Re: PMC Bronze Ammunition 9mm Luger 115 Gr FMJ
---
01-19-2015, 05:12 PM
Re: PMC Bronze Ammunition 9mm Luger 115 Gr FMJ
---