2003 Rally Red 2.4/HTA35r etc
06-12-2016, 12:23 PM
Go Team Marlboro
Join Date: Jul 2003
Location: Roanoke, VA
Posts: 2,419
Likes: 0
Received 0 Likes on 0 Posts
2003 Rally Red 2.4/HTA35r etc
---
Name: Benn
Location: Roanoke
Means of contact: PM
Price: $17,000 obo
Find myself rarely driving this car anymore. That coupled with the advent of my new business starting up, trying to build a road race car, and my wife with one in the oven I can't see hanging onto it letting it sit anymore.
I bought it locally bone stock with 109k on the clock. Has always been a solid car and never let me down. Tuned for pumpgas (460ish whp/23 psi) and E85 (600whp/30psi), both tunes will go with it.
Any questions feel free to ask. Looking to get 17k obo
119k miles on chassis, 6k miles on engine and clutch, 3k on turbo setup.
Motor:
-2.4 Standard rod
-Mitsu crank
-Crower I beam
-Wiseco 1400hd pistons
-King bearings
-Shimmed supertech single valvesprings
-Kelford 272 cams
-Findanza cam gears
-Buschur/JUN style oil pan
-Kiggly HLA
-BeanFab Vband manifold
-Tial gate
-Tial .82 vbanded HTA35r
-3" o2 housing and full exhaust
-Ported stock intake manifold
-FIC1450's
-Dual intank 255's on a hobb switch
-ETS 3.5 intercooler
-Aluminum intercooler piping with Tial BOV
-Stock ecu SD with ECU boost
Trans:
-Mitsu put a trans in the car at about 60k, it shifts great and has no issues
-Exedy twin disc
-Redline fluids throughout drivetrain
-Waveloc TOB Clip and clutch fork stop
Suspension:
-Bilstein MR struts/shocks
-GTWorx Road Race springs
-Whiteline front swaybar
-Cusco pillowball front mounts
-Bronze powdercoated Rota's with 245/40/18 tires(about 1500 miles on tires)
Body:
-Battery relocated to trunk
-Autopower bolt in rollbar
-Prosport Oil pressure/Oil temp/Water temp guages in 42 draft pod
-Mitsu radio relocate kit
-Works/Bell steering hub adapter and Sparco wheel
Thats all that comes to mind, pics can tell the rest. Stock steering wheel and rear wing can come with if desired. Front seats have 2 cuts in them for fitting 6pt harnesses(harness eye's are still bolted to body under seat). It has the usual rock chips, dents and scratches for the age/mileage. No big wrecks or massive dents. Front bumper is in worst shape as seen in pics.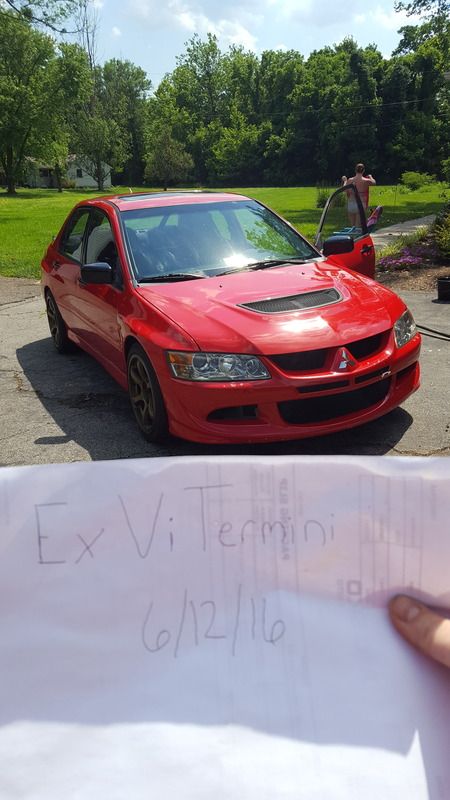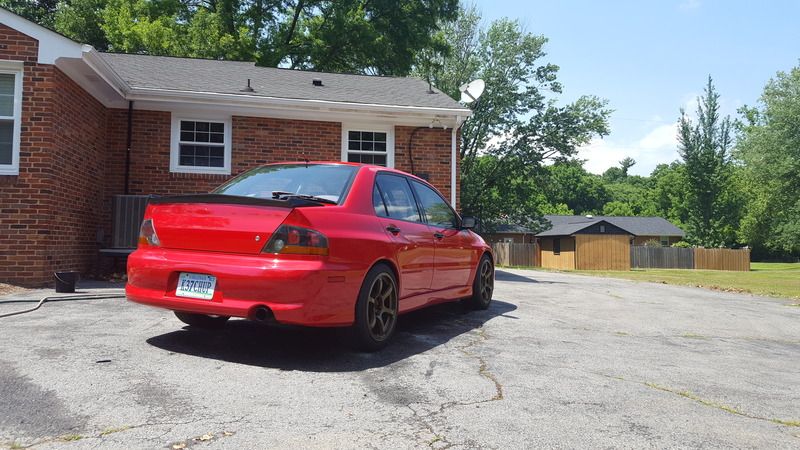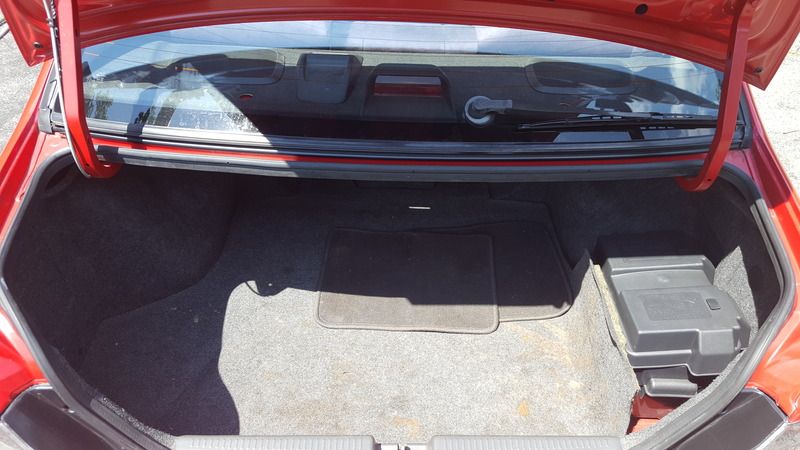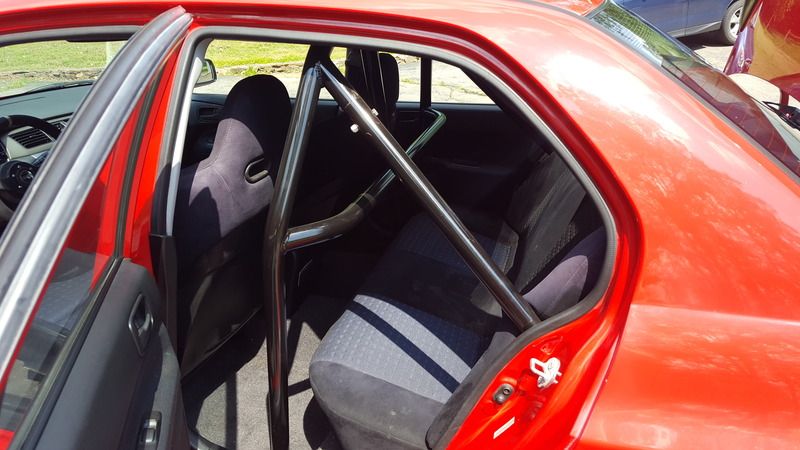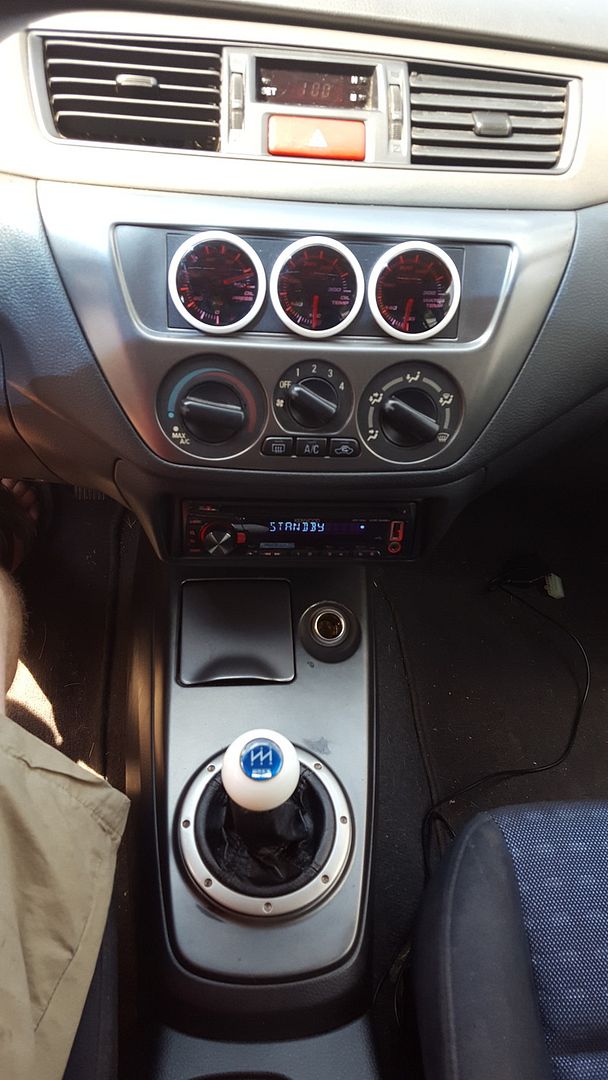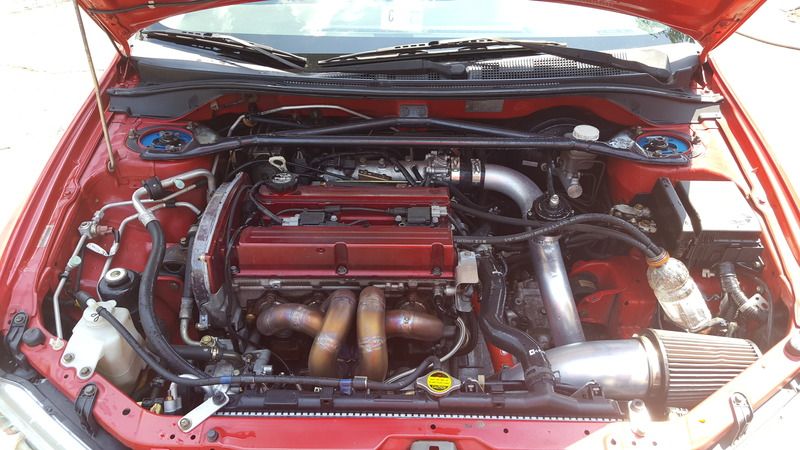 06-13-2016, 03:45 PM
santacruz superlight
Join Date: Apr 2005
Posts: 197
Likes: 0
Received 0 Likes on 0 Posts
Re: 2003 Rally Red 2.4/HTA35r etc
---
You know the baby's ride from the hospital needs to be in an EVO!

Benn has worked on three of my EVOs through out the years and I couldnt even imagine how many other EVOs he has built. He knows these cars better then anyone and you can buy this evo knowing it is done right and was loved.

If I had the funds I would be on my way right now to pick it up!
Thread
Thread Starter
Forum
Replies
Last Post