1995 Mazda Miata M-Edition
01-26-2016, 12:20 PM
sleeper
Join Date: Mar 2008
Location: Sterling
Posts: 315
Likes: 0
Received 0 Likes on 0 Posts
1995 Mazda Miata M-Edition
---
Name: Joe
Location: Chantilly
Means of contact: 703.474.6041
Price: $8,500
Description:
AS TITLE STATES
1995 Mazda Miata M-Edition
120k
I have had this car for the better part of 5 years now. It was stock for about 4 years, until some kids in my neighborhood decided to vandalize my car. Since then, its been nonstop modification after modification. I drive the shit out of this car, and because i do, i keep it very well maintained.
Modifications
-6 speed transmission from a 2001 Miata
-FM AFCO coilovers (over $2400)
-Harddog Roll Bar (double diagonal)
-FM Porterfield pads
-New blank rotors
-Hardtop
-MOMO wheel
-Carbing Shift Knob
i know my asking price is high, but dont be afraid to make an offer. Ive built this car from the ground up and know everything about it.
If we can agree on something close to the asking price, i will include 3 sets of wheels. If my Asking price is met all together, i will include a very low mileage 99 motor (NB heads flow more air for an increase of 15hp. also you get potentially more power if you boost it)
Those Wheels Include
-Stance Emotion 15x8 +20 with 95% tread Nitto Neo Gens (black wheels)
-BBS RS033 Original 15x6.5 +34 (good luck finding a set)
-Weds Something 14x6 with Wintertires (not pictured)
this is a very complete car, that can come with 3 sets of wheels, an extra transmission, and an extra motor.
Obviously i will lower the price if i can take more stuff off the car, but im more leaning to sell as a package.
Pictures: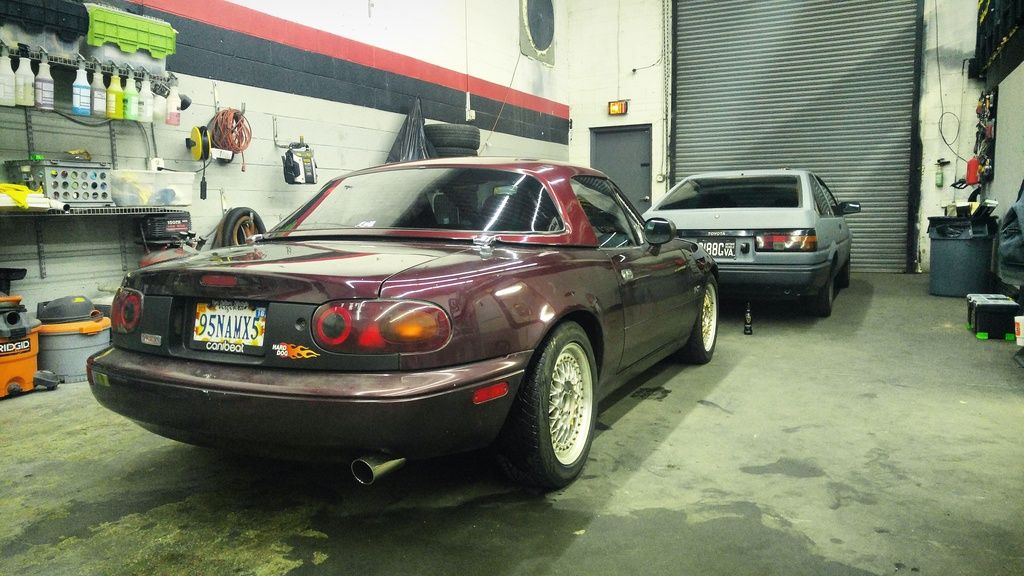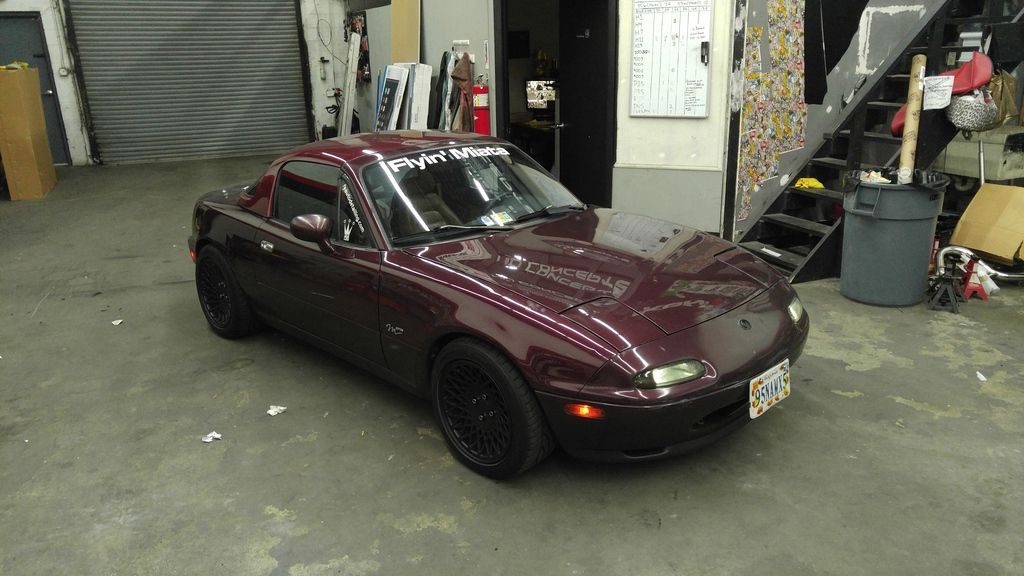 Very open to car trades. im open minded, but if it isnt as clean, be prepared to add cash. junk need not apply
---
Last edited by slikaznricer; 01-27-2016 at

10:17 AM

.
01-26-2016, 03:18 PM
Re: 1995 Mazda Miata M-Edition
---
I don't think I can stomach the price but nice car. Got a few questions/comments though that may help you with potential buyers.

1. Does it have a torsen LSD or something else of some quality?
2. How is the MS 6 speed in a naturally aspirated car? I've driven an M45 car with one and the first gear runs out so fast, its basically useless.
3. Have you done anything with bushings, bearings, etc?
4. You should probably take out the red statement at the bottom of the post. Not only is it a little strange, but it is already implied since you drive a Miata.
01-27-2016, 06:21 AM
sleeper
Join Date: Mar 2008
Location: Sterling
Posts: 315
Likes: 0
Received 0 Likes on 0 Posts
Re: 1995 Mazda Miata M-Edition
---
Understood, I forget to mention that it's a torsen. Bushing haven't been done.

The 6 speed is fine with an NA car using the 4.10 rear. It accelerates really fast for an NA car.

I'll reiterate the price

8500- car as is, 3 sets of wheels, extra transmission and motor

7500- car as is, 1 set of wheels, extra transmission

6500- car as is

5500- car minus hardtop and on stock suspension, 2 sets of wheels
Thread
Thread Starter
Forum
Replies
Last Post