95 eg sedan full suspension shaved tucked bay
02-05-2012, 11:24 PM
95 eg sedan full suspension shaved tucked bay
---
Name: BAKER
Location: VA BEACH/HPT RDS
Means of contact: PM OR TEXT 757-879-5400 ANYTIME
*****WOULD LOVE A CLEAN EK HATCH STOCK WITH SOME SUSPENSION******
HAD THIS UP HERE A WHILE BACK, PUT SOME MORE TIME AND WORK IN HER OVER THE PAST FEW MONTHS JUST GETTING BORED WITH IT S SEEING WHATS OUT THERE OR HOPING SOMEONE GIVES ME CASH FOR A BIKE. IN NO RUSH TO GET RID OF AT ALL A LOT OF TIME AND MONEY AND LABOR IN THIS THING, I ALREADY HAVE A TRUCK AND DD SO DONT ASK.
$5500 THE WAY IT SITS
$5000 NO INDASH
$4700 NO IN DASH NO SYSTEM
$4500 NO IN DASH, SYSTEM OR PASSWORD STRUT BAR
- THESE PRICES ARE PRETTY FIRM, I WILL CONSIDER TRADES OR TRADES PLUS CASH JUST LET ME KNOW WHAT YOU HAVE
TEXTTTTTT 7578795400 ANYTIMEEE - BAKER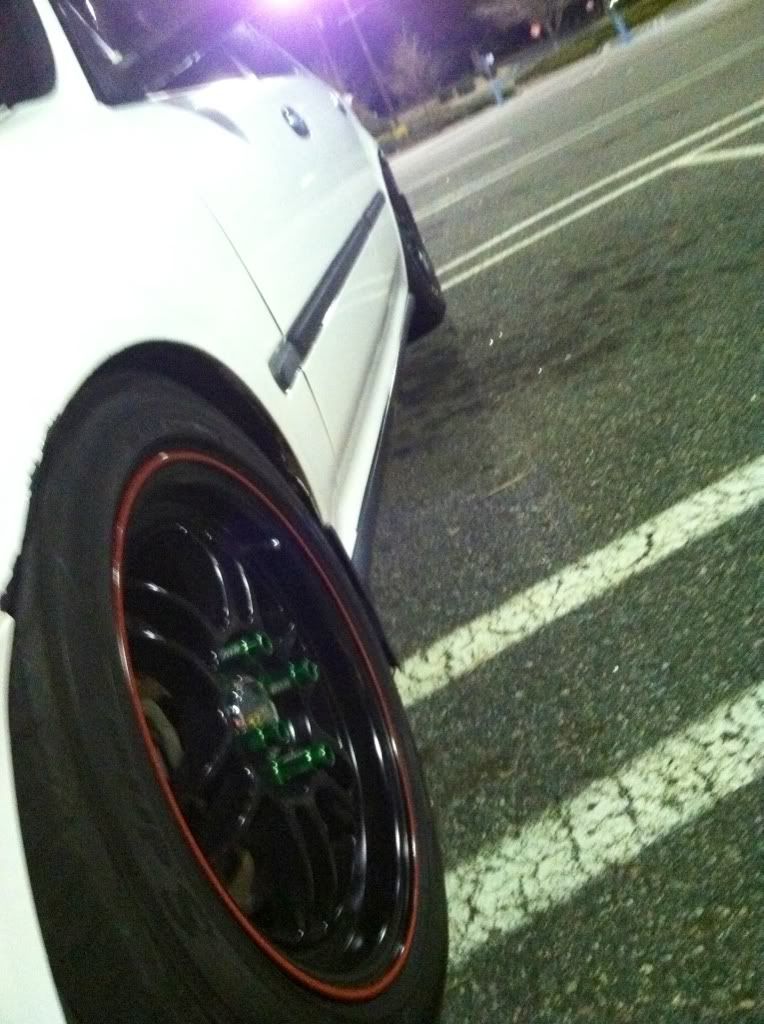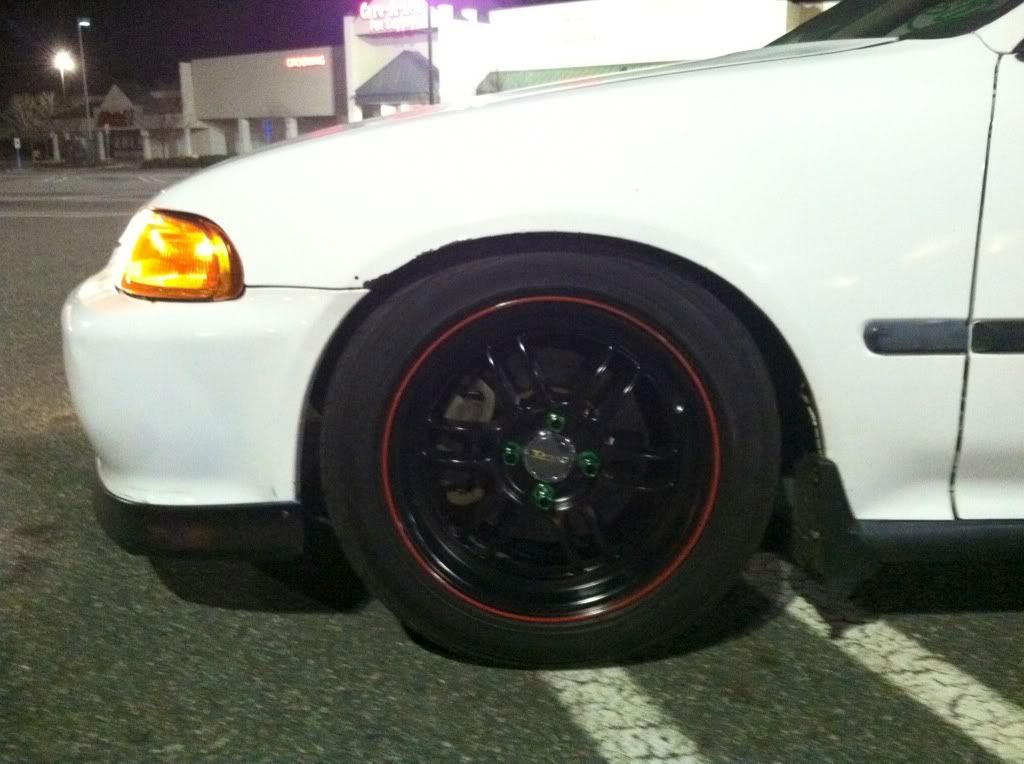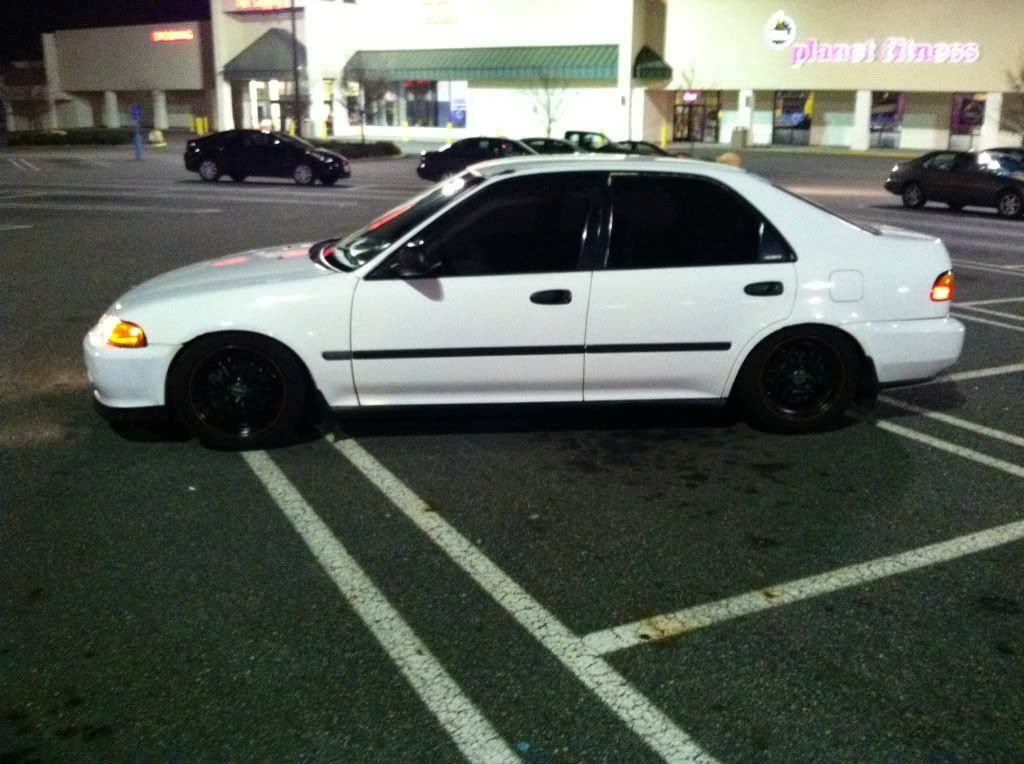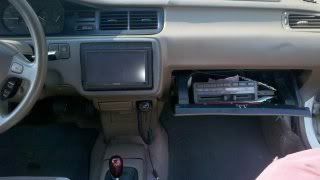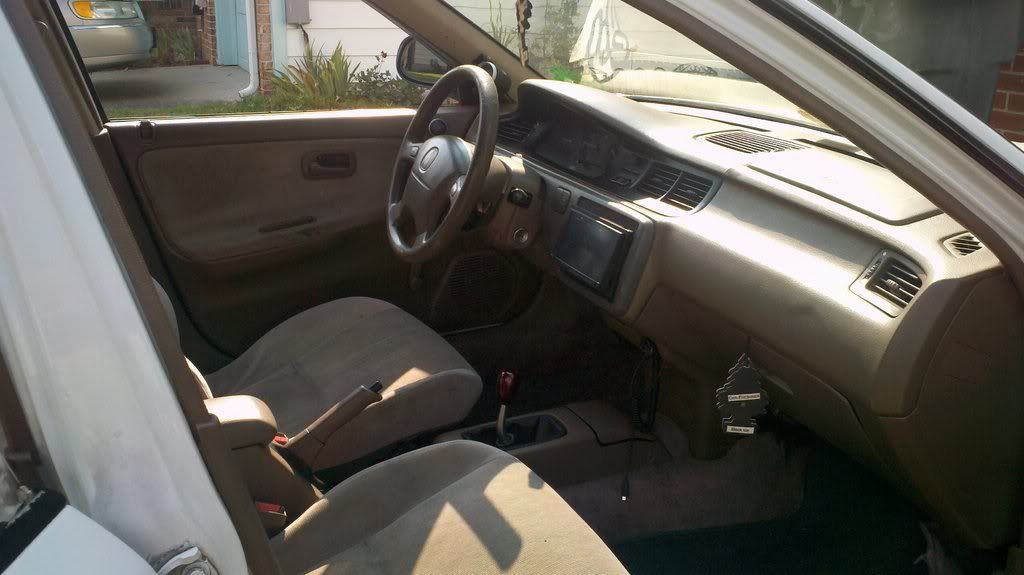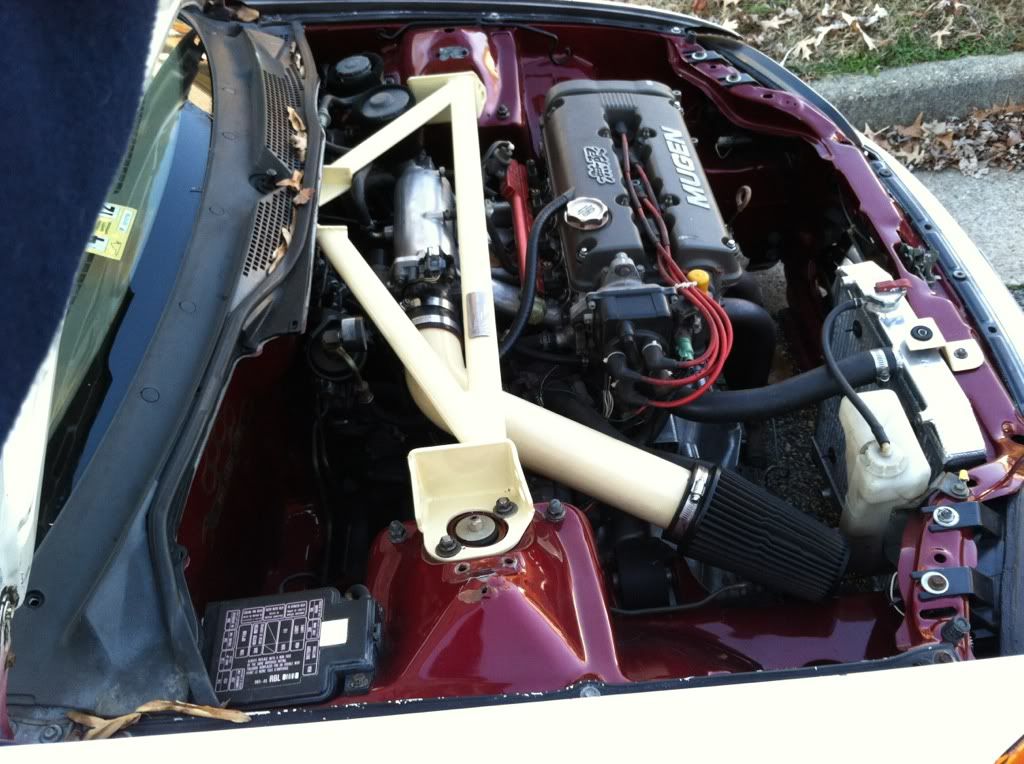 MOTOR:
- JDM B16A 147K MILES
- TYPE R CAMS
- TYPE R DUAL VALVE SPRINGS
- TYPE R RETAINERS
- TYPE R THROTTLE BODY
- TYPE R INTAKE MANIFOLD
- TYPE R HEADER
- TYPE R SHIFT LINKAGE
- SKUNK 2 CAM GEARS
- CHIPPED P28 ON CHROME PRO MADE 169WHP
- LAUNCH CONTROL AT 5K RPM
- REV LIMITER AT 9300 RPM
- SHIFT LIGHT AT 9200 RPM
- PLACE RACING SOLID POLY MOUNTS
- MISHIMOTO POLISHED RADIATOR
- USDM B16 TRANNY
- H22 SPRING LOADED LIFTERS
- MUGEN VALVE COVER
- MUGEN OIL CAP
- ALWAYS RAN CASTROL FULL SYNTHETIC
- TEST PIPE ---> APEXI WORLDSPORT 2 PIPING ----> RSX TYPE S STOCK MUFFLER
SUSPENSION:
- YONAKA FULL COILOVERS
- FUNCTION 7 POLISHED LOWER CONTROL ARMS
- SILVER ASR SUBFRAME BRACE
- 19MM SUSPENSION TECH REAR SWAY BAR
- 23MM SUSPENSION TECH FRONT SWAY BAR
- PASSWORDJDM 3PT STRUT BAR POWDER COATED KHAKI
- STEEL BRAIDED BRAKE LINES ALL AROUND
- SLOTTED ROTORS IN REAR
INTERIOR:
- TAN INTEGRA FRONT SEATS
- TAN INTEGRA REAR SEATS
- ARM REST
- KENWOOD DOUBLE DIN WITH NAVIGATION
- 6X9 CONVERSION IN REAR
- SUPER TWEETERS IN REAR
- 500 WATT AMP ON ALL THE SPEAKERS
- 2 12INCH KENWOOD SUBS IN BANDPASS BOX
- 1200WATT AMP ON THE SUBS
- HID DOME LIGHT
- CLIMATE CONTROL RELOCATED TO GLOVE BOX
- HONDA OEM FLOOR MATTS
EXTERIOR:
- JDM FOG LIGHTS WHITE
- 2000 SI FRONT LIP
- WEATHERTECH WINDOW VISORS BACK TWO ARENT ON
- OEM MUDD FLAPS ALL AROUND
- JDM ONE-PIECE BLACK HOUSING HEADLIGHTS
- WHITE CITI-LIGHTS
- FERIO REAR DOOR MOLDINGS
WHEELS:
- DRAG DR21 BLACK WITH RED PIN STRIPE ONLY 3 MONTHS OLD
- YOKOHAMA S DRIVES GOOD RUBBER
- GREEN BLACKWORKS EXTENDED OPEN END LUG NUTS
- ENGINE BAY HAS BEEN SHAVED AND FILLED AND SPRAYED HOUSE OF KOLOR BRANDYWINE CANDY
- SEMI WIRE TUCK
BADDD:
- WINDSHIELD WIPER MOTOR LOCKED UP (TOOK EM OFF, I JUST USE RAINX RELIGIOUSLY)
- SLIGHT GRIND IN 5TH AND ONLY 5TH, IF YOU SHIFT SLOW ITS BUTTER
- EXHAUST LEAK AT TEST PIPE
- I REPLACED PASSENGER REAR DOOR AND ITS SLIGHTLY DIFFERENT SHADE OF WHITE
---
Last edited by According2Me; 02-06-2012 at

11:51 PM

.
02-06-2012, 01:56 PM
02-06-2012, 01:57 PM