94 Honda Civic Hatch 800whp+ 9 sec T/S
08-01-2012, 12:45 PM
94 Honda Civic Hatch 800whp+ 9 sec T/S
---
Name: Scott
Location: Stuarts Draft
Means of contact: PM
Price: $ 22,000 Not even close to what I have put in this car
I WILL NOT PART OUT DON'T ASK
PLEASE DON'T BASH MY SHIT, ITS ALL FOR REAL AND THOSE THAT HAVE SEEN IT, ITS CLEAN
Description:
CAR IS WORTH EVERY PENNY AND ONLY QUALITY PARTS USED. POSSIBLE TRADES I DO NOT WANT YOUR B16 JUNK!! DON'T WASTE MY TIME PLEASE!!
94 Cx hatch that was built and to race in the True Street class. Car is 100% ready to race, YOU can make it street leagal but why would you want to? Car was tuned on C16 by Joe Simpson
Selling the Precision 6765 Billet .96ar new seals $1000
Motor Parts List:
ABES 84mm GSR bottom
Eagle H beam rods
CP 9.1:1 pistions
B16 head Endyn full race port Ferrea springs, retainers, vlaves
Endyn timeing belt tensioner
Skunk2 Pro2+ cams
Skunk2 Pro Cam gears
M&W Pro 10 Ignition
Full-Race top mount manilfold
Full-Race 3"-4" DP
Full-Race back door intercooler
Precision 6765 billet wheel
Hondata s300
AMS-1000 wit Co2
2 44mm Tial wastegates
2 044 Bosch fuel pumps with -10an fuel line -8an return line Aeromotive filters on the feed line
Aeromotive 1:1 regulator
ID2000cc injectors
NGK Wideband O2 sensor
Golden Eagle scatter shield
LS trans with Quaife LSD
Drive Shaft Shop Stage 5 axles
Tial BOV
Victor X intake Manifold
Competition Clutch twin disc
Car parts list:
S&W 10 pt. steel cage
Omni Power Drag Launch coilover 18krear 12k front
Ebay Type R seats (had to cheap on somthing)
Rear Moroso Battery box
Blox Lower control arms
Exospeed 3 piece fiberglass front
Spinwerkz 13x8 wheels (front) 15x4 wheels (skinnies rear)
I also have a 2011 Proline 24' enclosed trailer that can be added to this sale.
Pictures: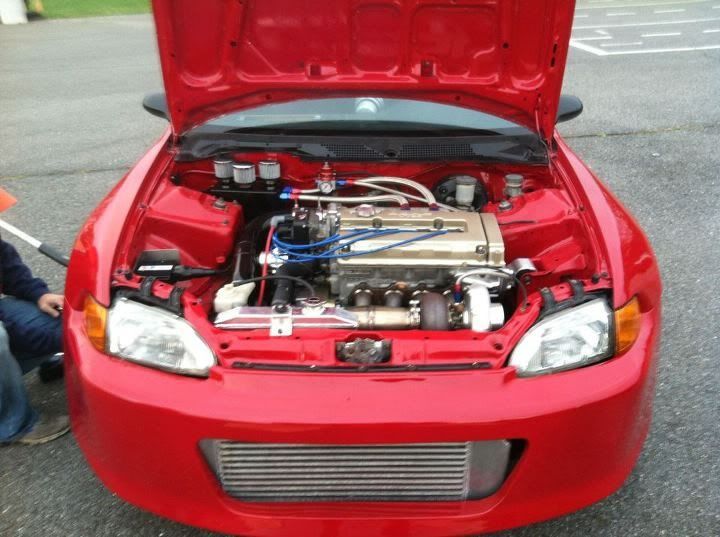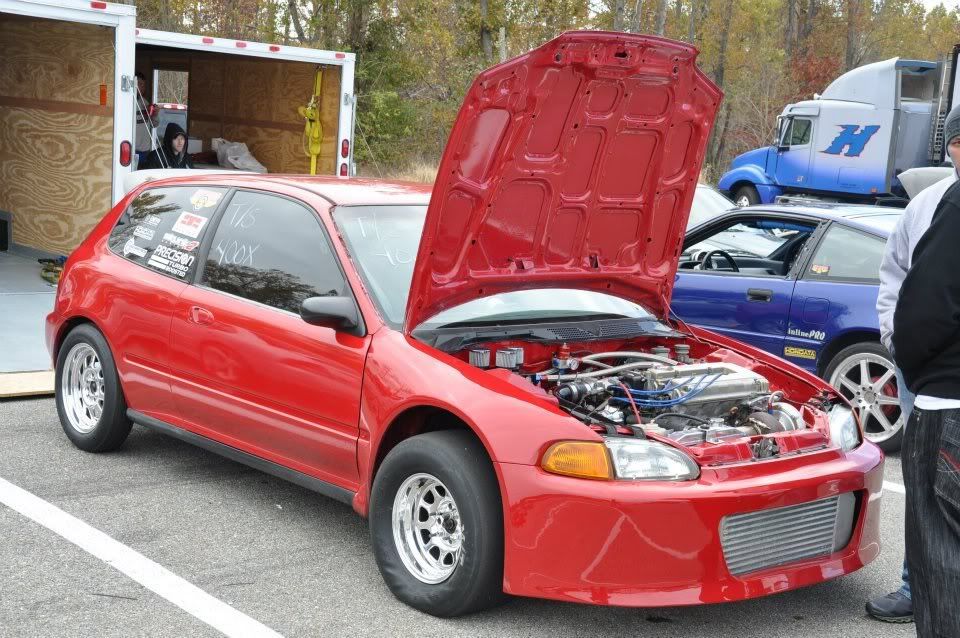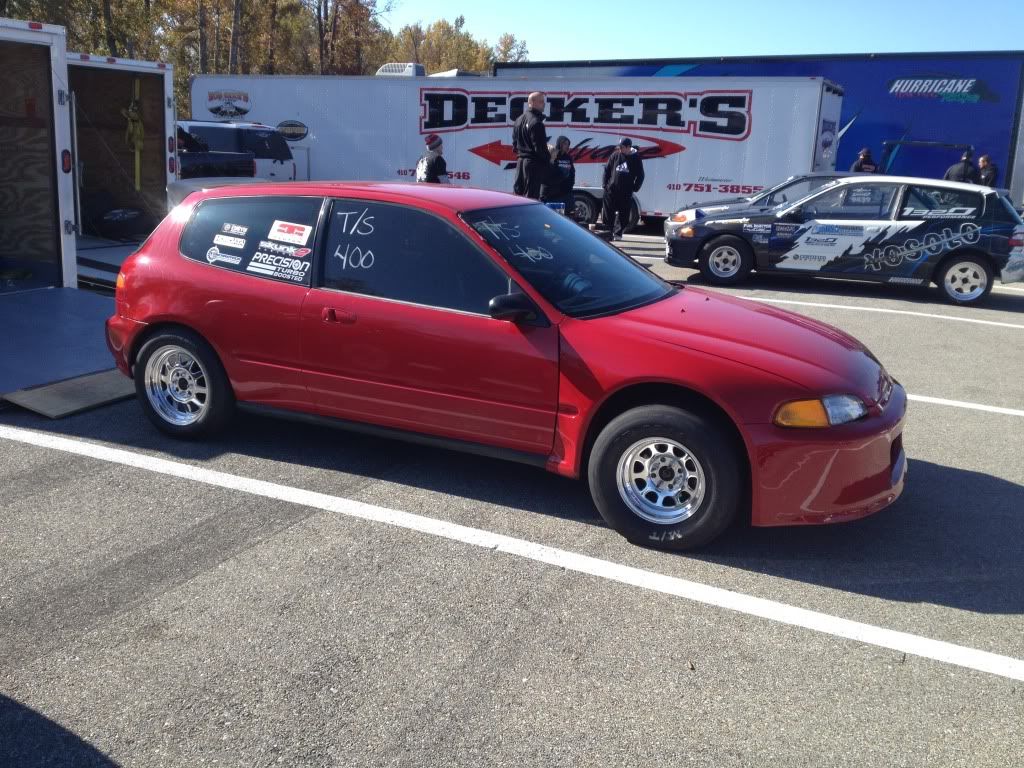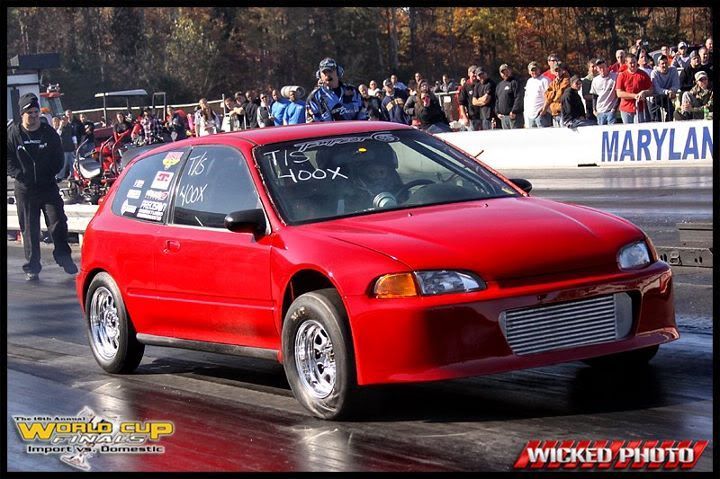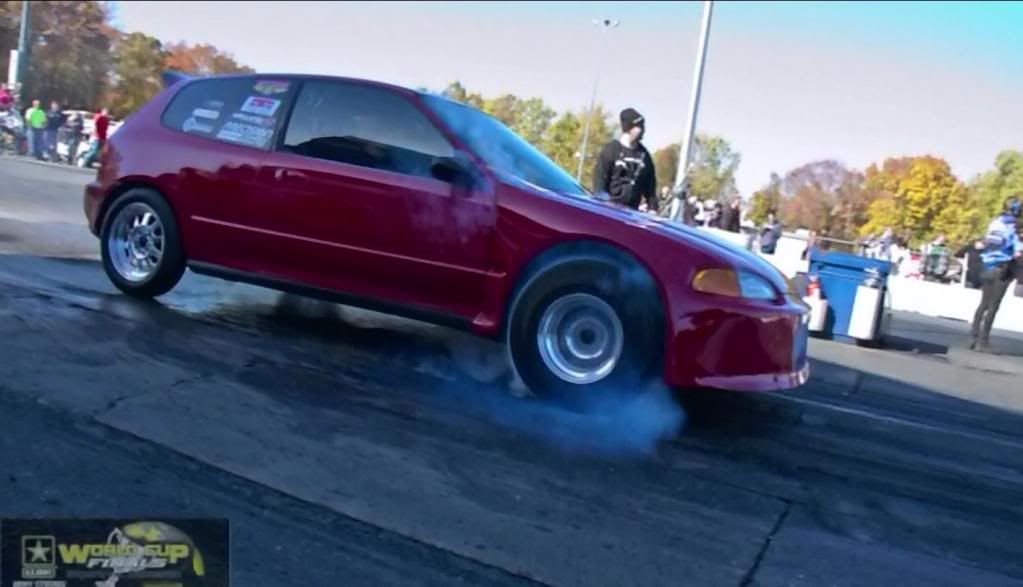 ---
Last edited by turbocivicsi; 08-05-2012 at

07:31 AM

.
08-02-2012, 02:26 PM
Re: 94 Honda Civic Hatch 800whp+ 9 sec T/S
---
looks like a very solid car, but a word of advice. part it

most of the members on this forum dont have the money to buy something like this, and those who do arent going to spend 22k on a honda that isnt even streetable. for once im not bashing a fs thread, but seriously. this is an impossible sale in my opinion