92 civic 4 door
04-21-2012, 04:08 PM
JussKING
Join Date: Nov 2007
Location: vabeach
Posts: 981
Likes: 0
Received 0 Likes on 0 Posts
92 civic 4 door
---
Juss
Va Beach
pm or text 757 802 8002
3300 obo ( because i have to put a price)but PM me a decent offer and it will more than likely be considered. looking for trade for another cleann automatic or manual Acura Integra (No DA's) possibly clean jeeps need somthing with p/s and power locks/ window because i have an infant and it makes things easier
pm me with serious offers.
just traded for this . its not perfect but its a great DD and its automatic and amazing on gas. Just seeing what offers i can get. if i dont get anything good il just swap the motor out and keep it so im not pressed to sell at the least bit.
92' honda civic dx 4 door
Engine
clean stock d15b7 with an AUTOMATIC tranny. i think it has around 140k mi.
cold air intake
black strut bar
slow as hell but excellent on gas.!
speedometer doesnt work.
new stock exhaust piping
in the process of gather parts for a z6 mini swap for a few extra horses.
interior
pretty clean about a 9/10
grey interior
grey integra front and rear seats
jdm arm rest
knock off momo racing steering wheel/hub with momo horn button
sony head unit w/ pioneer speakers all around. nice crisp sound.
special plate in the trunk that keeps the sound in and doesnt make the outside rattle when the subs are on ( cant think of it sorry )
power mirrors. no ac, no power steering and manual locks and windows
Exterior
pretty clean marroon paint. no dents
jdm smoked amber corners
rear mud flaps
led license plate lights
suspension
fresh si's wrapped in fresh brand new tires.
front adjustable camber kit.
lowered on some kind of springs i dont even know. with tokico blues in the rear and i guess stock struts in the front. rides amazing almost stock.
perfect alignment
cons.
2 different mirrors ? it was like that the way i got it
speedometer doesnt work. i just use my gps.
the car is nothing special but its pretty clean for what it is and minimal work is need.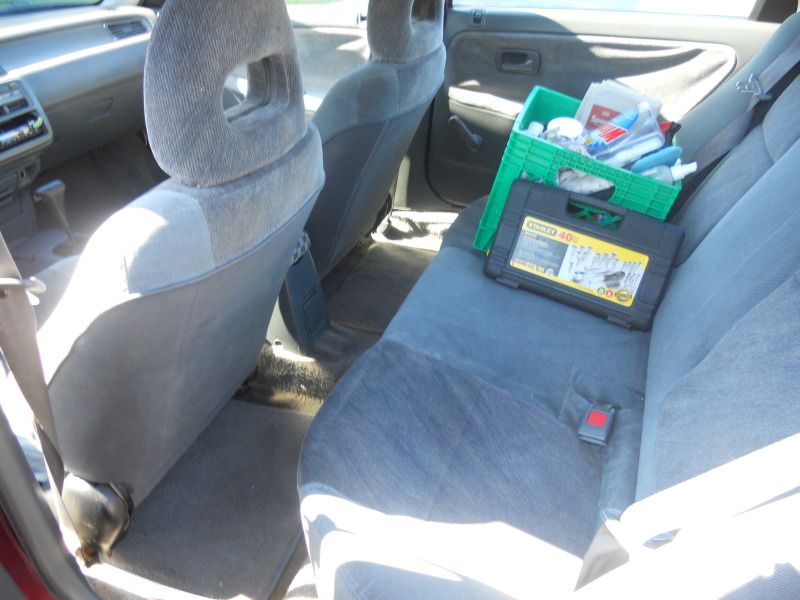 ---
Last edited by JussKING; 05-02-2012 at

04:34 PM

.
04-30-2012, 04:08 AM
Shooting 63's
Join Date: Oct 2005
Location: VB Golf Courses
Posts: 7,364
Likes: 0
Received 0 Likes on 0 Posts
Re: 92 civic 4 door
---
Was the repaint done in the OEM color, or a "close" comparable?

Also, on the passenger side between the front and rear door, is that a dent or a reflection? Right above the side molding.

Do you HAVE to have another car, or do you just need a good offer for it?
---
Last edited by idriveahonda; 04-30-2012 at

04:10 AM

.
04-30-2012, 04:30 PM
JussKING
Join Date: Nov 2007
Location: vabeach
Posts: 981
Likes: 0
Received 0 Likes on 0 Posts
Re: 92 civic 4 door
---
no dents must be a reflection. and to i dont know the paint kind of looks like a close comparison. all the door jams and engine bay are the same color as the paint aswell. its not a brand new paint job but its deff decent. its like a blood color its pretty sweet. and a nice trade would be nice or a decent cash offer so i could buy another car. if not il just keep this and continue to make it look good.