88 honda civic sedan (blox,konig,nardi,burberry,magnaflow,fresh paint,ect)
02-16-2012, 06:52 PM
Banned
Join Date: Mar 2008
Location: Salem,Va
Posts: 3,624
88 honda civic sedan (blox,konig,nardi,burberry,magnaflow,fresh paint,ect)
---
Name: Greg
Location: Salem,Va
Means of contact: 540-598-4579
Price: $ 4500obo
Trades: I really want a equal value foxbody (v8 only),lt1 cars,open to offers.
NO BIKES,NO TRUCKS,NO OTHER EF'S,NO DA.
This is my daily driver,and it has been very good to me.I am the 4th owner of the car,the last two previous owners were both friends of mine.I have a 3 inch thick folder of receipts since the car left the dealer in harrisonburg in 1988.I wouldn't hesitate to drive this car anywhere at any time.
Exterior:
- 2 month old black pearl metallic paint (jams were done)
- Brand new vr6 lip
- Oem hood bra
- Amber corner lights
- Yellow fog lights
- 5k hyper white bulbs
- Red pin stripe
- Roofrack w/yakima basket and fairing
- Fully functioning side markers
- Textured bumper tops/side mouldings/window trim
Interior:
- Full black interior
- Brand new black carpet
- Integra center console
- Real burberry headliner,armrest,and package tray
- Grey stripe del sols
- Amber lit/amber needle guage cluster
- Jvc headunit/ipod plug in
- Brand new 350mm nardi classic w/ferrari horn button
- Brand new white buddyclub shift knob
- C pillar bar
Suspension:
- Full godspeed coilovers
- Red blox lca
- Buddyclub front and rear camber kits
- Brand new front upper control arms
Wheels/tires:
- Brand new 15x7.5 konig rollers
- Brand new nexen n3000 195/45/15
- Blue locking lugs
Motor/transmission:
- Dual point w/90k (i have papers)
- Polished intake cap
- Cut air box
- Magnaflow exhaust
- Timing belt/waterpump have been done (have receipt)
- Clutch has been replaced (have receipt)
- I have a folder full of receipts for maitenence from the dealership it was purchased until 2009
YES,the sir decal on the trunk has been taken off,it was on there as a joke.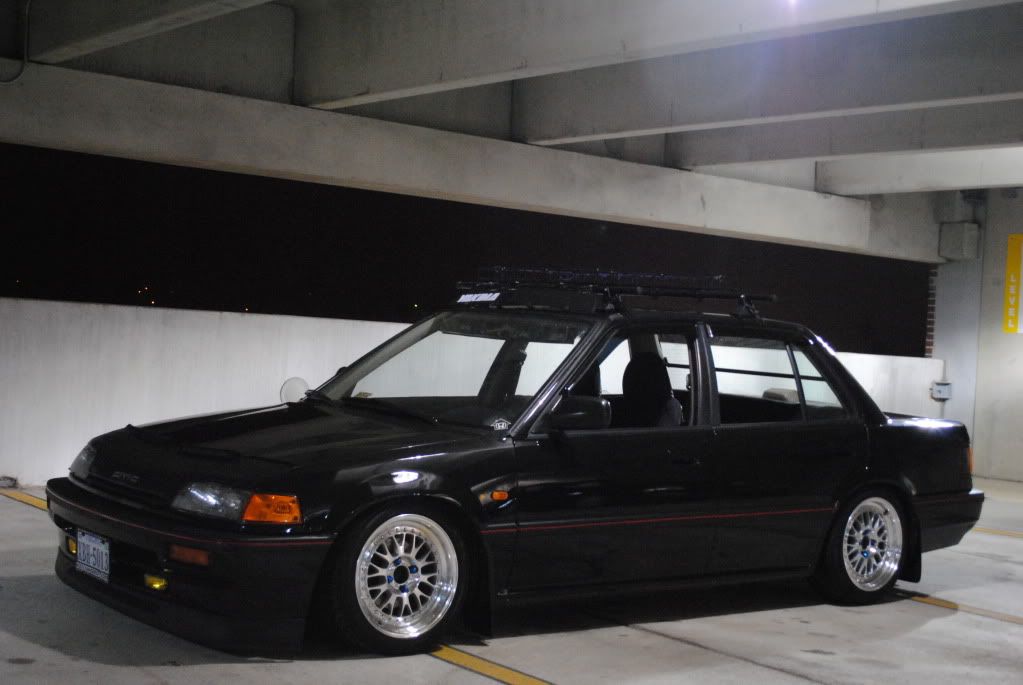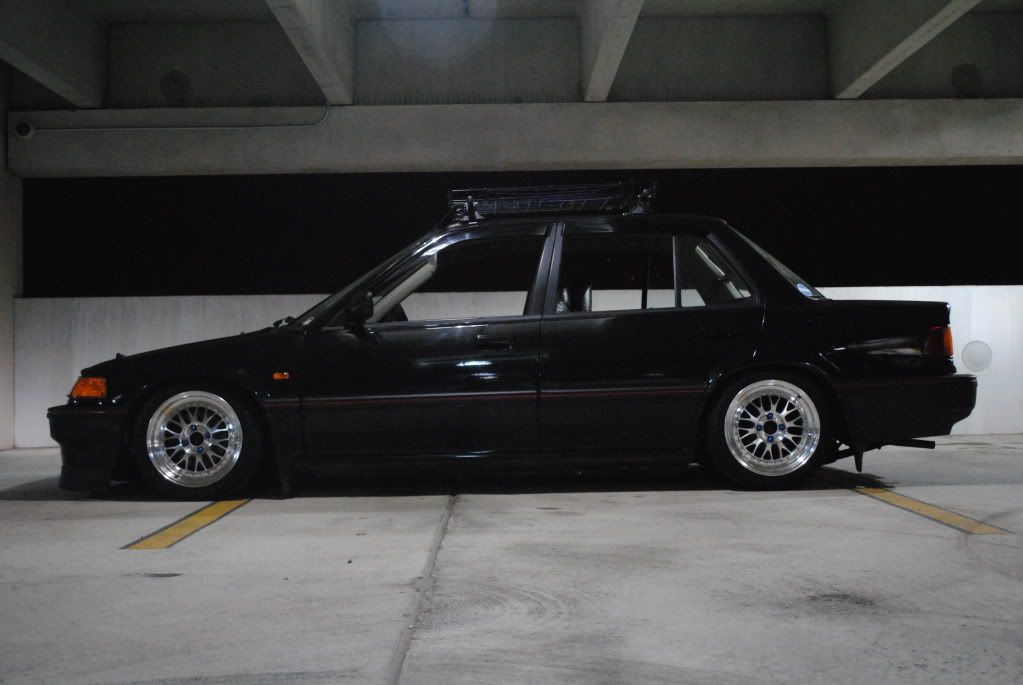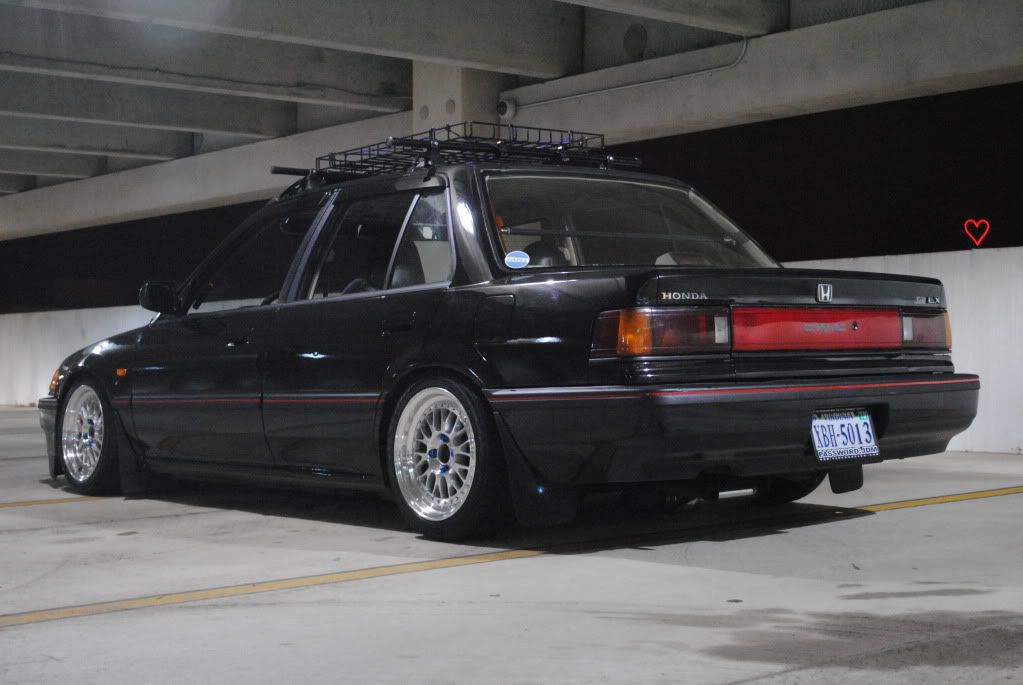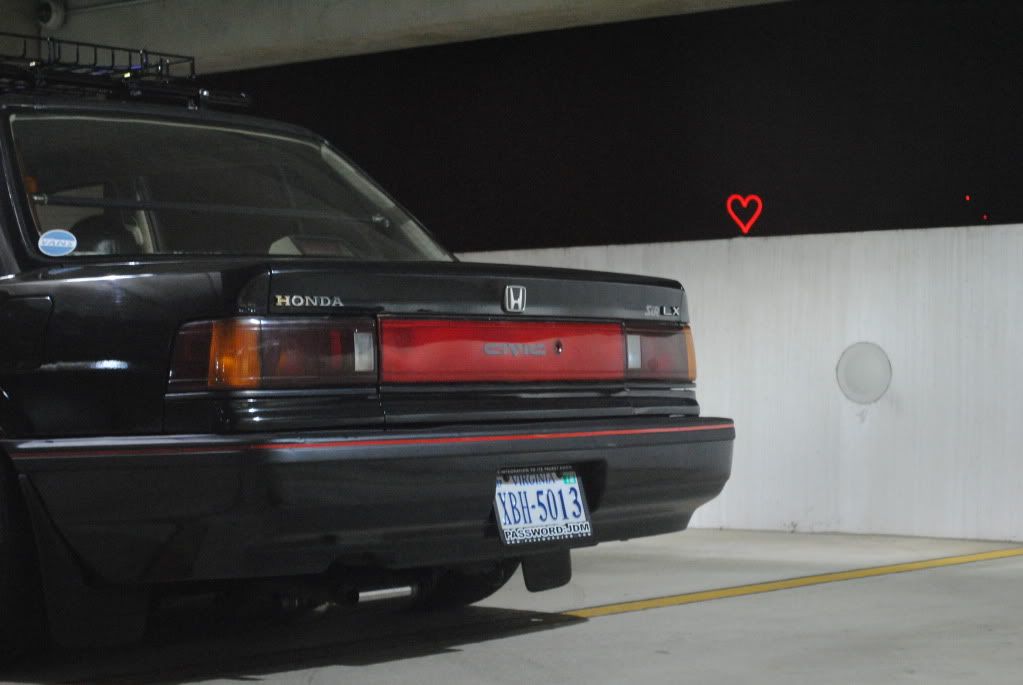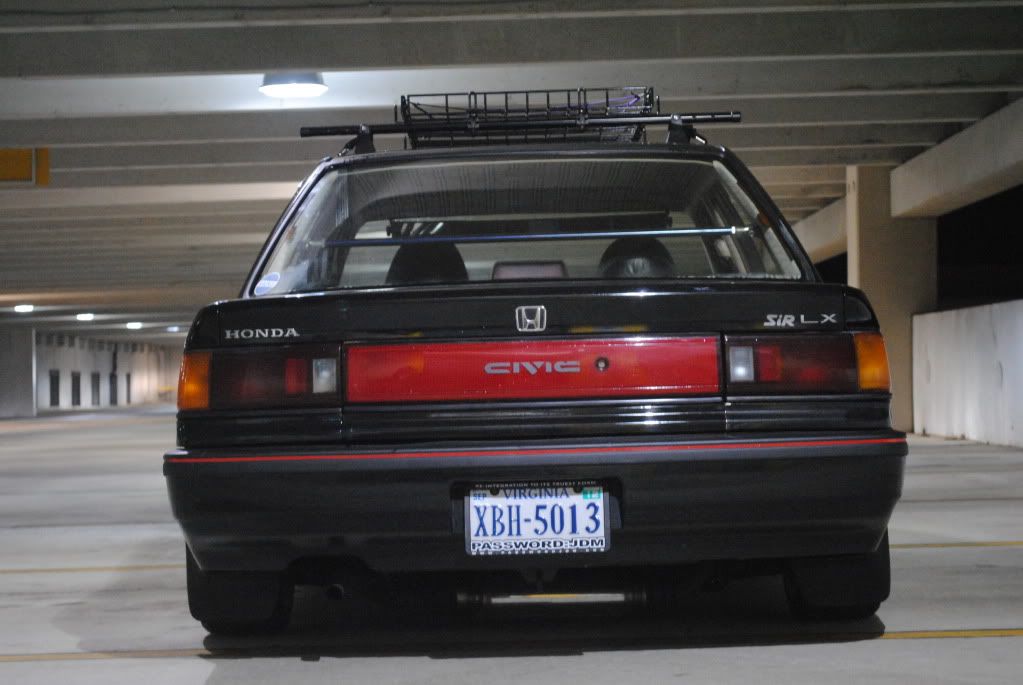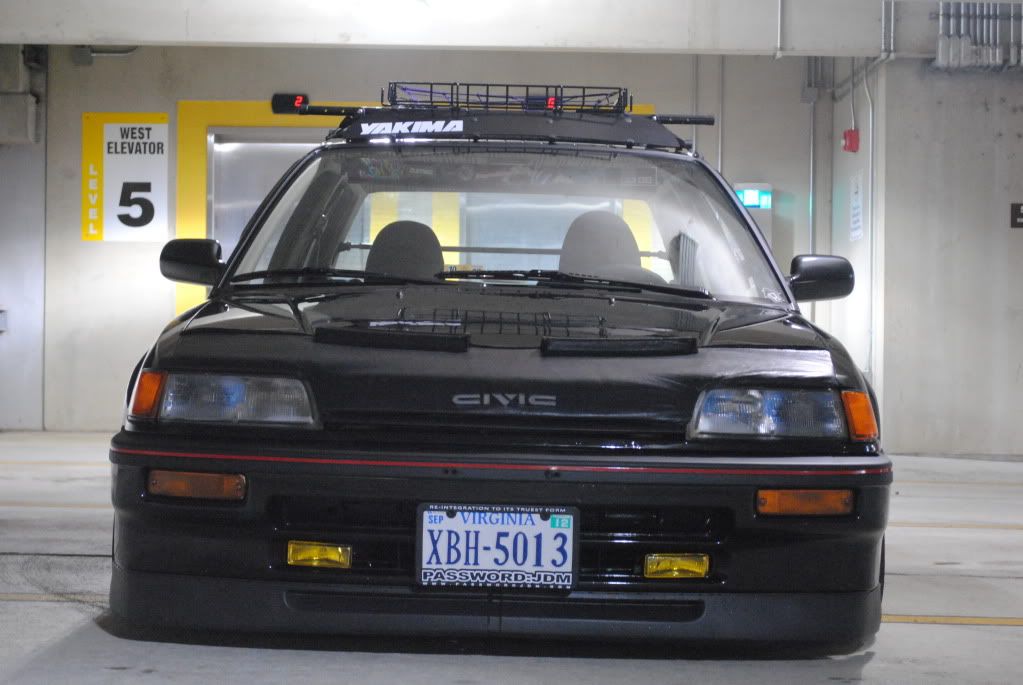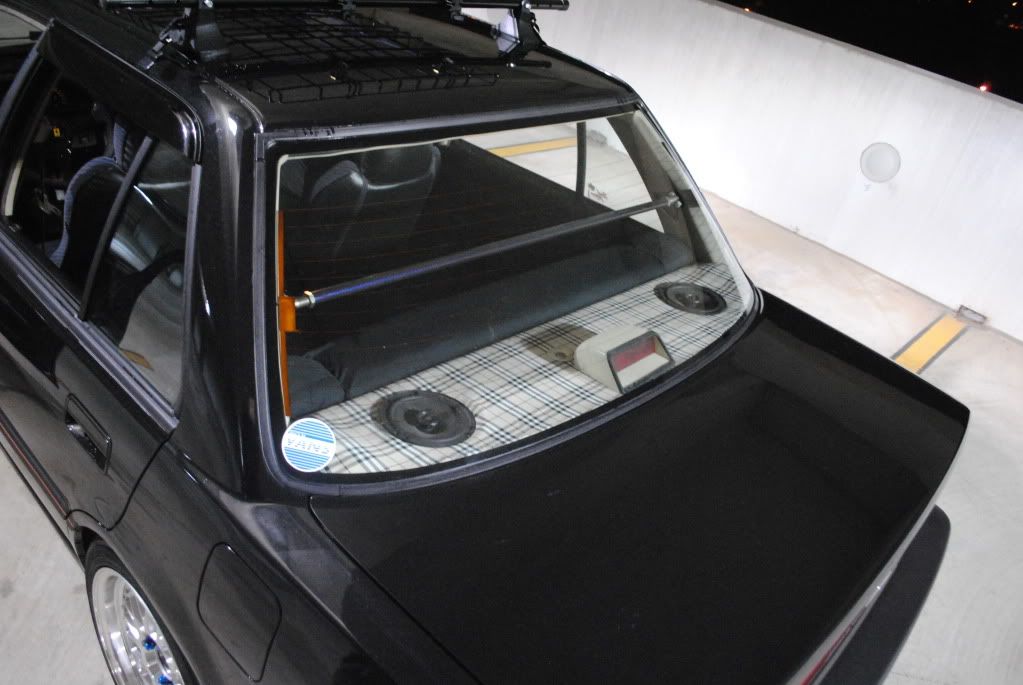 ---
Last edited by DURHUR; 02-17-2012 at

05:22 AM

.
02-16-2012, 07:30 PM
Registered Member
Join Date: Jun 2011
Location: Fredericksburg
Posts: 323
---
02-16-2012, 07:31 PM
Registered Member
Join Date: Sep 2011
Posts: 518
Re: 88 honda civic sedan (blox,konig,nardi,burberry,magnaflow,fresh paint,ect)
---
Yo I was like omfg this Ef is the cleanest I've even seen untill the last pic but no joke man shit is flawless if it was swapped someone would trade u something nice for it I would trade but I would need cash on top but glws hommie and nice ef
02-16-2012, 07:43 PM
Banned
Join Date: Mar 2008
Location: Salem,Va
Posts: 3,624
Re: 88 honda civic sedan (blox,konig,nardi,burberry,magnaflow,fresh paint,ect)
---
02-16-2012, 08:16 PM
Registered Member
Join Date: Jun 2011
Posts: 260
Re: 88 honda civic sedan (blox,konig,nardi,burberry,magnaflow,fresh paint,ect)
---
im kinda diggin this, check thread, if not, cleanes ef ive ever seen
02-17-2012, 03:40 AM
Re: 88 honda civic sedan (blox,konig,nardi,burberry,magnaflow,fresh paint,ect)
---
your ef is soo clean makes me miss mine. just for shits and giggles check thread
02-17-2012, 04:43 AM
Re: 88 honda civic sedan (blox,konig,nardi,burberry,magnaflow,fresh paint,ect)
---
Cant front, you car is awfully trendy but its clean. nice job
02-17-2012, 05:07 AM
Registered Member
Join Date: Aug 2010
Posts: 421
Re: 88 honda civic sedan (blox,konig,nardi,burberry,magnaflow,fresh paint,ect)
---
man i miss my ef sedan now ..... fresh foh doh
02-17-2012, 05:25 AM
Banned
Join Date: Mar 2008
Location: Salem,Va
Posts: 3,624
Re: 88 honda civic sedan (blox,konig,nardi,burberry,magnaflow,fresh paint,ect)
---
02-17-2012, 06:12 AM
Registered Member
Join Date: Nov 2005
Posts: 1,335
Re: 88 honda civic sedan (blox,konig,nardi,burberry,magnaflow,fresh paint,ect)
---
my old ride...ran good, just a all around fun little car...glws