1992 Honda Civic Sedan
02-22-2012, 09:47 PM
Registered Member
Join Date: Nov 2011
Posts: 312
Likes: 0
Received 0 Likes on 0 Posts
1992 Honda Civic Sedan
---
GONEEEE !
Name: Roger
Location: Roanoke
Means of contact: post or pm for cell #
Price: $...NEW PRICE 3350OBO WANT TRADES MORE THAN ANYTHING
Description:
Updates in all CAPS
Ok, this car is back on here again. Great car, i love it but a sedan just isnt me i guess i could say. I would like a nice Jeep, Hatchback,Contour SVT or Integra but im open to anything.
STOP CALLING ME OFFERING ME 1500-2800.
This is my daily driver,and it has been nothing but good to me.It gets 38mpg in town,43 interstate.It has a valid virginia inspection (6/12).A/c is freezing cold,heat is hot.
150k
Opal green metallic
Tan cloth interior DYED BLACK
Exterior:
- Opal green metallic
- Clear depo corners/amber bulbs
- Clear oem itr side markers (stamped,amber bulbs)
- "Mugen" lip
- Brand new front bumper,freshly painted needs re sprayed(old bumper had a crack)
- Hipro 8500k hid (bulbs)
- Brand new window visors
- Spoon mirrors
- Oem antena delete
- Pinstripe taken off (Done the correct way with an eraser wheel)
- Oem jdm ferio window garnish's
- Brand new trunk honda decal
- Jdm ferio trunk emblem
- Oem mudflaps
- 100% rust free
Interior:
- Tan cloth interior DYED BLACK
- New oem shift boot
- Ex clock
- Acura Headunit
- New sony speakers all around
- Gsr steering wheel
- STOCK CLUSTER THAT WORKS(EX ONE WAS BROKEN)
- Brand new windshield (bought it with a cracked one)
- Ex armrest
Suspension:
- Brand new moog inner tie rods
- Brand new moog outer tie rods
- Brand new lotek struts
- H&r race springs
- Gsr strut bar
- Blox polished lca's
- Brand new moog ball joints
Motor/transmission:
- 147k
- Bone Stock d15b1 bottom end with a d15b7 head.
- A/c and heat both work,no p/s (does include pump so all you need is new belt & pulley)
- Water pump replaced
- Timing belt replaced (oem used)
- New ngk plugs,wires,rotor button,and new cap.
- New alternator
-Clutch has been replaced,stock replacement but feels very stiff
- Gutted oem airbox w/k&n filter
- Bay has been steamcleaned
- Fuel filter recently replaced
- Newish oem exhaust system (not original,sounds stock just newer piping/muffler/hardware)
- 4-2-1 header
- New blower motor/relay
- Brand new interstate battery
- Short shifter
Wheels/tires:
- White 15x7 rota gt3
- 195/50/15 kumho ecsta brand new
- Chrome gorilla lug nuts
FRONT BUMPER WAS PRESSURE WASHED TO TAKE OFF BAD PAINT NOW LOOKS BRAND NEW.
GOOD: Rareish color,no rust,runs fantastic,40+mpg,rides and handles great
BAD: Minor dings from being 20 years old,passenger door panel has a rip in it,trunk is missing its carpet.
Yes Christian had the car before and whoever else.. its irrelevant.
Pictures: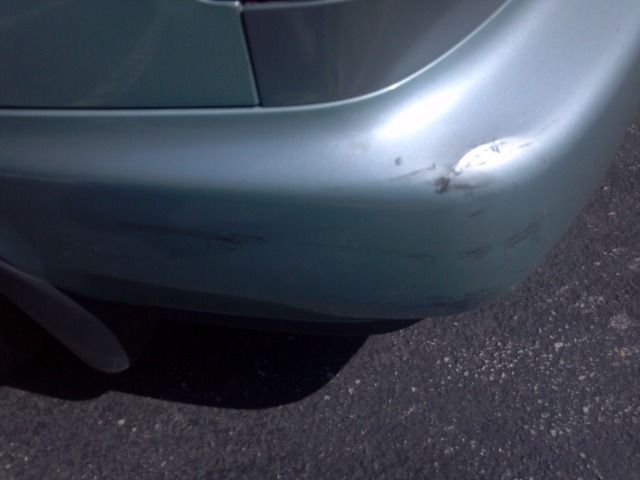 Before fixing bumper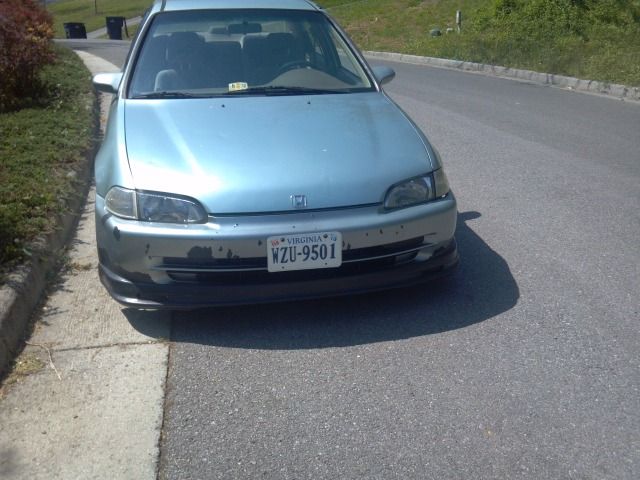 After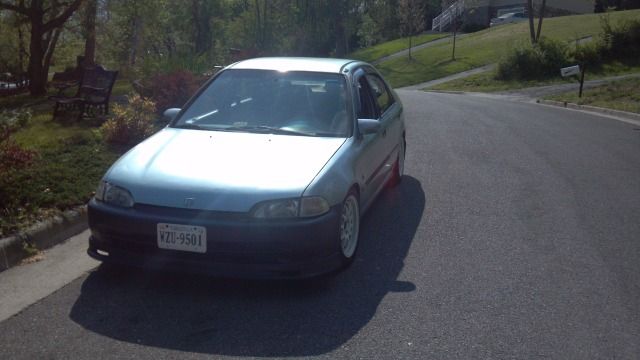 If you want more pics, ask for what you want, ill get some more up as soon as i can.
Thanks
---
Last edited by oldskoolsi; 07-22-2012 at

10:35 PM

. Reason: New Pics
02-23-2012, 09:09 AM
Registered User
Join Date: Nov 2005
Posts: 3,196
Likes: 0
Received 0 Likes on 0 Posts
Re: 1992 Honda Civic Sedan
---
if you dont sell this,i have black sir ferio interior with,door panels,front and rear seats,rear center console,ferio cluster,sir headlights,jdm stanley corners$1100 for everything