1990 civic sedan
01-25-2012, 03:27 PM
1990 civic sedan
---
Name: tyler
Location: EC NC
Means of contact: here
Price: $10000000000000000000000 testing waters
Description: i have a grey 1990 civic cx sedan just looking to see what i could get for it. Its got the stock motor/trans and OEM cobolt 15" steelies on it... the stockers were phucked! i just put a new carpet in due to filth of PO. Its all stock minus the head unit. the weather stripping will need to be replaced.
Pictures: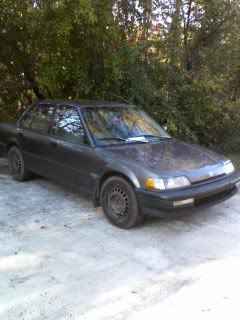 this is the only picture i got right now will add some more later
01-25-2012, 03:29 PM
Re: 1990 civic sedan
---
Welcome to the Classified Forums of VAdriven. Remember, you can never post too much information, the more details the better. We ask you to please keep in mind the following rules:

Post threads in the correct forum. Do not make multiple threads for the same item in multiple forums.
FS, FS/FT, TW Threads - the following information is required to be put in the first post (at the top):
Name
Location
Means of Contact
Description
Price (Numbers only! "Make an offer" is not acceptable. The price must be realistic i.e. don't list your Civic for $500,000 to get around the rules)
Pictures (only required for vehicles and wheels) Do not make a thread until you have pictures!
01-25-2012, 07:18 PM
Registered Member
Join Date: Jan 2012
Posts: 104
Re: 1990 civic sedan
---
Thread
Thread Starter
Forum
Replies
Last Post