JDM ITR Airbox, B-series header, Flywheel, Vtec Solenoids, Valvecovers
05-15-2015, 07:41 AM
JDM ITR Airbox, B-series header, Flywheel, Vtec Solenoids, Valvecovers
---
Brandon
Newport News, Va
757-813-1797 / POST / PM
See prices below...
1.) Unorthodox Racing 11lb Aluminum Flywheel...a little bit of surface rust, but a really good flywheel.
$100 obo
2.) No-name B-Series header. Rusty, but flows well. Slightly dented on the bottom. 2.5" Collector and o2 bung
$50 obo
3.) JDM ITR Airbox with arm. No dryrot, rips or damage. New OEM Filter from Acura....
$150 obo
4.) 2 GSR Valve covers, complete with cam stays and all bolts. Pretty good condition.....
$50 obo each
5.) 2 B-series Vtec Solenoids in good working condition with plug still intact....
$25 each
6.) 3 total P30 Ac Compressor/Torque Mounts ....See pics, some have torque mount bolt, some don't. $20 each
7.) SOHC Vtec Solenoid ..... $10
8.) I have a huge plastic tote that is full of distributors, starters, motor mounts, motor mount brackets, slave cylinders, bolts, nuts, everything. If you know what you need, just ask me and I'll take a look to see what I can find.
I'm sure I have more shit laying around. I have to find it though. I'll post more pictures as I find stuff.
Thanks!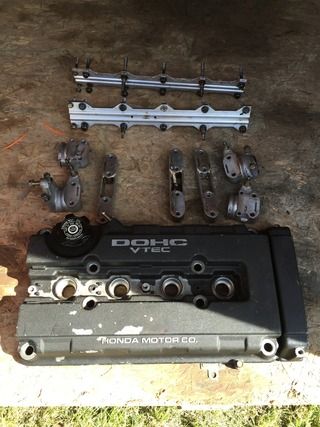 Thanks for looking
---
Last edited by DORKO; 05-16-2015 at

07:58 AM

.
05-16-2015, 07:59 AM
Re: JDM ITR Airbox, B-series header, Flywheel, Vtec Solenoids, Valvecovers
---
updated: New pics and new parts