86 Cutlass Supreme 4dr....low rider project content inside
06-05-2009, 12:52 PM
FACK YER ESS PEE OHH
Join Date: Aug 2007
Location: VAGINA BEACHH
Posts: 7,187
Likes: 0
Received 0 Likes on 0 Posts
86 Cutlass Supreme 4dr....low rider project content inside
---
SHE"S BACK UP FOR TRADE/POSSIBLE SALE AGAIN
!!!OIL PAN IS NOW FIXED!!!
NAME:
Cody
Located:
Va. Beach
Means of Contact:
PM, or
TEXT
my cell...(757)-619-7360....
if you text please mention that you saw it on vadriven, cause i wont respond if i dont know who it is
Year:
1986
Make:
Oldsmobile
Model:
Cutlass Supreme
Title:
Clean, Clear, and in hand
Trades:
Open to ANY AND ALL TRADES....just lmk what you got
Price:
**2.5k O.B.O**....and the o.b.o is pretty flexible....money talks, show up with a decent amount, and its yours....but i'd really rather trade the car
REASON FOR SALE:
just looking for something new.....this car has grown old on me
CAR CAN BE VIEWED ANY TIME
ENGINE:
The engine in this car is the stock 86' V-6 3.8
It has 354,xxx miles on it
The previous owner(a friend of mine), said it was re-built at some point, but im not to sure of that being as there are no papers of anything
DONT let the mileage scare you, the motor runs strong
DOES HAVE POWER STEERING HEAT AND A/C(just needs to be recharged)
INTERIOR:
Everything involved with the interior is Stock.... the doors, the rear seats, pillars, headliner and all trim was painted/ re-wrapped in black and baby blue vinyl
The front fabric seats, dash board, and carpet are all still the stock ugly blue that they came with back in 86
EXTERIOR:
Custom 2-tone paint.....Metallic baby blue with white "city style graphics"
Paint was done in a buddies garage...there are some spots that were not wet sanded properly and has some orange peel effect...other than that its a good paint job
**frame painted baby blue as well**
There's a spot on the trunk no bigger than a dime where we were holding it open with a pipe and it got bumped lose and chipped a piece of paint off
All trim, bumpers, and door handles are chrome
SUSPENSION:WHEELS:
Full 3 pump showtime hydraulics (chrome tanks, one is half black cause it needed to be replaced)/6 batteries/ 4 switches...
Has Front, Back, Left rear, and Right Rear
CAR WILL HOP AND 3-WHEEL
Half springs so the car is a little bumpy
Batteries are 31 series marine deisel batteries....costing around $100 each depending on the company
Rims are 100 spoke knockoffs(chinese daytons, so they're nothing special) 13x7
THE BAD:
The batteries are from 05/06, so they're old as hell and they die every 2-3 weeks depending on how often i use the hydraulics...so if you dont have a battery charger or have one easily accesible this car isnt for you
There are a couple of vaccum leaks
Needs a new right front wheel bearing, witch broke from hoping...drives fine just not trustworthy and pulls to the right a little
Busted a hydraulic line(from hoping) and there is also some oil in the trunk from previous breaks(have drain holes in trunk it just builds up dirt)
Vinyl top is going to need to be replaced(cracking)...who ever buys or gets the car i can hook you up with a guy that can redo the top for a damn good price
Windshield needs to be re-sealed
Tank Seals are leaking and need to be replaced...its an EXTREMELY SLOW leak, they cost all of $5 to $10
I fucked up when i was doing the headliner. I used material that was to heavy and didn't use enough glue/the right kind. That and with the Heat it just expanded and shrunk, so the headliner has bubbled down, i might replace it with diff. material depending on how long it takes to sell/trade the car
All this car needs is someone with dedication to finish it....i've lost interest and patience with this car and want something new
***WARNING, IF YOU DONT LIKE THE SOUND OF THE CAR SCRAPING THE GROUND OR DRIVING EXTREMELY LOW VEHICLES, THIS CAR ISNT FOR YOU, IT SITS ALL OF NO MORE THAN A QUATER OF AN INCH FROM THE GROUND, and because of the hydraulics its pretty violent***CAR WILL AND DOES SCRAPE WHEN THE BATTERIES DIE***
EXTRAS:
will come with car cover, haynes manual, steering wheel club, extra wheel adapter with cap, and a CD containing old school rap from the West Coast to set the mood...lol
PICS:
...these are all i have for right now, i'm gonna get a friend to take some rolling shots once i get the new oil pan....ignore the camaro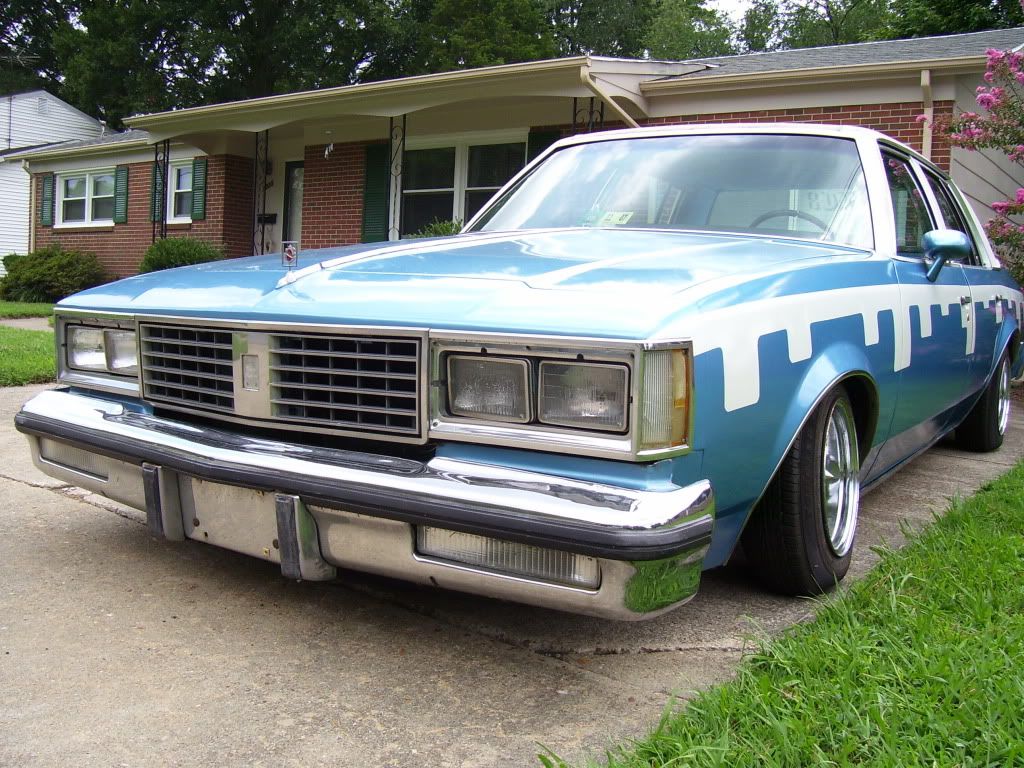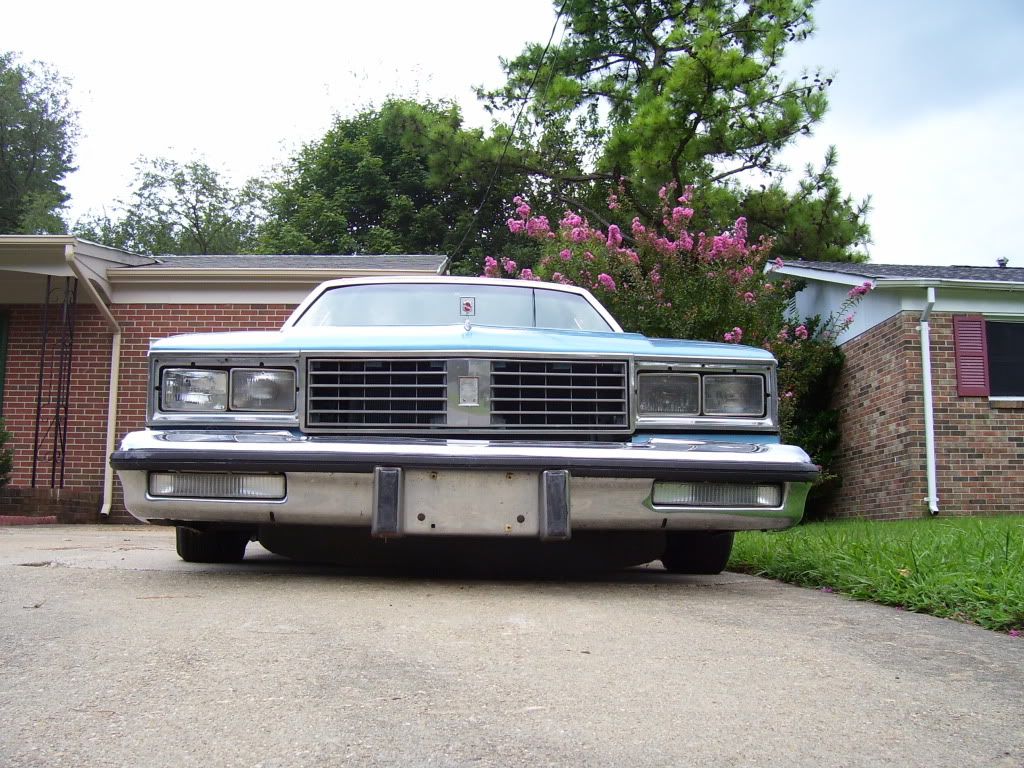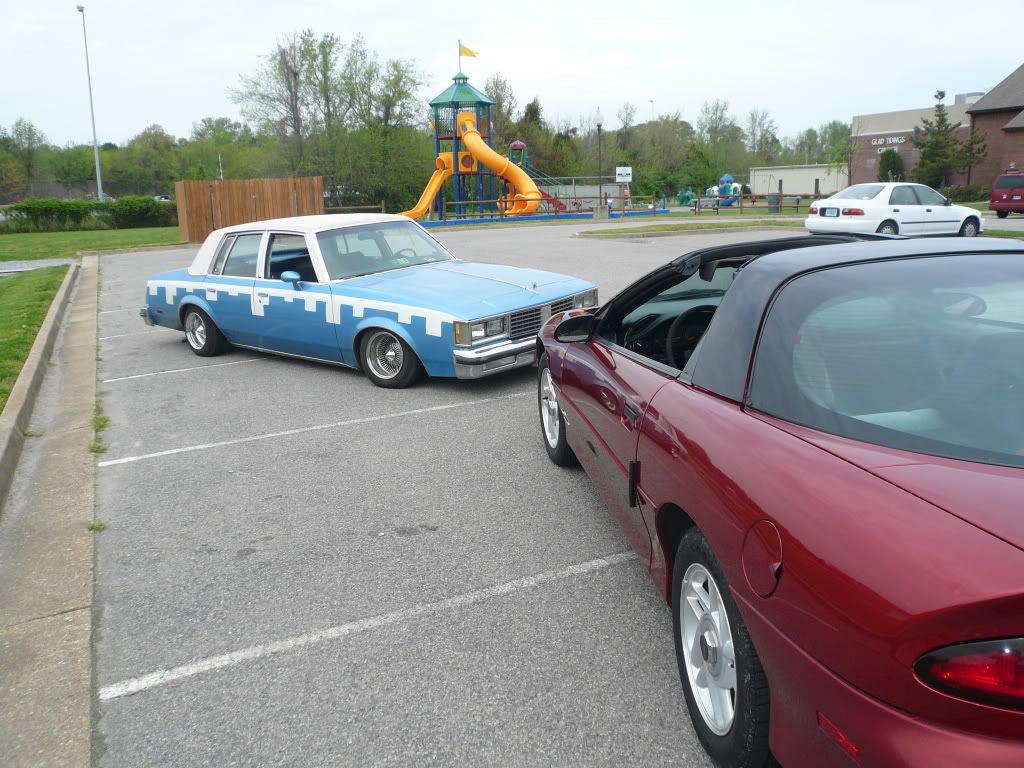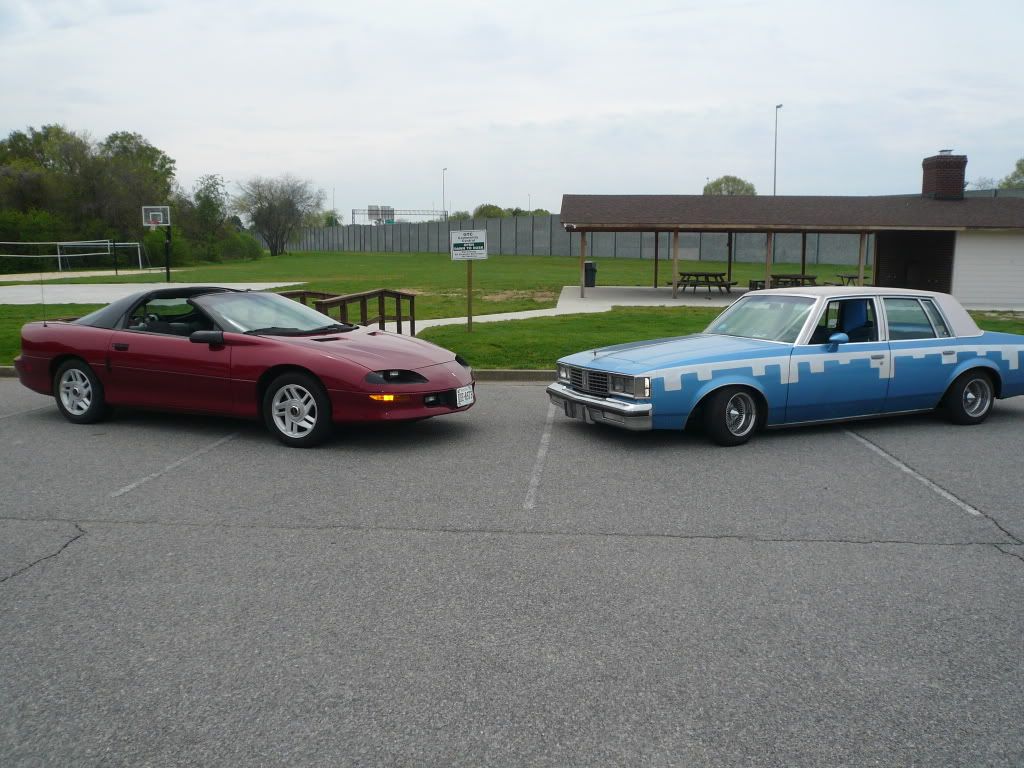 ---
Last edited by all4sr's; 08-18-2009 at

01:48 PM

.
06-09-2009, 02:10 PM
baller/dickbutt#69
Join Date: Nov 2002
Location: hampton
Posts: 16,063
Likes: 0
Received 0 Likes on 0 Posts
Re: ***86 Cutlass Supreme 4dr....low rider project content inside***
---
free bump


i knew this car when alan had it...its been around for a while and has made countless out of state trips...

i cant speak for the new owner but it was well taken care of when alan had it...
06-09-2009, 02:30 PM
FACK YER ESS PEE OHH
Join Date: Aug 2007
Location: VAGINA BEACHH
Posts: 7,187
Likes: 0
Received 0 Likes on 0 Posts
Re: ***86 Cutlass Supreme 4dr....low rider project content inside***
---
06-10-2009, 01:46 PM
Registered member
Join Date: Aug 2008
Location: va beach
Posts: 1,604
Likes: 0
Received 0 Likes on 0 Posts
Re: ***86 Cutlass Supreme 4dr....low rider project content inside***
---
dont ignore the camaro admire it, haha glws man car has been well taken care of good friend of mine deff. a head turner
06-10-2009, 11:10 PM
FACK YER ESS PEE OHH
Join Date: Aug 2007
Location: VAGINA BEACHH
Posts: 7,187
Likes: 0
Received 0 Likes on 0 Posts
06-15-2009, 12:24 PM
FACK YER ESS PEE OHH
Join Date: Aug 2007
Location: VAGINA BEACHH
Posts: 7,187
Likes: 0
Received 0 Likes on 0 Posts
Re: ***86 Cutlass Supreme 4dr....low rider project content inside***
---
no, my car is at my step fathers house because of the oil pan, i live elsewhere