Z31 300ZX Project
07-16-2012, 08:38 AM
Registered member
Join Date: Jun 2008
Location: Aylett
Posts: 1,160
Likes: 0
Received 0 Likes on 0 Posts
Z31 300ZX Project
---
Picked up this 86 N/A Z from one of my brother's friends in the beginning of June. My brother is pretty deep into the Z31s, has lots of parts laying around and is always buying, selling, and working on them, so it made sense to get one because he's got plenty of stock parts if I need to replace anything. It seems to be in good shape as far as structure, rust is virtually non-existent so far and pretty solid. It runs, although it's rather rough because of an exhaust leak and having sat for a bit. Clutch is completely fried so it doesn't move on it's own. It will need a front bumper, drivers side fender, and hood, along with a few minor dents that can easily be pulled out. A decent paint job at some point, definitely don't want to leave it smurf blue. Some interior work too, most likely ripping out the blue interior and replacing with black. First thing on the list is going to be pulling the engine, giving it a little bit of a refresh, a clutch, and throwing a stock turbo on it, along with an intercooler.
Picking it up (that's one my brother's friends giant arm in the picture)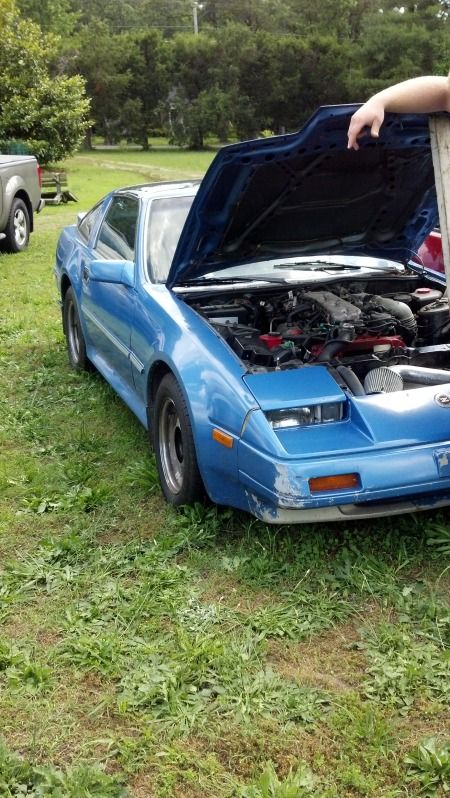 Did some work after getting it home and got the front bumper and intake piping off.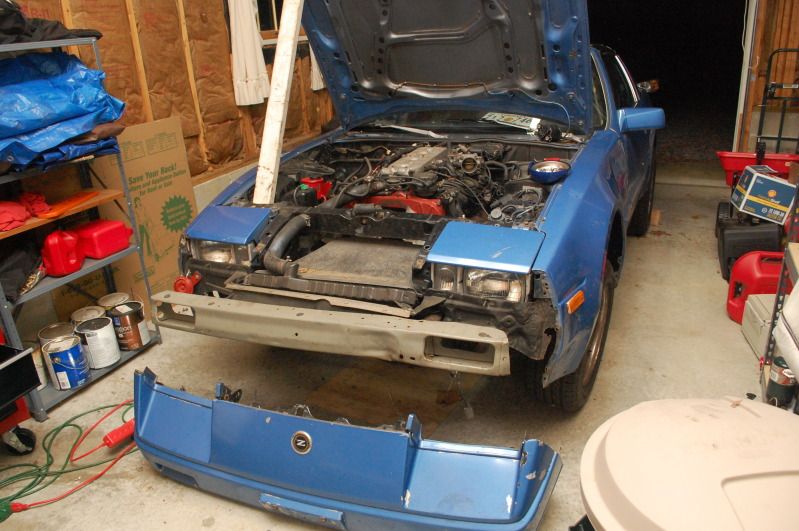 Got my brother over a couple weeks after getting it to get the engine pulled. I got most everything disconnected in the weeks in between.
Kevin (my brother) looking over the engine for stuff to remove/disconnect before we pull it.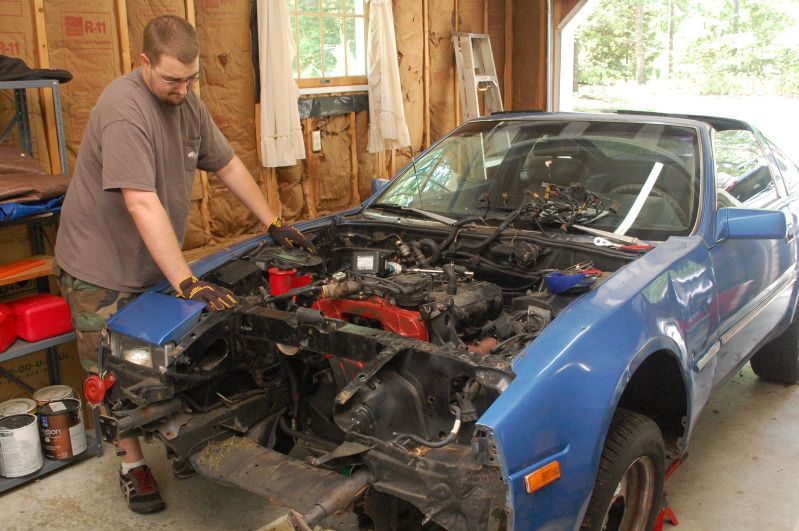 Quick shot of the car with the busted headlight removed and engine ready to come out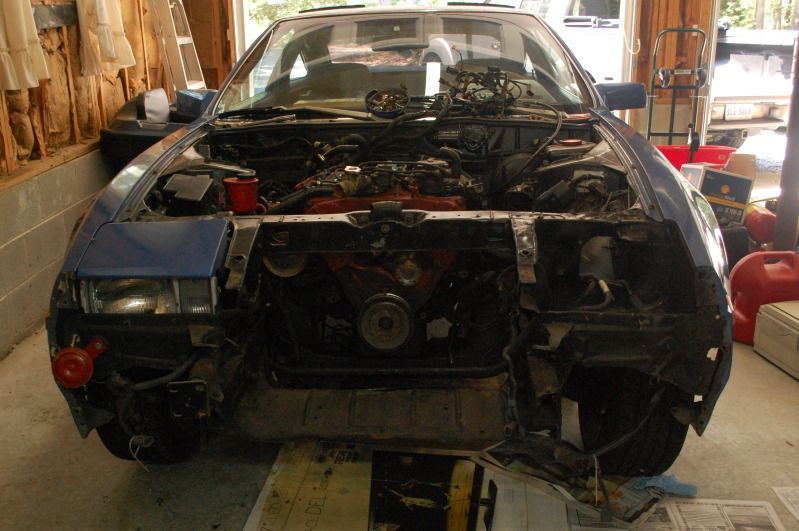 Lift hooked up, ready to start pulling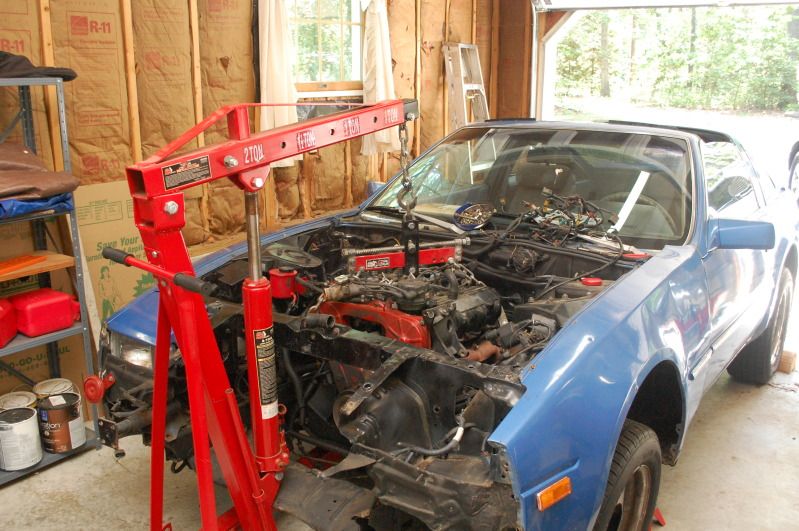 The pile of trash that Kevin pulled off. I was kind of annoyed by this. I didn't know what half of this stuff was so as I was disconnecting things in the weeks prior I was trying to be careful and unhook everything properly, then Kevin gets to work and starts yanking things and tossing them in the floor. Apparently it's mostly emissions junk, besides the N/A downpipe.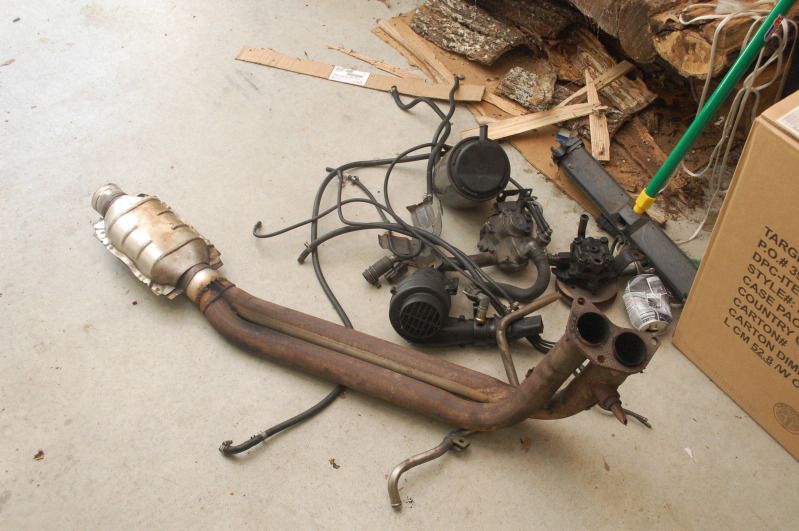 Just about ready to stick it on the stand.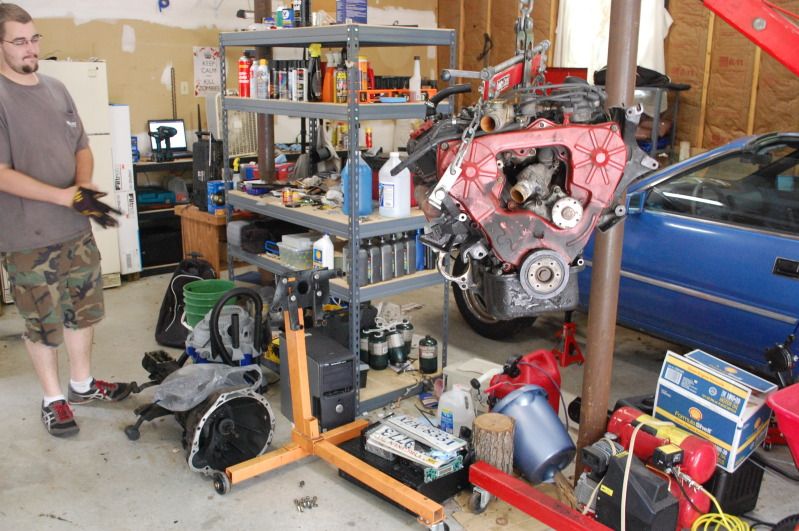 Here's the clutch that came off. The black stuff is bits of clutch material that fell out of the bell housing and off of the clutch/pressure plate as we were pulling it off.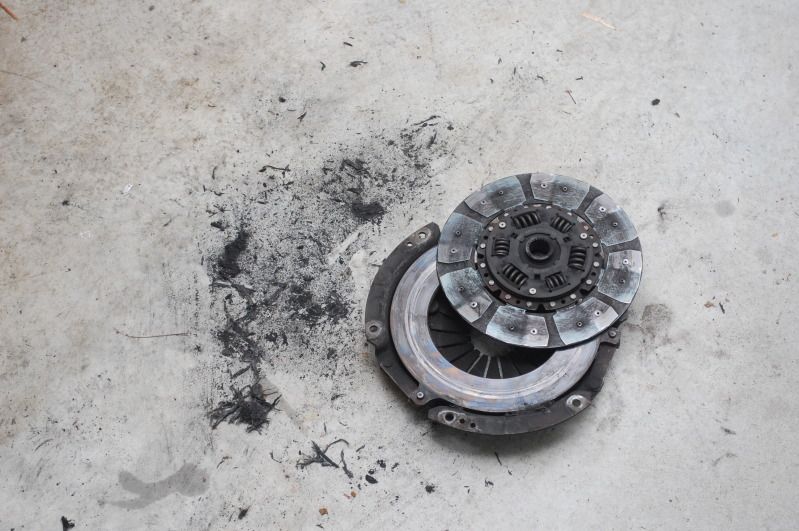 We also made a trip to the shop my brother rents for doing his side work to collect some parts that he and I need (he has an 85 turbo Z that's his DD at the moment).
Here's my truck loaded down with Z parts. There was also a trailer I didn't get a picture of that had a hood, cross member and turbo exhaust manifold on it.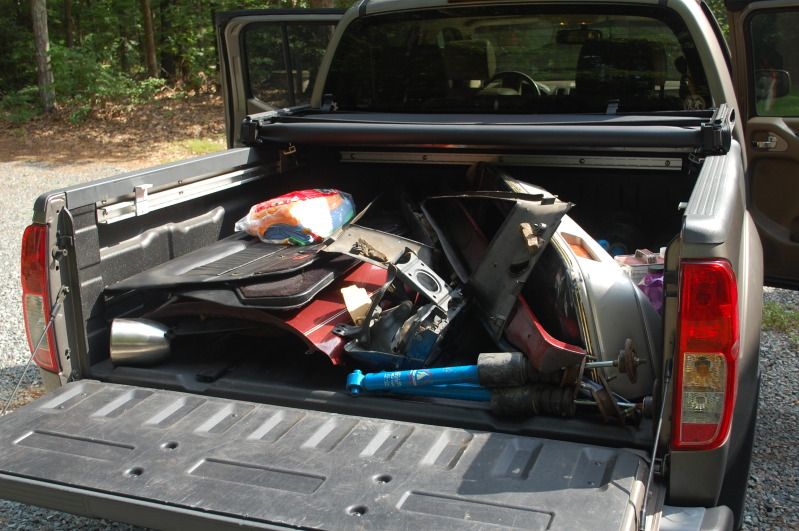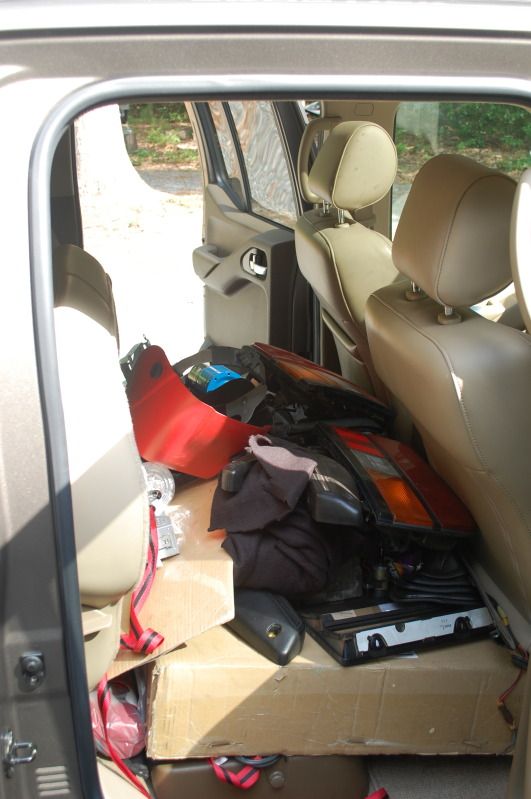 07-16-2012, 08:43 AM
Registered member
Join Date: Jun 2008
Location: Aylett
Posts: 1,160
Likes: 0
Received 0 Likes on 0 Posts
Re: Z31 300ZX Project
---
Did some more work the weekend before the 4th. Started stripping the motor of things that will be replaced. Valve covers for repainting and new gaskets (previous owner caked them with RTV, you can see it around the edges in the pictures, so far it's been a total of around 3 hours getting it all scraped off). Timing belt, tensioner, crank sprocket were all pulled. Replaced the crank and cam oil seals. The tensioner stud was screwed up trying to get the tensioner off, so a new one is on the way from Courtesy Parts. The old one was seized to the stud, we're guessing it was never replaced. Pulled all the exhaust bits and discovered that hardly any of it was tight as it should be, it had the wrong length studs in it (fortunately all but one came out on their own), and there was a missing gasket or 2. I think we counted something like 4 different exhaust leaks. Already have new gaskets and a stud kit has been ordered from ASCO. A couple of pictures were taken. Please excuse the horrible flash usage, Kevin took them...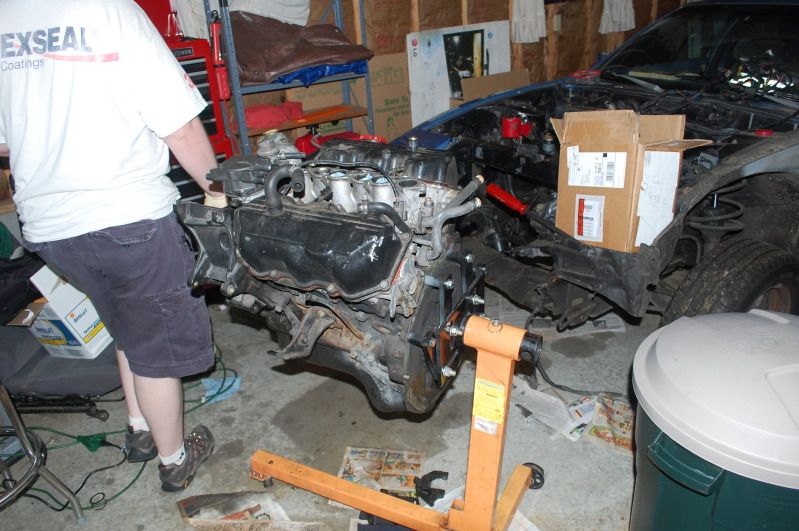 That's me cut off in a couple of these.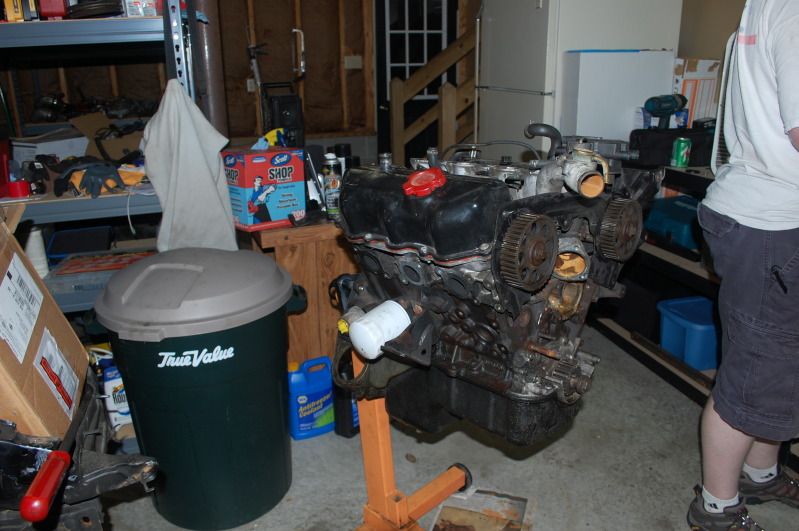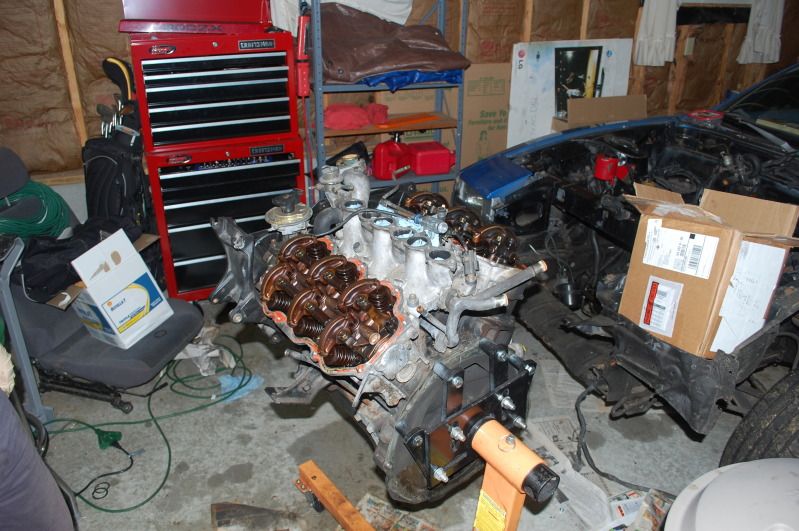 I've done a little work since then. Gotten the oil pan swapped to the turbo oil pan. Repainted the valve covers and have put them back on. Probably going to see about getting the exhaust manifolds reinstalled soon as well. Still need to tear down the T3 I got so I can figure out which rebuild kit to order. Once that has been rebuilt and bolted on, the engine and trans should be ready to go back in.
07-16-2012, 06:21 PM
Registered member
Join Date: Jun 2008
Location: Aylett
Posts: 1,160
Likes: 0
Received 0 Likes on 0 Posts
Re: Z31 300ZX Project
---
07-16-2012, 06:39 PM
NBHNC
Join Date: Dec 2010
Location: Northside, ya digg
Posts: 4,694
Likes: 0
Received 0 Likes on 0 Posts
Re: Z31 300ZX Project
---
Originally Posted by
jaqattack02
Nah, not trying to go to all the trouble of an engine swap. Besides these things are basically the SBC of the Nissan world. They make pretty good reliable power and love boost. This one is an N/A motor so it's 9:1 compression. I've seen dynos from people with the same setup I'll have doing no more than turning the boost up around 13psi making around 250hp and 320 lb/ft of torque.
That's pretty embarrassing.
07-16-2012, 07:12 PM
Registered member
Join Date: Jun 2008
Location: Aylett
Posts: 1,160
Likes: 0
Received 0 Likes on 0 Posts
Re: Z31 300ZX Project
---
09-06-2012, 10:54 AM
Registered member
Join Date: Jun 2008
Location: Aylett
Posts: 1,160
Likes: 0
Received 0 Likes on 0 Posts
Re: Z31 300ZX Project
---
Been neglecting doing updates on here, so here's a few thrown together.
7/27/12
Figured I would post a small update. No fancy pictures this time as I haven't taken any updated ones. Made a trip to the junkyard and snagged the rest of the metal cups for the valve cover screws, so both valve covers are now properly attached. Got the exhaust manifolds bolted up to the engine. Pulled the NA ECU and the factory engine harness. Installed the 84-85 engine harness I picked up from Z31p. Started installing the fuel injectors, but need to see about getting that finished. Found a good T3 and a set of poly engine mounts for a steal of a deal on Z31p, assuming the turbo is in as good of a shape as the seller says it is. Once that stuff is here, the only thing keeping me from being able to get the engine back in the car is picking up a poly trans mount.
8/26/12
Quick progress picture. Engine is all but ready to go back in. Just need to get the oil return for the turbo on it, get the timing covers straight (mine is pretty screwed up, have a new set on the way from a helpful Z31P member), and button up a couple of other little details. I've gotten the turbo cross member in, done the power to manual conversion on my rack and installed that, and installed exactly half of my suspension. The other half is being held up by a ball joint that needs to be replaced in front, and a snapped wheel stud in back (doesn't really affect the suspension, just wanted to get that changed before I did the shock and spring).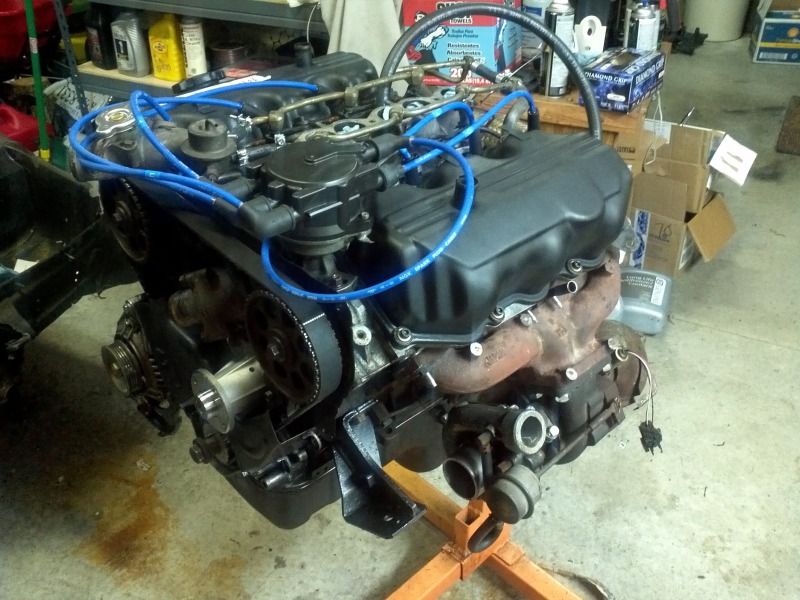 9/6/12
Did a good bit of work over the last couple of weeks. Got the front and rear suspension straight. New Suspension Techniques springs all around, Tokico Blues all around. Got the stud in the back replaced. Also got the front ball joint replaced. This past weekend we got the engine off the stand, flywheel clutch and pressure plate installed, transmission bolted up, and the engine dropped in the car. Bolted up the slave cylinder and found out that was leaking, so a new one is on the way. Need to spend some time getting all the wires and stuff connected so we can try cranking it over soon.
On the lift, my brother is bolting on the flywheel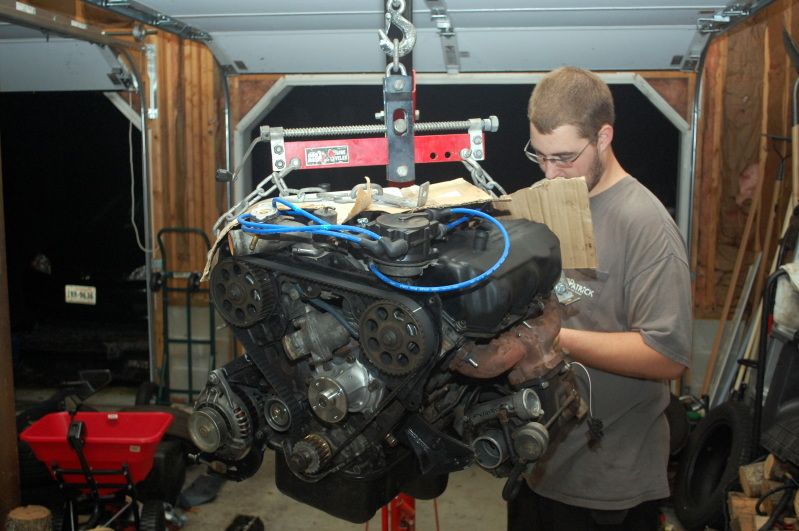 ACT clutch and pressure plate installed (on a 240mm turbo flywheel)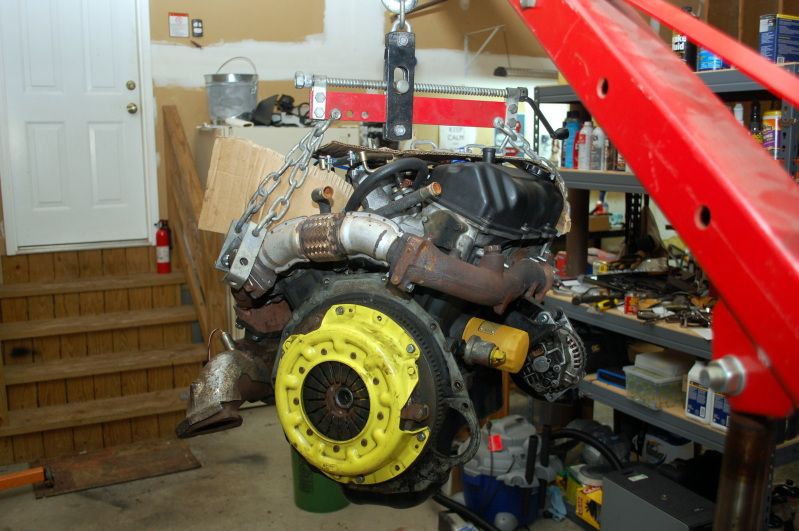 Me working on getting all the trans bolts in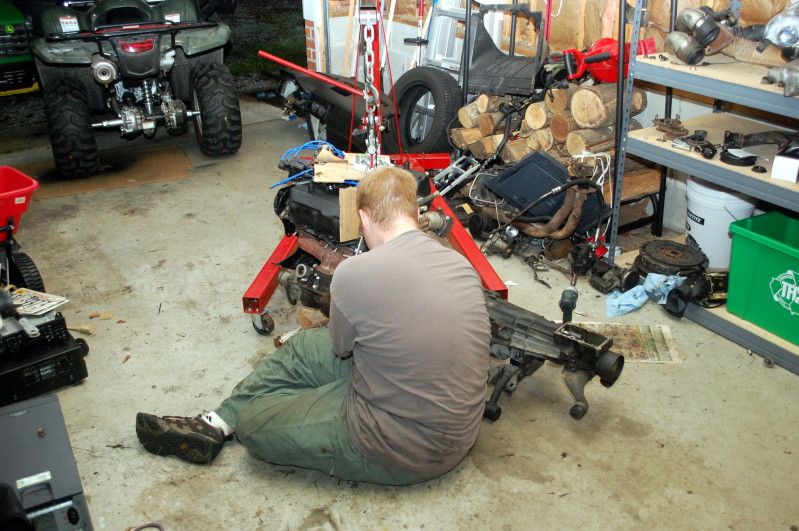 Engine in the car