84 S12 notch, a dickbutt fairytale
05-30-2012, 10:08 AM
I R DICKBUTT
Join Date: Jul 2007
Location: woodbridge
Posts: 454
Likes: 0
Received 0 Likes on 0 Posts
84 S12 notch, a dickbutt fairytale
---
So I picked this thing up from a guy that had davids12 doing a KA swap on it about a year and a half ago. I put a ca18det in it and drove around with that for a few months, got annoyed with the parts availability with that and put a dual cam KA in it till I found an SR, blew that up found another KA for stupid cheap. Got what I paid for with cheap KA had a spun rod bearing so I pulled it, sold it. About a month ago I was thinking of rebuilding my blown SR to throw back in there, but then I stumbled upon bboyoracle's part out thread on another forum and I decided I couldn't pass up the opportunity to hop on this fresh ass motor. So here are some pics of my car
FS pics before I picked it up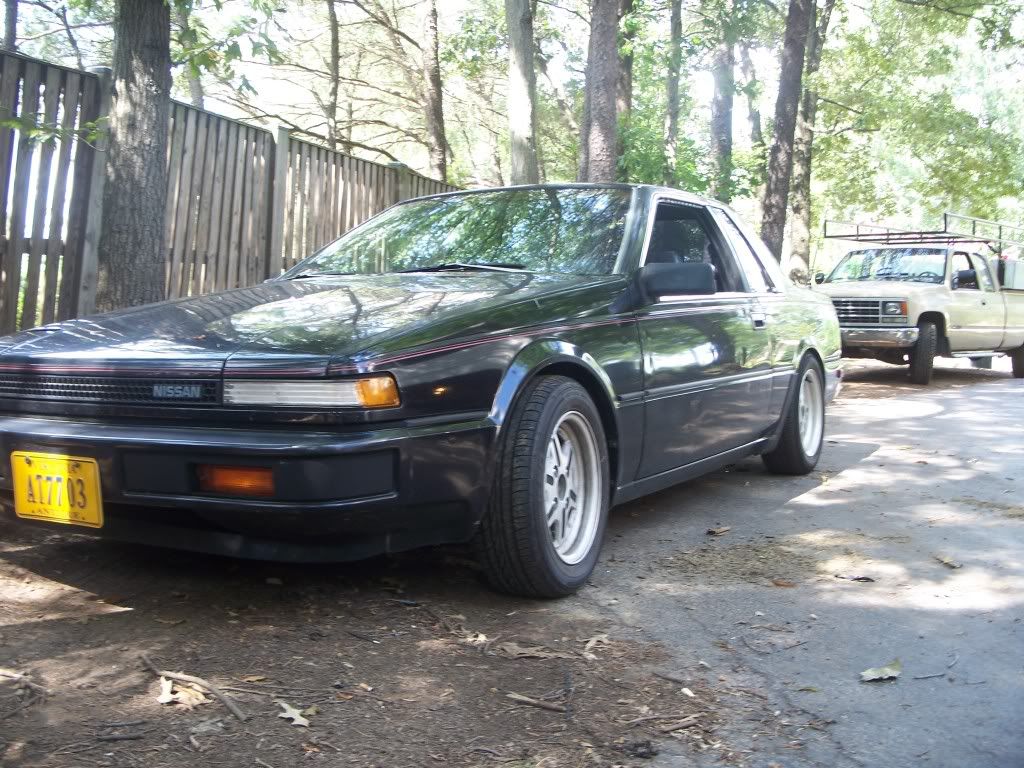 A few pics of the First swap with the CA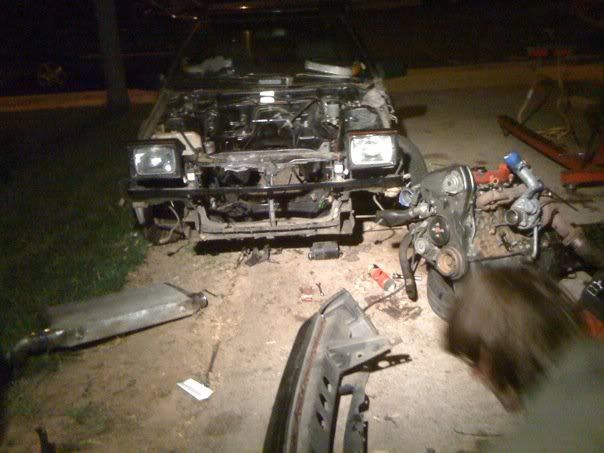 LOOK AT THAT CLUSTERFUCK!!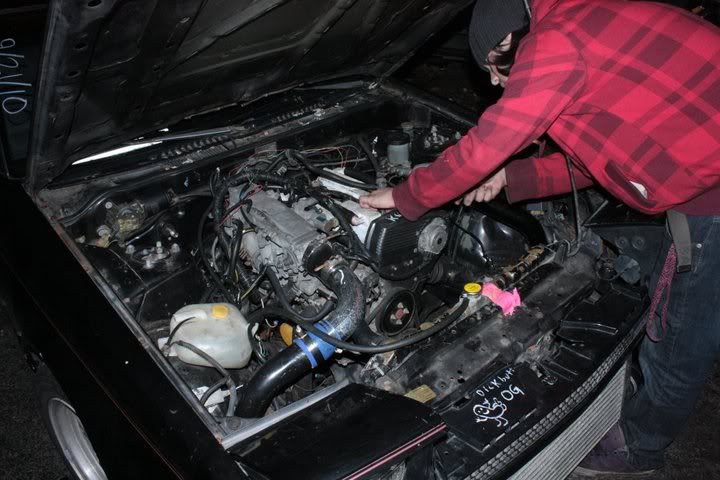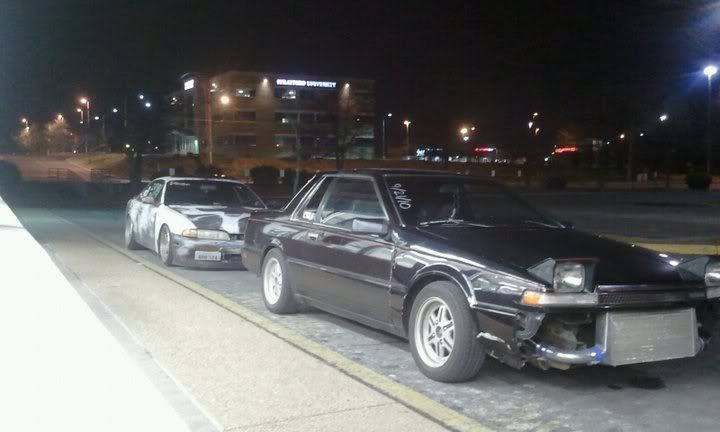 So Like I said, the CA was cool, but it took me about 2 months just to track down a wiring harness and that thing was all fucked up, I had to do a lot of soldering. I had some issues getting it to run right and after I did I just wasn't satisfied. It was messy I wanted to redo it and I was frustrated with the CA so I sold it and decided to try to find an SR but in the meantime I swapped a KA into it. No KA pics, just one of the SR in it from the side idk where the fuck all my pictures went...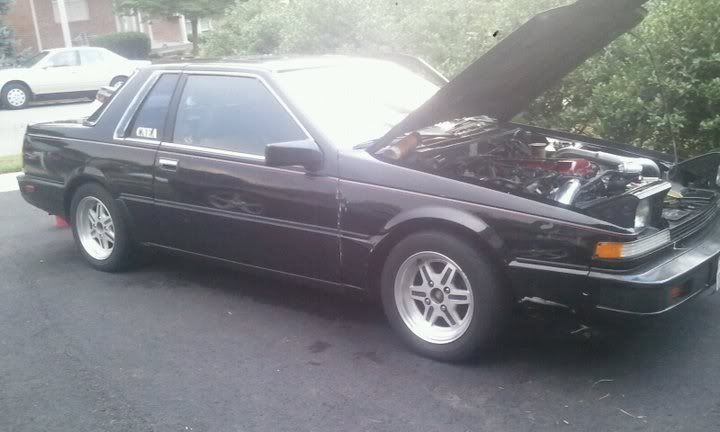 So now I'm cool and I have an SR and it's a little faster and cleaner and bitches wanna fuck, but I'm too cool for pcv stuff and also too cool to change the oil on a motor that I just swapped into my car and wwwaaaayyy to cool to let it warm up before I beat on it, so rod bearing #3 is all like, "goofy pls" and there goes my summer savings. I dont have a picture for this paragraph so here's a kitty in a shoe...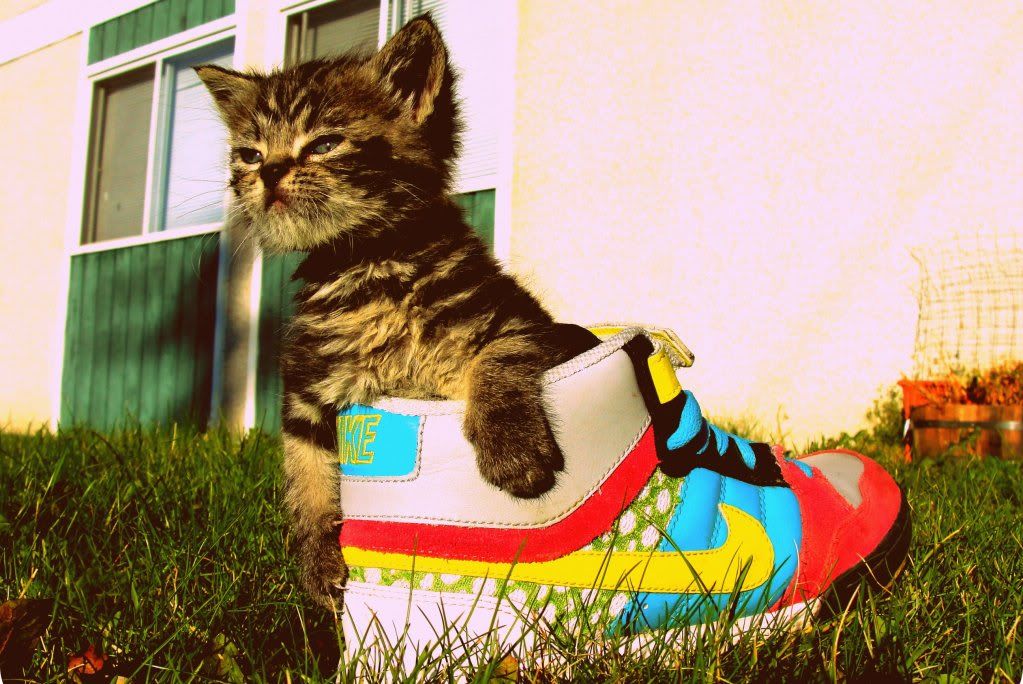 Now I'm crying because I'm an idiot and don't have nice things and out of the blue I find a pretty nifty deal on a dual cam KA with a trans and harness for $40 so I jump on that and get it in the car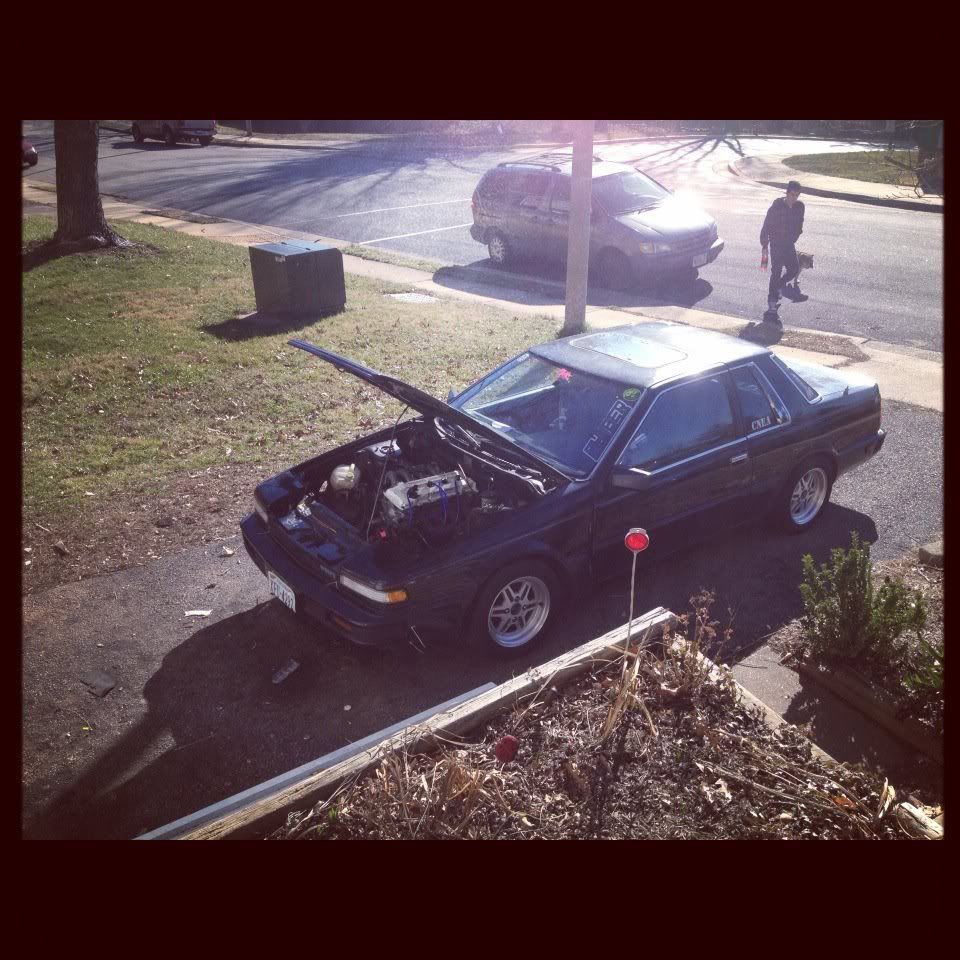 I don't know if the motor was knocking slightly before I noticed actually noticed it because I hadn't made an exhaust for the KA so I was running open down pipe. When I did the SR swap though, I pulled my chassis harness because I was having issues with my lights, wipers, cluster, etc. while I was at it i also pulled all my HVAC stuff because I live a thug life. So When I got this KA running David was all like "Dude, my garage is bigger than yours, why don't you do your wiring here? I'll help you and diddle your bum" It sounded legit so I drove to his house wich is about 12 miles from mine and halfway there it started knocking loud enough to hear over the exhaust, it died about 4 blocks from David's. I pushed it the rest of the way, and there it was at his house again where it was when I found it just like I found it, blown and collecting dust.
After a few days of it sitting ,David says "Dude stop being such a dumb bitch and do your shit right" and he was right, I had been a pretty dumb bitch, all my swaps had been rushed and half assed and they've run like shit, looked like shit or blown up because of it, So I bought a clean SR and threw out that KA junk shit.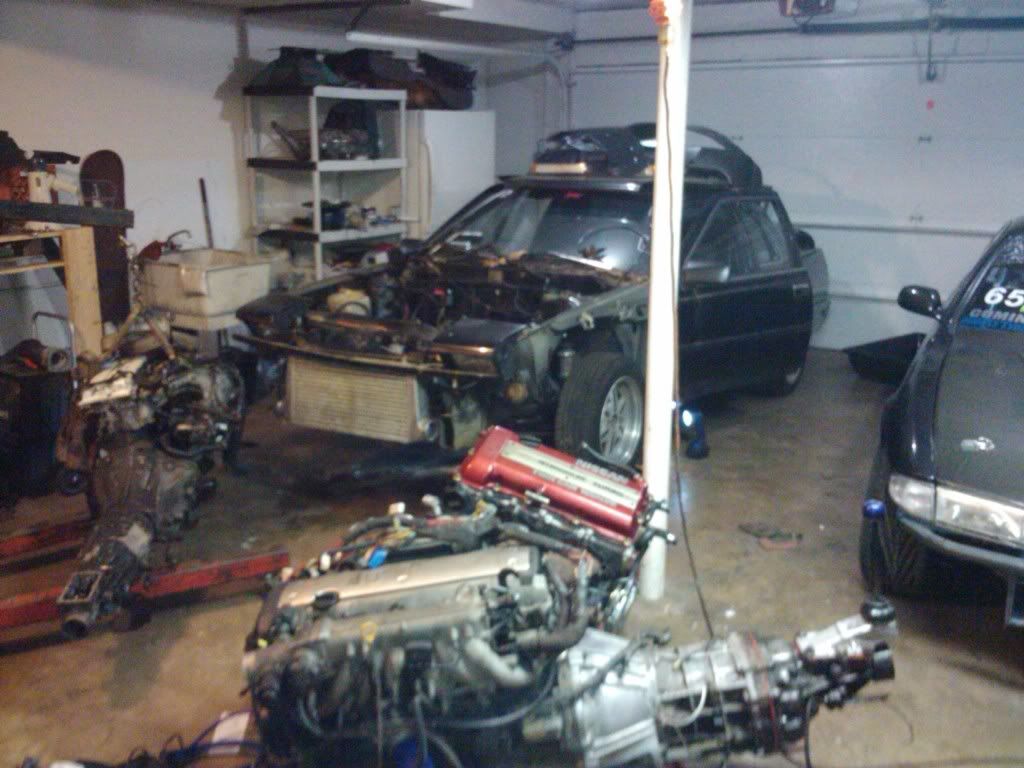 At this point my bay is still a mess
And my biggest regret with this bay were the holes I cut for the IC piping for the CA, they looked like fuck and were starting to rust out.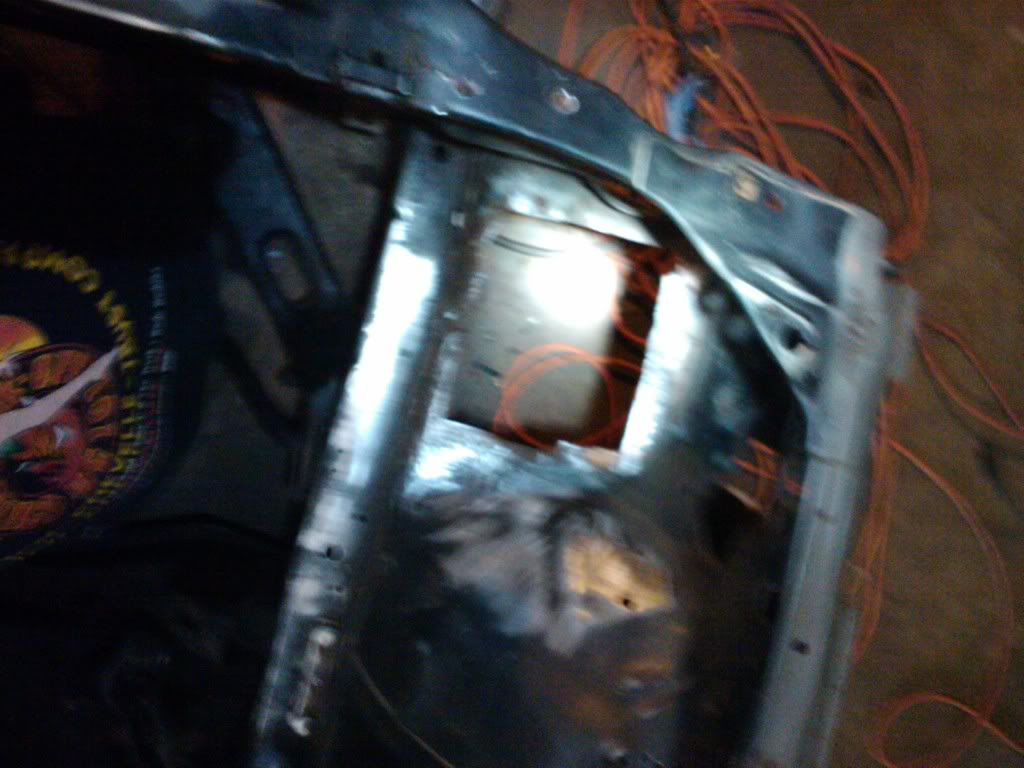 So I stripped the front end completely removed all the rust and grime and got some sheet metal to fix those nasty ass holes.
David hooking up the sweet welds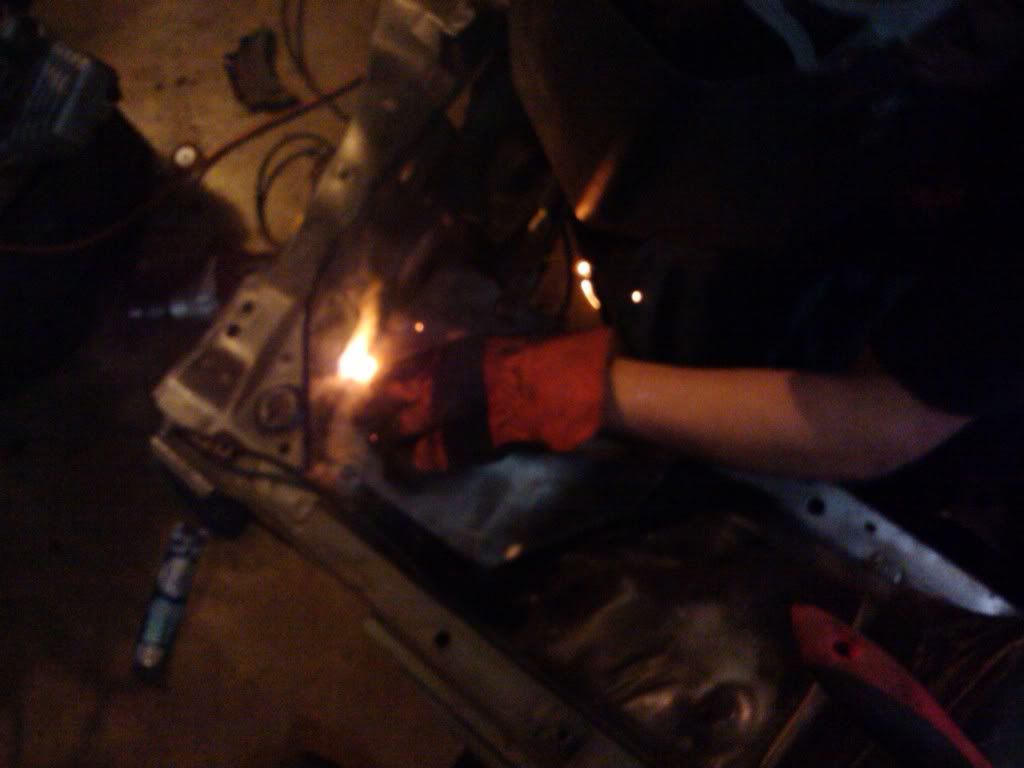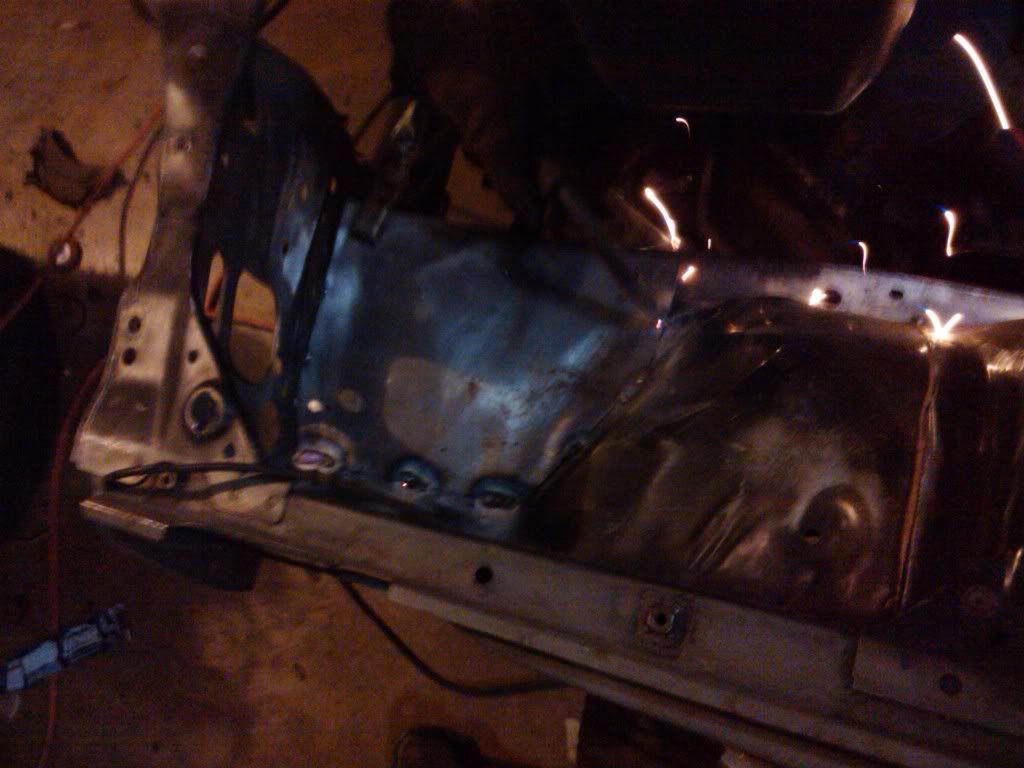 Finally got to doing some sanding/priming/sanding/priming/sanding action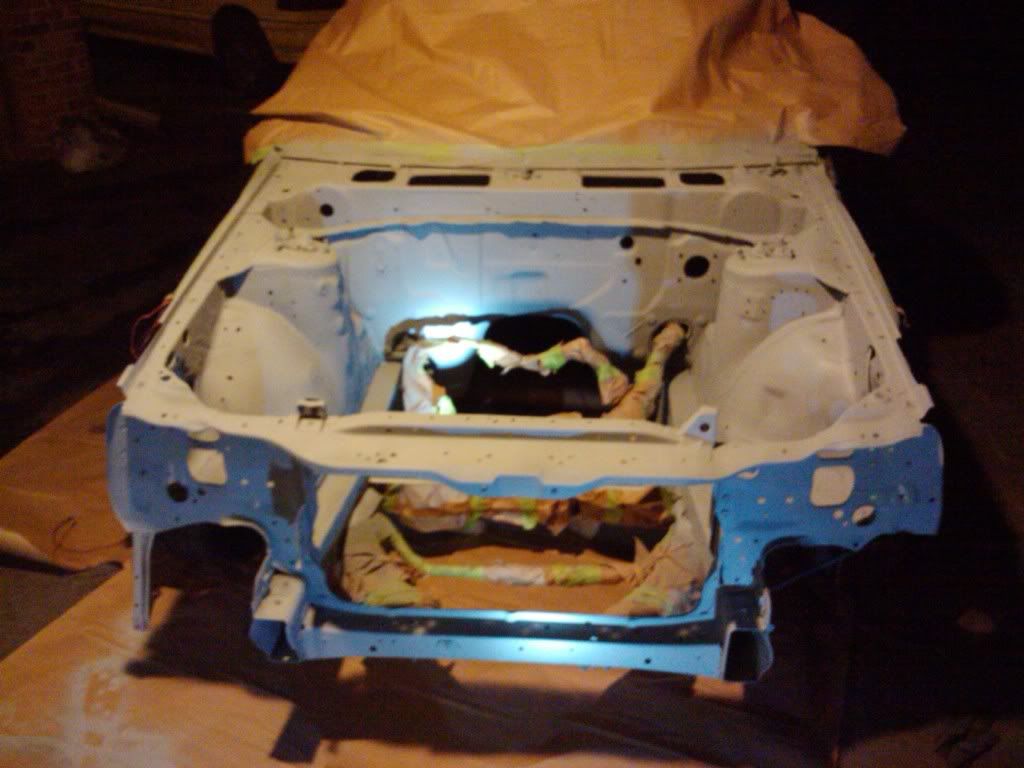 Then a few coats of green, a black splatter and a couple coats of clear.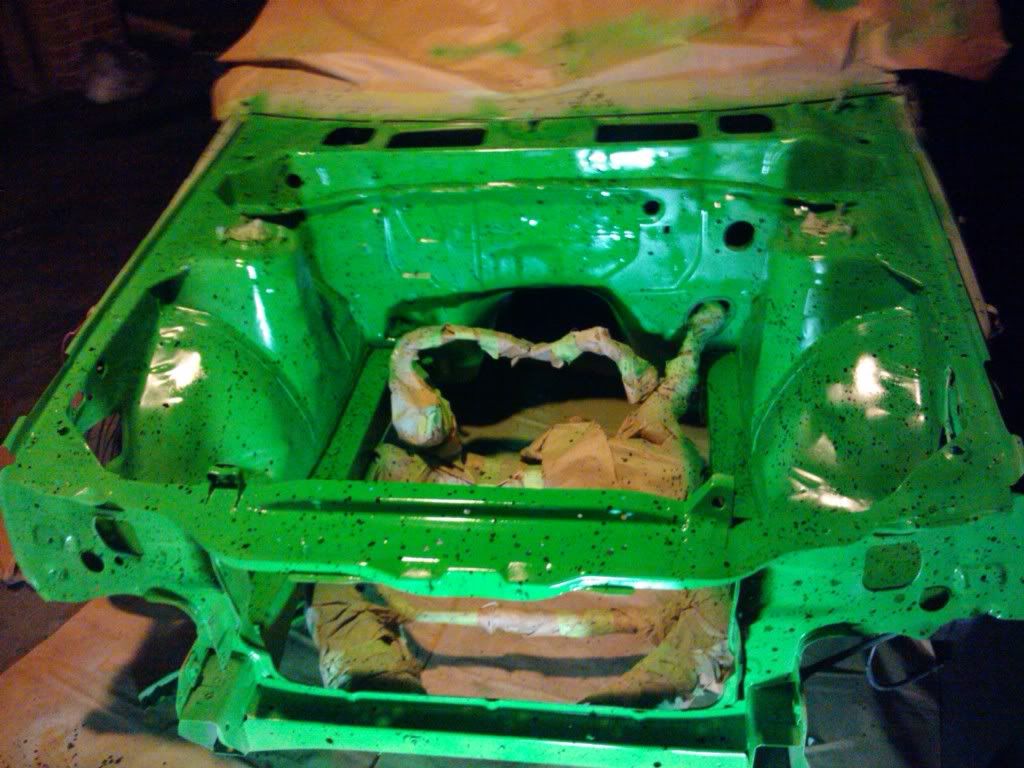 Motor dropped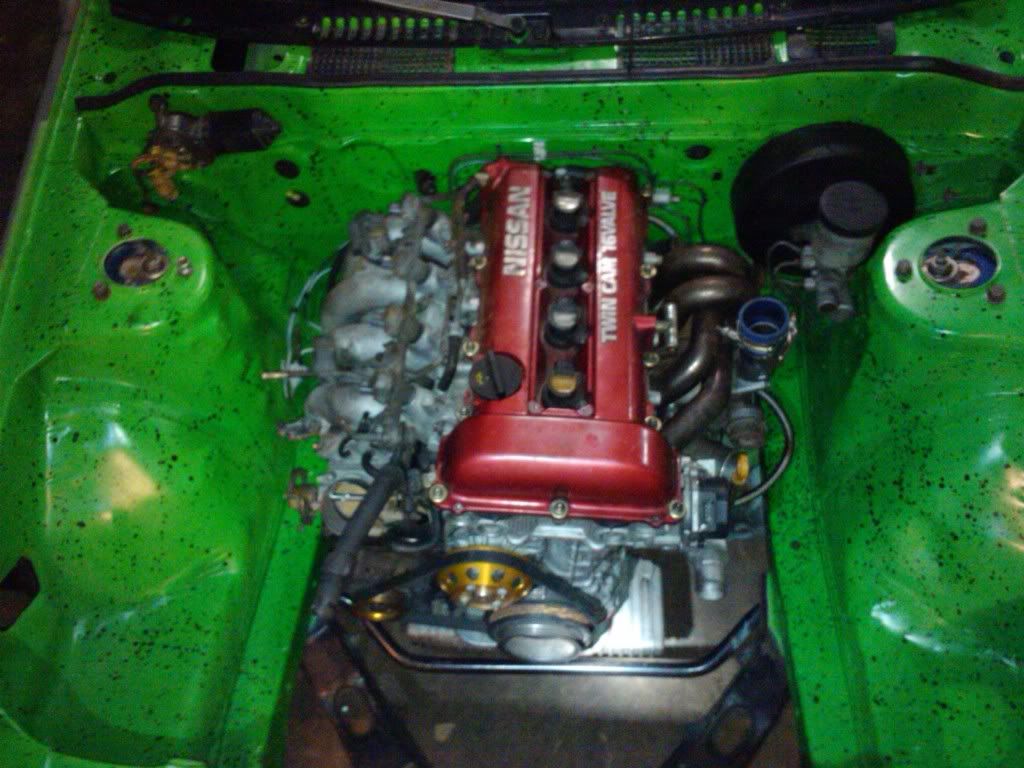 And this is how it sits now with the wiring in there and some piping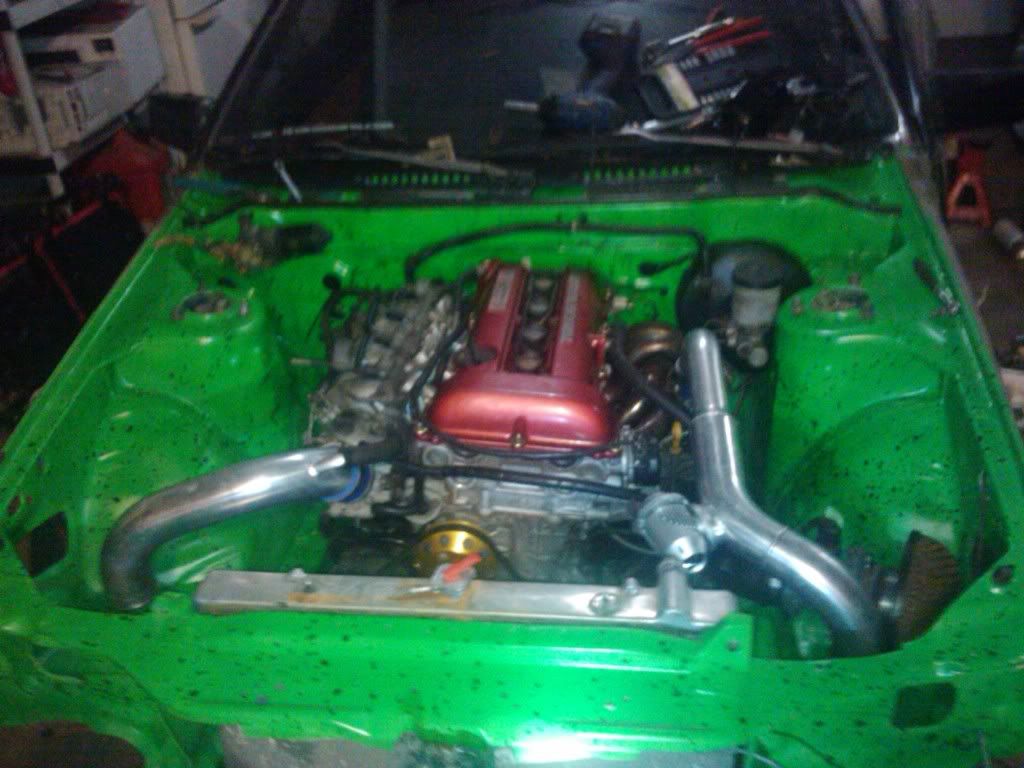 Wires! I had a little rats nest going under the dash, here's before and after.
That's not so Raven
That's so Raven
Piping and intercooler done, safc wired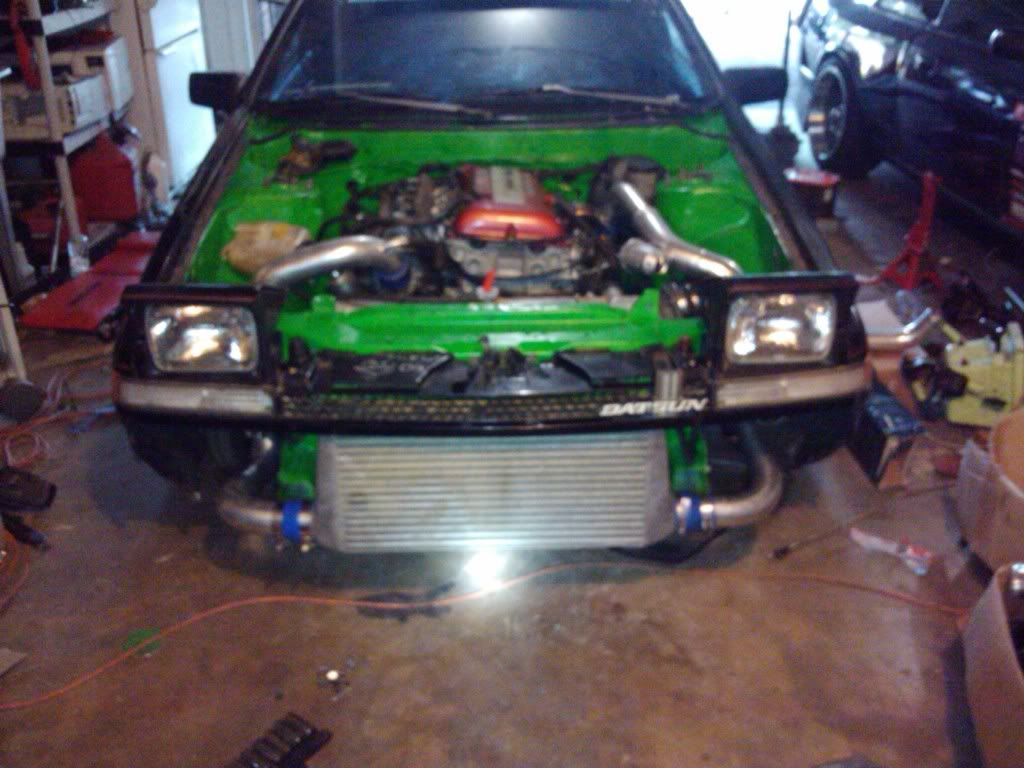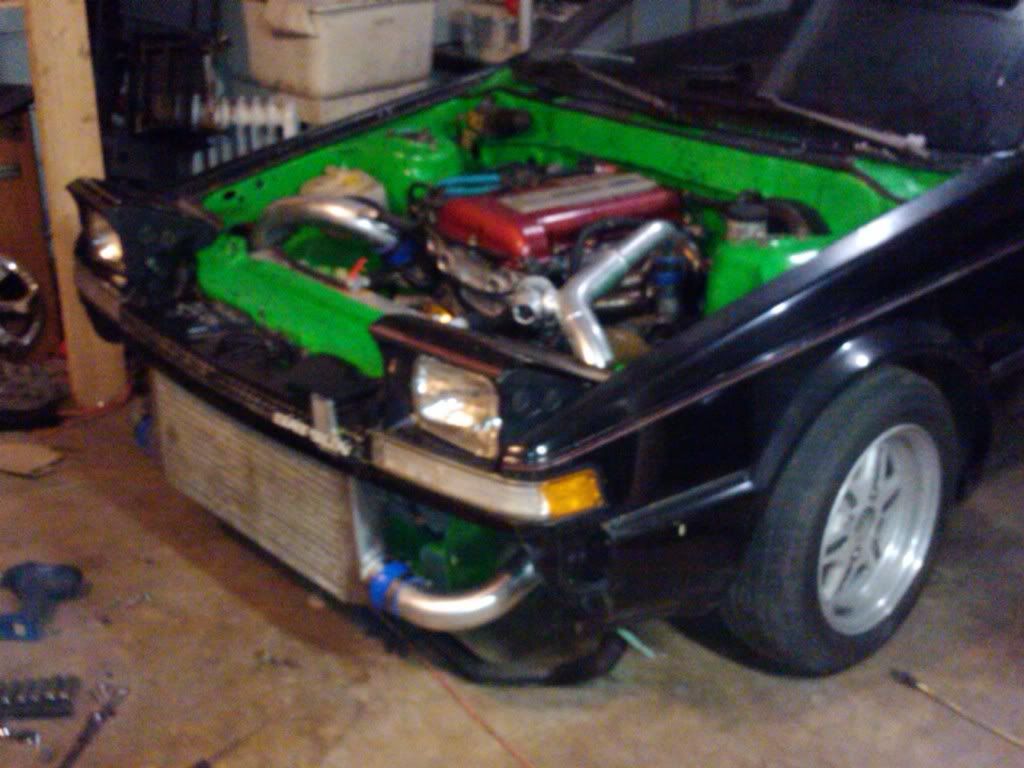 ---
Last edited by awsmjdm; 06-03-2012 at

04:02 PM

.
05-30-2012, 11:22 AM
I R DICKBUTT
Join Date: Jul 2007
Location: woodbridge
Posts: 454
Likes: 0
Received 0 Likes on 0 Posts
Re: 84 S12 notch, a dickbutt fairytale
---
Thanks doods, yeah I suck at build threads so I figured putting my car's story since I got it with some pics I managed to scrounge up might be cool. I just dropped off my valve cover at Living Dreams Auto Salon for powder coating last night. I'm picking up my new clutch master/slave, and some wiring odd and ends today.
05-30-2012, 03:51 PM
DESTROYS DONUTS !!
Join Date: Nov 2002
Location: the seed has sprouted.
Posts: 13,284
Likes: 0
Received 0 Likes on 0 Posts
Re: 84 S12 notch, a dickbutt fairytale
---
good thread, I actually really like the look of this car.

but goodness you went through alot of motors. Hope you learned some lessons.