Picked up a 14 focus this weekend
09-21-2014, 06:25 PM
Audi Fan
Join Date: Apr 2009
Location: The Beach
Posts: 2,852
Likes: 0
Received 0 Likes on 0 Posts
Picked up a 14 focus this weekend
---
Needed a daily driver, but still wanted something fun. Got a good deal, within my budget, and am well pleased with the car itself.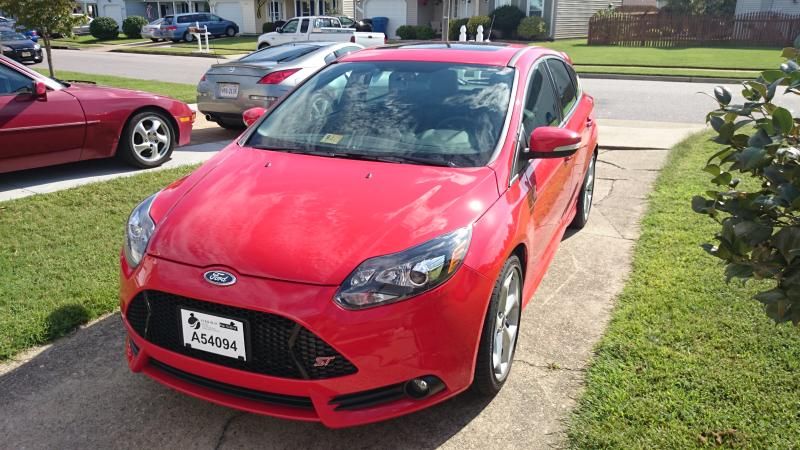 Don't really plan on modding it as I have a 95 S6 that is constantly getting work done to it, but we will see how long that lasts. That being said, did just order a plate mounting bracket to take it off the grille, and some black and red Ford emblems to replace the blue ones.
Word is they are going to release a RS in a couple years, probably be out of my price range, but would be interested depending on my financial situation.
09-21-2014, 06:34 PM
Eat A Dick
Join Date: Sep 2009
Location: Trap House Boomin
Posts: 2,767
Likes: 0
Received 0 Likes on 0 Posts
Re: Picked up a 14 focus this weekend
---
09-22-2014, 01:30 PM
Audi Fan
Join Date: Apr 2009
Location: The Beach
Posts: 2,852
Likes: 0
Received 0 Likes on 0 Posts
09-22-2014, 02:16 PM
nortaP
Join Date: Feb 2009
Posts: 13,273
Likes: 0
Received 0 Likes on 0 Posts
Re: Picked up a 14 focus this weekend
---
http://blog.caranddriver.com/2016-fo...ely-than-ever/
A new wrinkle in the ongoing saga of the Ford Focus RS and its possible U.S. arrival has emerged: Our pals at Road & Track are reporting that not only is the RS now more likely than ever to be sold in the U.S., but that it will blat and slide onto our shores packing torque-vectoring all-wheel drive.
Quoting an unnamed insider, R&T says the RS will appear in "extremely limited numbers [and] unlike its predecessor will be all-wheel drive." The former jibes with our most recent report, which said that the RS isn't likely to appear before 2016 or 2017, one or two years before the current-gen Focus is due to be replaced. We had also previously spotted a camouflaged Focus RS undergoing testing right here in the Rust Belt, followed shortly thereafter by a new batch of details that fueled speculation of a stateside arrival.
As for the all-wheel-drive tidbit, persistent rumors that a 330-hp variant of the 2.3-liter EcoBoost turbo four from the 2015 Ford Mustang might find a home in the Focus RS had us wondering how exactly Ford would mitigate the inevitable torque steer if the car remained front-wheel drive. Based on our experience with the current Focus ST, it seems Ford's torque-steer-mitigation prowess may be maxed out. (The ST uses its stability-control program to brake individual front wheels when it senses torque steer; it sort of works. The last RS used RevoKnuckle, a special strut design, to stay out of ditches.) So it makes sense that Ford might call on an AWD setup to spread output to both ends of the car; we're assuming that any additional weight of the driveline components will be offset by the additional power.
We reached out to our own sources at Ford, and this is what they had to say: "None of what is being reported is confirmed, including the part about the RS coming to America. That said, everything in the [report] references existing stuff and is certainly doable. If you look at what we can do with the Escape, which is a C-platform vehicle, you can see these things are not beyond the realm of possibility." We didn't read a categorical denial in there, did you? The scales may indeed be beginning to tip in our favor.