Any Saturn drivers up here? (Represent)
09-04-2015, 12:35 PM
Registered member
Join Date: Aug 2005
Posts: 5,512
Likes: 0
Received 0 Likes on 0 Posts
Any Saturn drivers up here? (Represent)
---
Got this car a few months ago. Needed something cheap, reliable, and good on gas. Usually you only get to chose 2 but so far the car's been great.
Was having a friend of a friend (who used to be a Saturn mechanic) work on it but things didn't work out so I wanted to see if there were any other people up here with experience/knowledge working on these cars.
1996 Saturn SW2
1.9L DOHC
5 speed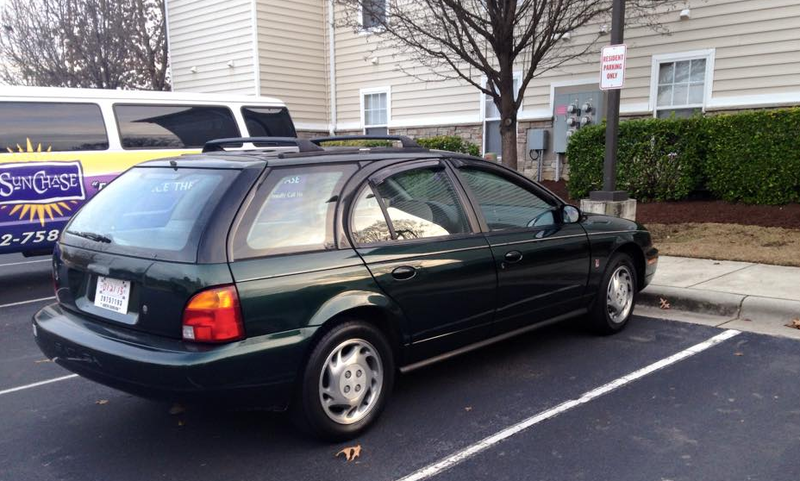 So far I've done:
-Motor Mount
-EGR valves (were getting stuck shut and causing bad hesitation/bogging. Carbon buildup was also evident)
Needs:
-Flex pipe on exhaust is leaking (Have an OBX header + downpipe sitting waiting)
-Bushings and/or some sort of steering joints. It makes a nice "cachunk" when hitting bumps at low speeds and you can feel some play in the suspension. Only over bumbs/holes though. Handling is tight otherwise.
-Have an intake sitting to go on.
-Windows in the rear come off track almost everytime you try to roll them down. I've heard this is a simple part to fix, but I might just buy all new motor/regulator/track assemblies off amazon and fully replace then tint.
Really just looking for some tips on common problems / worn out parts so I can get this thing feeling back to normal, and then start doing fun stuff to it like tint and stereo.
Surprisingly, took me a while to find a saturn wagon 5 speed that was in good shape. So many auto's out there.
01-19-2016, 03:57 PM
Registered member
Join Date: Jan 2012
Posts: 15
Likes: 0
Received 0 Likes on 0 Posts
Re: Any Saturn drivers up here? (Represent)
---
I know someone who bought a Saturn similar to yours recently, but an automatic sedan. I know they've had some electrical issues. Lights staying on, windows not rolling up or down, radio quit working, etc.. Seems to be a decent car mechanically I'd just keep an eye out for shorts in the electrical system.
01-20-2016, 09:26 AM
Indelible Anomaly
Join Date: Mar 2014
Location: FurDicksBurg
Posts: 479
Likes: 0
Received 0 Likes on 0 Posts
Re: Any Saturn drivers up here? (Represent)
---
electrical gremlins if you install remote start or aftermarket security.
also throttle body sticking open on the 1.9 dohc's.
other than that.... i dont really know... a bunch of my friends had some in the late 90's when we were in high school.

bolt pattern was really weird... like 110.. or something....

does yours have the 'performance' button?

there used to be a few 'performance' websites back in teh day... they performed well in circle races (stock cars, oem swap parts, no aftermarket power add on mods, only weight reduction and boring and porting polishing etc)

sad to say I traded in my 92' Hyundai Excel which was saving for a 93 Dsm turbo swap.... for the first v6 2001 Saturn sedan....
it sucked... I lost races to basically anything... moment of shame was a 92 Accord full of girls. yeah.
i later found out the 2.2 ecotecs were actually faster than the v6.

i like that wagon... keep it clean.. i might buy it someday. lol
Thread
Thread Starter
Forum
Replies
Last Post