Quality E85 stations
09-08-2015, 04:54 AM
Registered member
Join Date: Jan 2011
Location: Museum District
Posts: 21
Re: Quality E85 stations
---
I'd be surprised if the contamination was coming from ethanol. Most plants have a 5 micron filter at load out in addition to the fuel filter in your car (typically >50 micron).
With ethanol trading around $0.15 a gallon cheaper than gasoline, I would imagine that E85 is as high in ethanol content as ASTM allows right now (range is 51v%-83v% ethanol). Back in July that was probably not the case.
http://www.nasdaq.com/markets/ethanol.aspx
http://www.eia.gov/dnav/pet/pet_pri_spt_s1_m.htm
Also depending on where you live, your area might be required to sell reformulated gasoline (RBOB), which basically means it has had more environmentally concerning impurities removed. RBOB is more energy intensive to make and sells for around $0.50 per gallon extra. In these regions ethanol content will probably be maxed out since ethanol will always be cheaper.
Areas in green are required to sell RBOB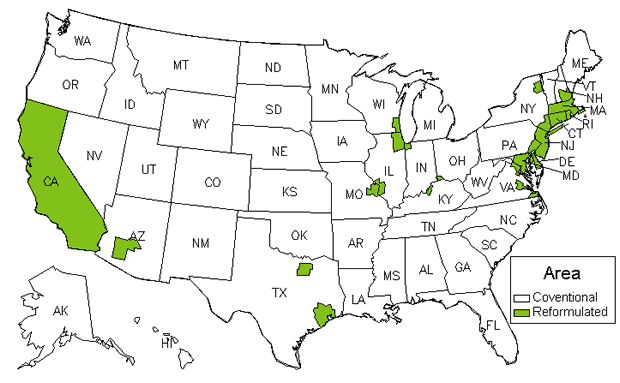 ---
Last edited by 804_mini; 09-08-2015 at

05:03 AM

.
10-15-2015, 03:12 PM
Re: Quality E85 stations
---
Like all kinds of pump gas, there are huge variations in quality and consistency. The suppliers just mix it together in fairly rough proportions and say "here you go, sell it"....
The standard ASTM spec for E85 is from 50-something % to 85% ethanol by volume IIRC, so you do the math on why you see variations from station to station.
If you're going to tune specifically for E85 and don't have an ethanol content sensor, you need to know what you're buying.
---
Last edited by Fabrik8; 10-15-2015 at

03:15 PM

.
Thread
Thread Starter
Forum
Replies
Last Post